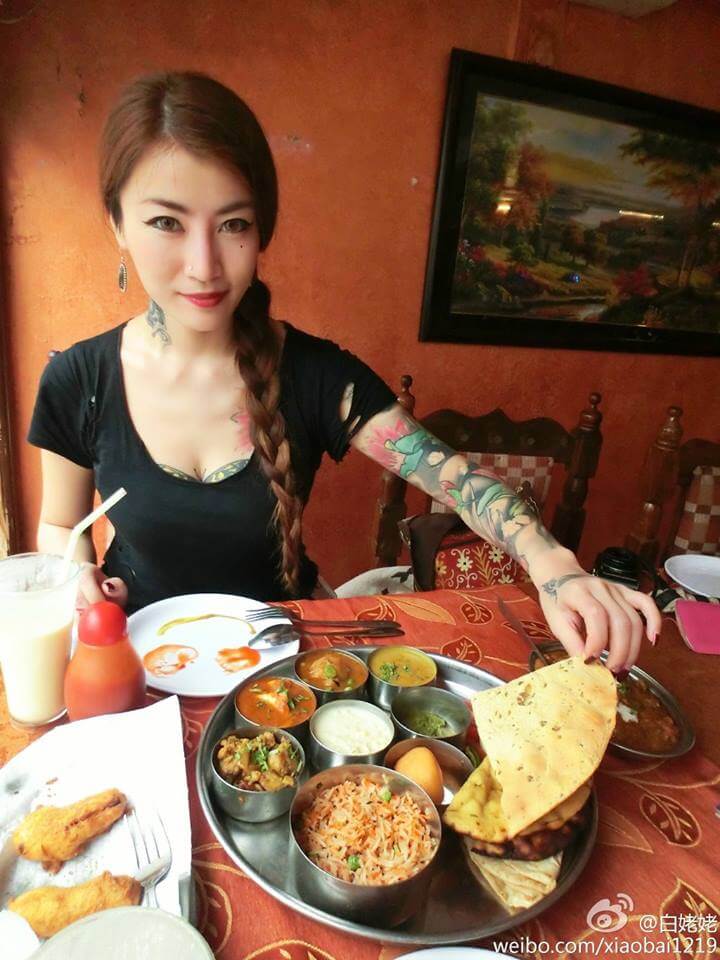 ZHANG XIAOBAI
A lil BIT ABOUT ZHANG XIAOBAI
"Chinese illustrator and comic artist XiaoBai has studied traditional Chinese painting since a young age. Her slick and beautiful illustration work features mostly females, and almost all of her characters have a tattoo. This is influenced by her other job as a tattoo artist.
XiaoBai has worked for various magazines and publications, in both China and France. She is also an active member of the local Association of Illustrators in China." – bio quoted from LostAtEMinor.com
The photo on this page of ZHANG XIAOBAI is from her Weibo blog, while all artwork photos are from the Kai Fine Art website.
FIND ZHANG XIAOBAI ONLINE
Website | guizang.co.uk/
Facebook | facebook.com/XiaoBaiArt/
Deviantart | xiaobaiart.deviantart.com
Etsy | etsy.com/uk/shop/XiaoBaiArt
Weibo | Weibo.com/xiaobai1219
Personal Chinese blog | blog.sina.com.cn/wanmeishala1219
♡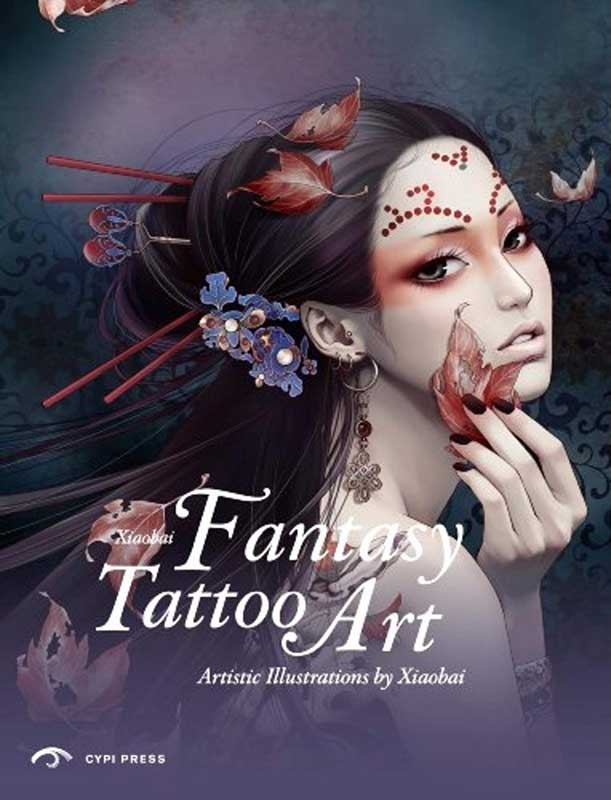 ZHANG XIAOBAI has also released a book entitled Fantasy Tattoo Art, which you can find on Amazon
♡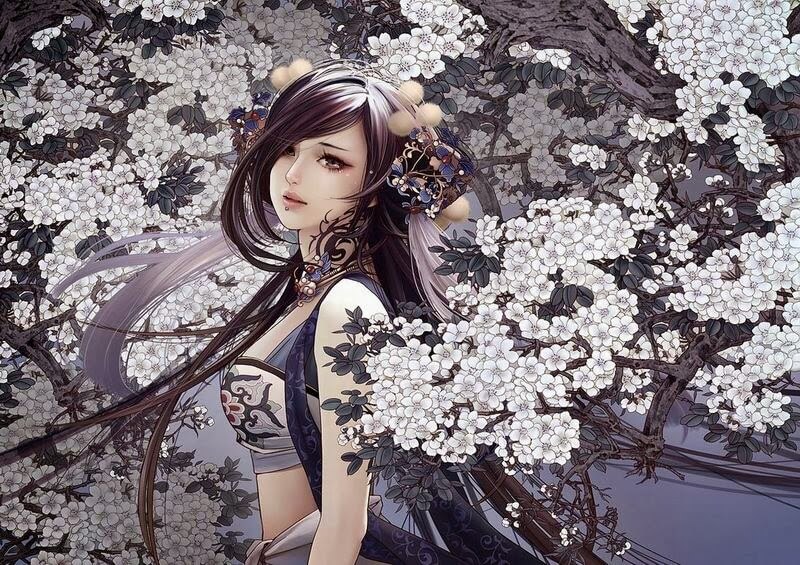 Blue Petal
♡
" I JUST STUCK TO DRAWING THE THINGS THAT I'M INTERESTED IN TO SATISFY MYSELF. WHEN I FIRST STARTED, I NEVER TREATED MY ILLUSTRATIONS AS COMMODITIES AND WAS HONOURED THAT MY WORK WAS BEING APPRECIATED BY OTHERS… WHICH IS SOMETHING BEYOND MY EXPECTATIONS "
– Zhang XiaoBai
♡
HOW I FOUND HER
Unlike most of my Inspirational Artists, whose work I discovered online, I first saw Zhang XiaoBai's art in person, at the 2015 MCM Comic Con. She had a lovely display in the centre of the hall, separate from the artist ally, so it was only by chance that I found her. She had so many prints to look at, I was like a kid in a candy store! Thirty minutes later I purchased a print and told her how much I loved her work. She came across as such a sweet person, and as you can see from the photos, her art is beautiful.
HOW HER ART MAKES ME FEEL
I feel incredibly positive and filled with hope when viewing Zhang XiaoBai's art. These females all seem confident, at ease and totally content. I love the sense of reminiscing I feel, it intrigues and makes me want to know more about these girls and what they've been through. The sense of motion Zhang XiaoBai creates is incredible, and a feeling I love. It really helps make the females feel alive, as if they've been captured for a moment in time.
♡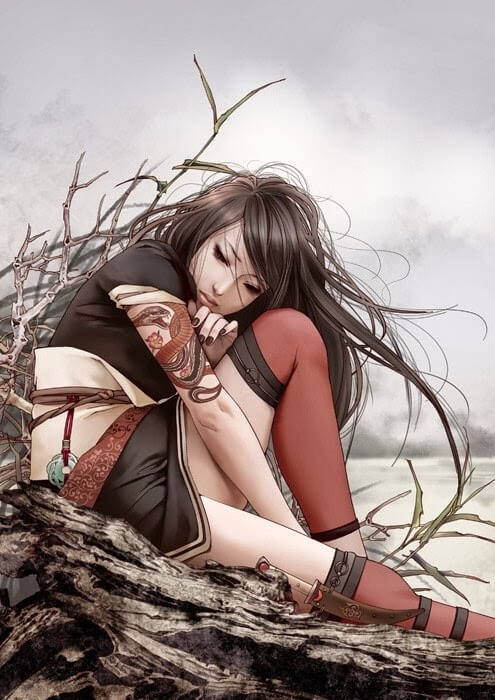 Jian Jia
♡
FAVOURITE ART PIECE
To pick a favourite art piece is incredibly hard, but I have to, and so my favourite is the painting called Jian Jia. It's the one just above this text, the girl with the red stockings on. This is the painting I purchased at Comic Con. It has a vibe I love. I can almost feel her hair blowing in the wind as she peacefully reminisces. So beautiful!
♡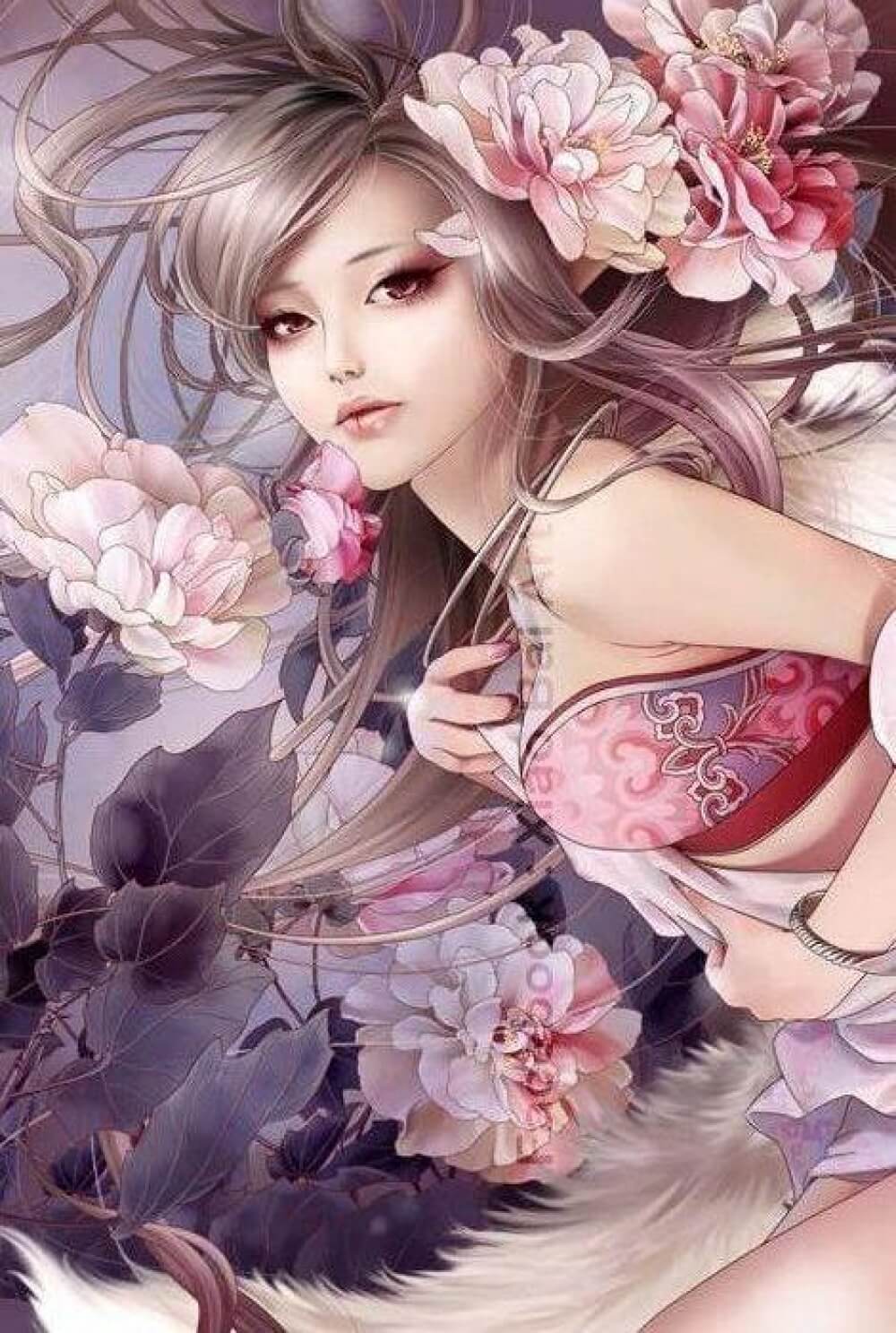 Fox Girl
♡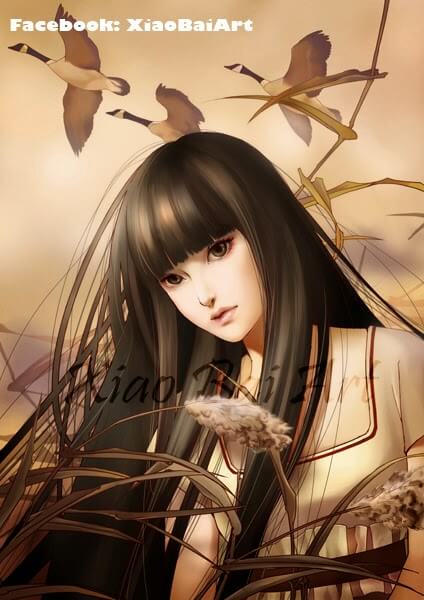 Tibertan Ritual
♡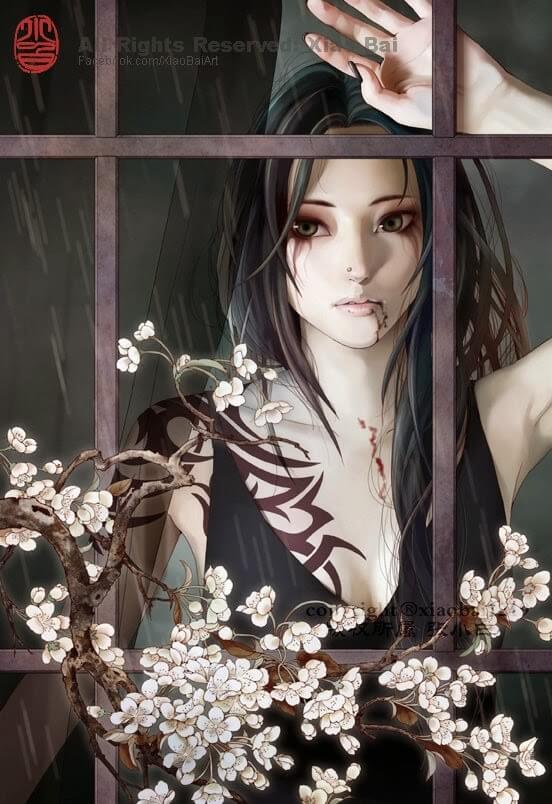 Tomb Weeping Day
♡
VULNERABLE, LONELY AND HURT
♡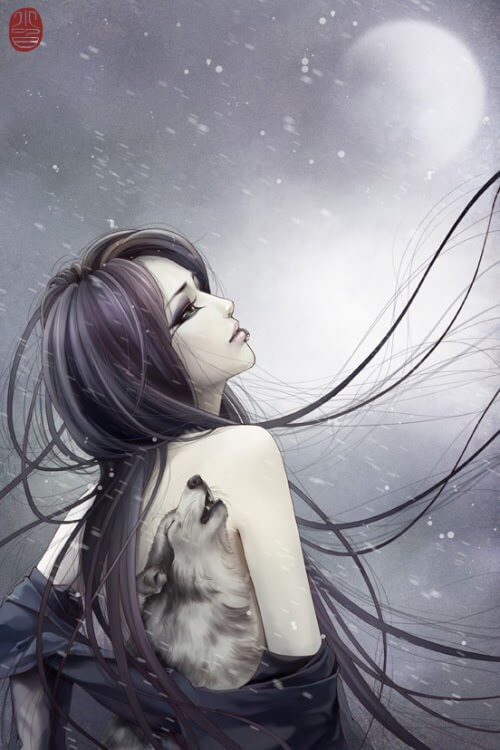 Cold
♡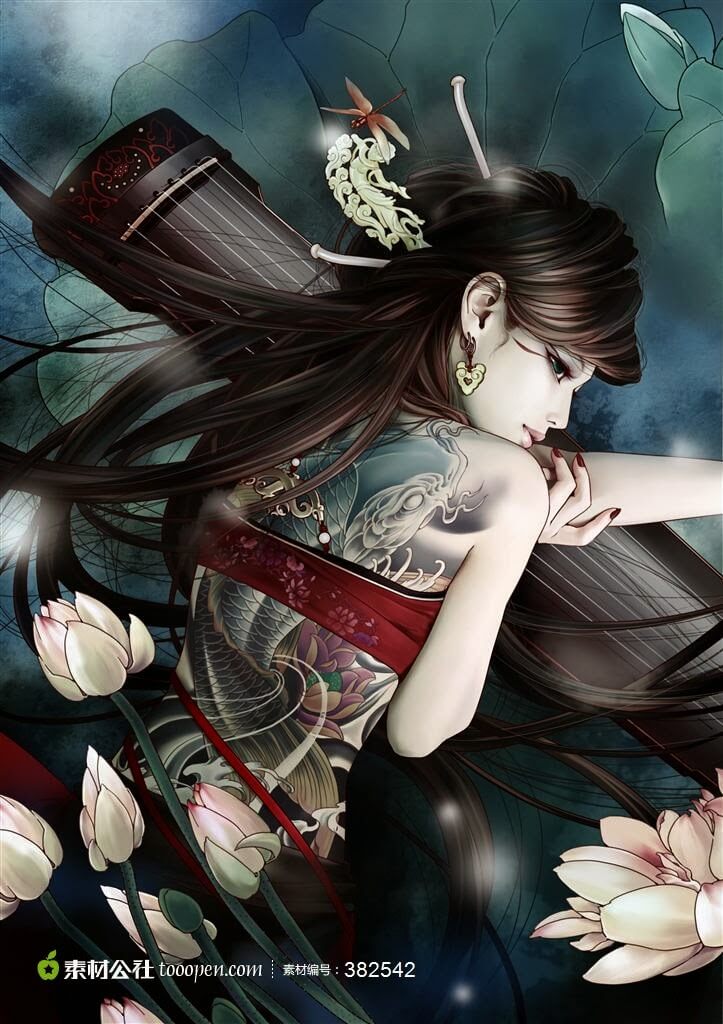 Blue Carp
♡
SENSITIVE, BEAUTIFUL AND SECRETIVE
♡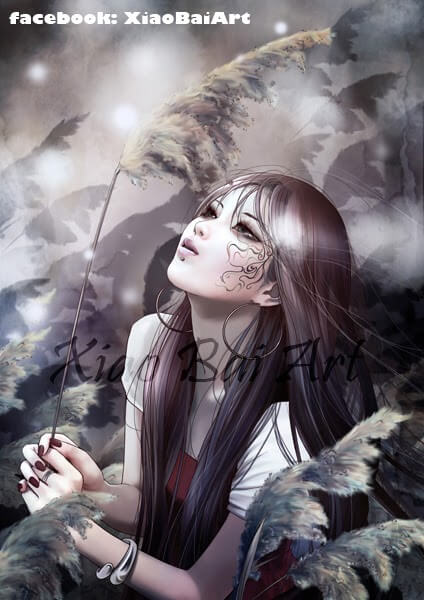 Dream of Autumn
♡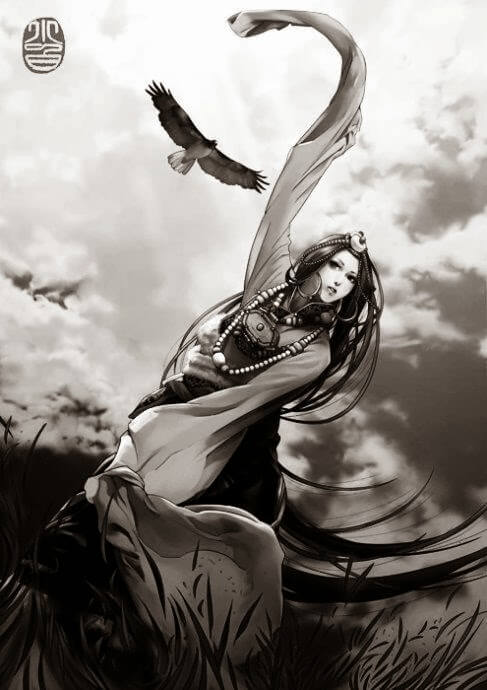 Monochrome
♡
HOPEFUL, INNOCENT AND AT PEACE
♡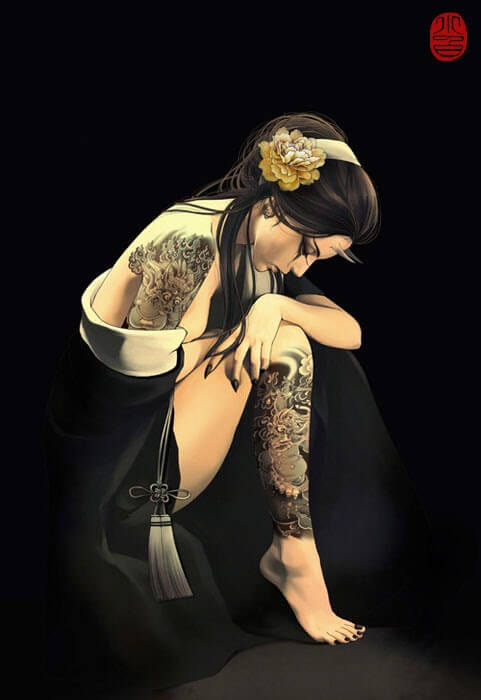 Raksasa
♡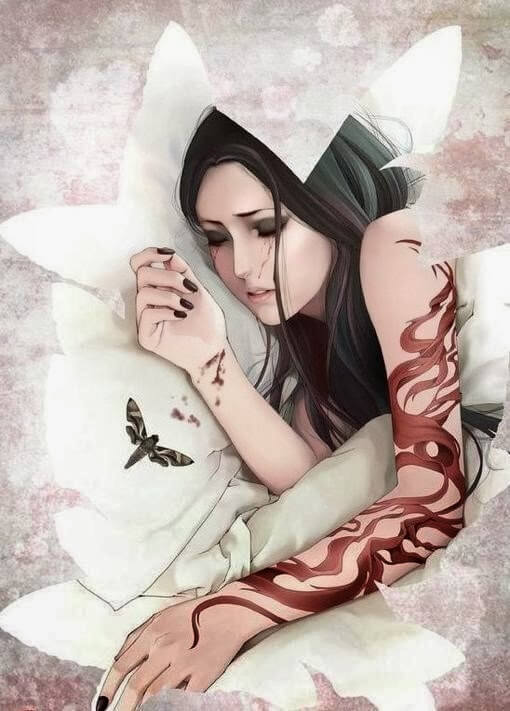 Untitled
♡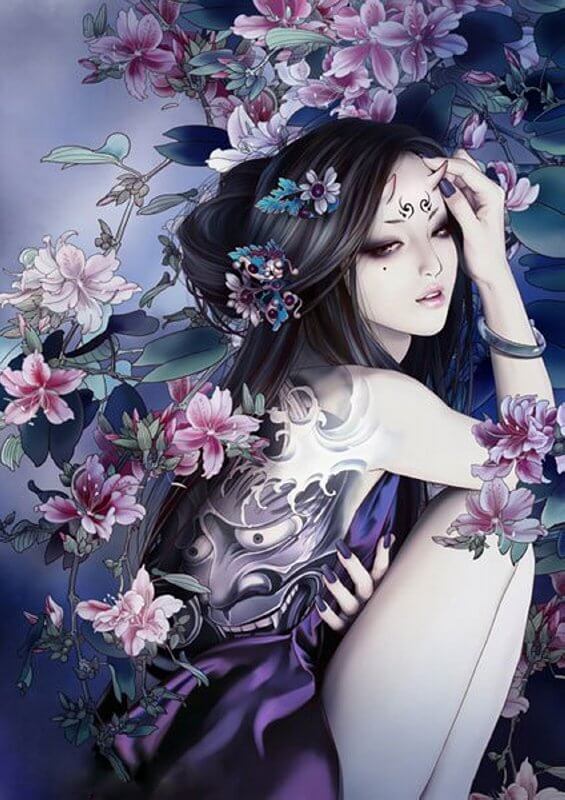 Keeper of the Gate of Souls
♡
YOU CAN TELL THESE GIRLS HAVE BEEN THOUGH A LOT, LIVED A LIFE OF EPIC ADVENTURES THAT THEY'D LOVE TO TALK ABOUT … IF ONLY THEY HAD SOMEONE TO SHARE THEIR STORIES WITH
WHAT I'VE LEARNT AFTER STUDYING HER ARTWORK
I find Zhang XiaoBai's art to be so beautiful. As I often find myself saying after studying my favourite artists work, I'm struggle to pinpoint the words to describe how they make me feel. I maybe can't describe it, but it feels good and that's all that matters. What I've learnt from studying her work, is that I'm not only drawn to pastel colours, but also muted shades. Looking back at Ilya Kuvshinov's art, I can see now that there is a theme developing. Muted tones seem to connect with me.
I also realised I love movement in my art, again, looking back at another of my favourite artists, Sergio Lopez, I see movement is one of the keys themes I highlighted. Like Sergio, Zhang XiaoBai captures movement beautifully. I love this as it pulls me in, and allows my mind to start imagining the scene, really bringing the characters to life.
I find her art to be intensely emotional. I'm always left feeling positive, no matter the mood, even if the characters appear to be hurt, lonely or vulnerable, I still feel incredibly positive and hopeful for them. These females all radiate a confidence and contentment that's made studying Zhang XiaoBai's art a real joy.
♡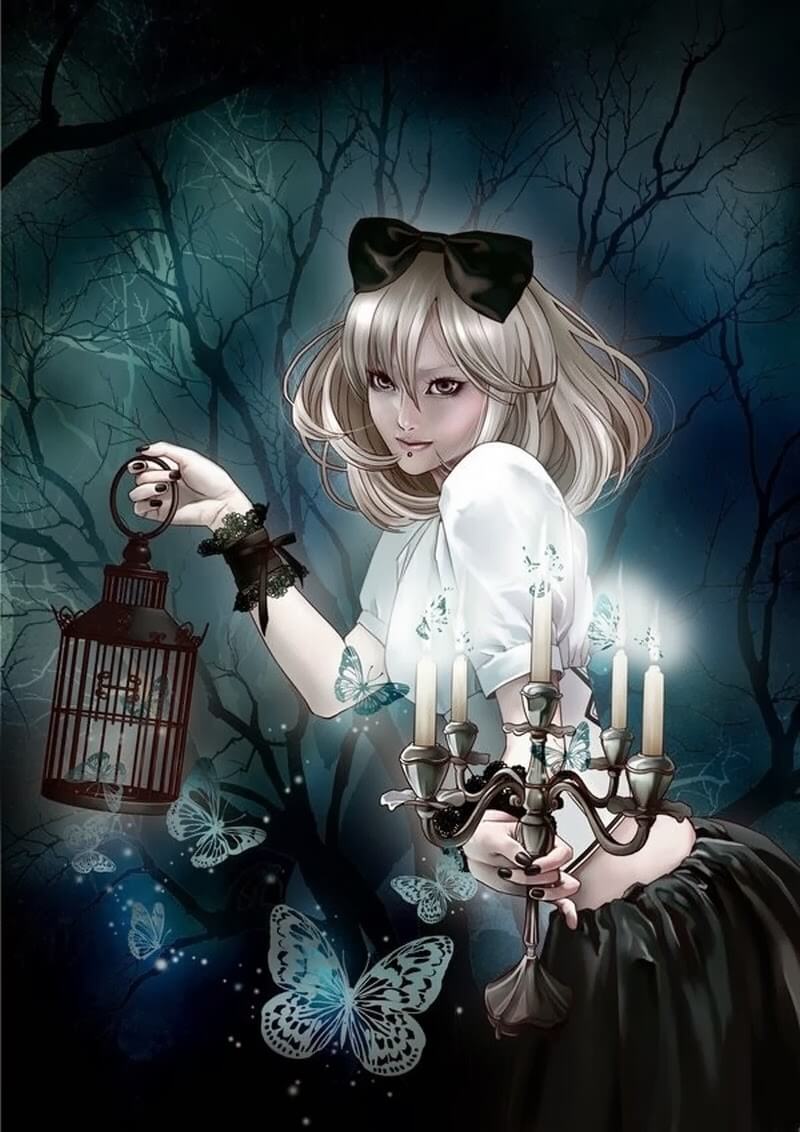 Phosphor Butterfly
♡
These images and more can now be found on my
Inspirational Artists Pinterest Board
♡