ART CLASS WITH KATIE COMLEY JONES – WEEK THREE | COMPOSITION
Last week, I said about how for this weeks art class with Katie Comley Jones, we would be looking at composition, and need to bring in three items for a still life. I was going to bring in an art item, feminine item and a little wooden cat statue. However, once I started playing around with various things on my desk at home, I felt like it would be better to pick three items from one single category for continuity.
I ended up going with three feminine inspired items: a pink fluffy flower hair clip, a pink oversized bracelet and my favourite Silver heart necklace. When I placed these three items together I felt like there was a nice mix of textures that seemed to compliment each other nicely. You can see what my still life looked like in the image I took during class above. I thought it looked quite nice :)
The class started with Katie giving us a presentation on composition; the main topic for this weeks class. She spoke about The Rule of Thirds, the Golden Ratio and something called MRBEVUP, or Mr Bev Up as she likes to call him :) I realised something while she was talking about The Rule of Thirds – Instagram uses it! While you're cropping your images in Instagram, a little Rule of Thirds grid is overlaid on your image, thought that was kind of cool :) As for MR BEV UP, he stands for
M – Movement
R – Rhythm
B – Balance
E – Emphasis
V – Variety
U – Unity
P – Proportions
I found this article entitled, Principles of Art, which explains each part of MR BEV UP but uses the word Harmony instead of Unity and Dominance alongside Emphasis.
These are all things to consider when thinking about composition. Katie said you don't have to, and sometimes won't be able to, satisfy all of them, but as long as you're thinking about them, and at least cover one of them in your composition, you will see an improvement. So for instance, with Unity, you would want to think about having items that all relate to each other. Much like I did with selecting three feminine inspired items :)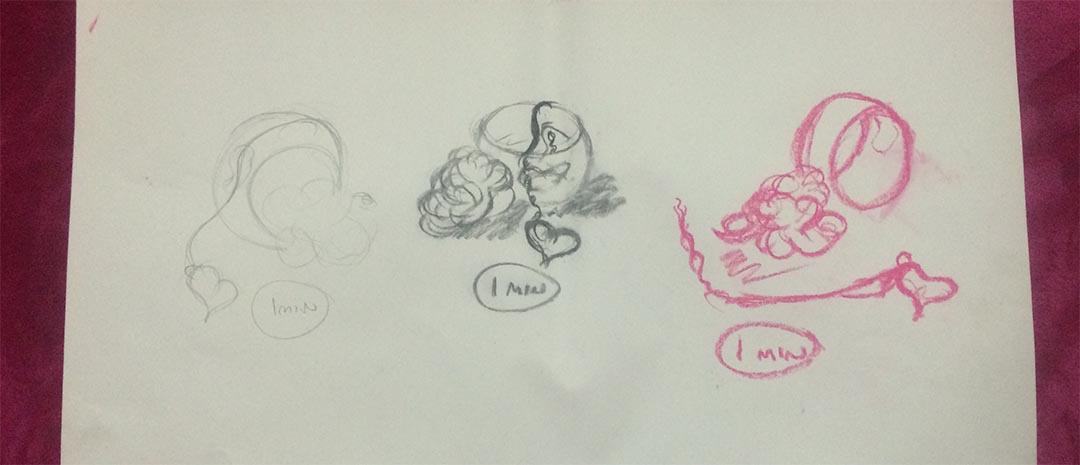 Once the presentation was over, Katie had us arrange our items into different compositions for three separate one minute sketches. I love that we start each class with these quick sketches, they make for a relaxing intro! I had gone into the class with an idea of how I was going to arrange my still life, but after trying out different set ups I liked the look and feel of my new one instead.
So I used this composition for my three minute sketch and main drawing. With the one minute sketches we just focused on capturing the shapes, whereas with the three minute sketch we started to think about where the lights, darks and various shadows were.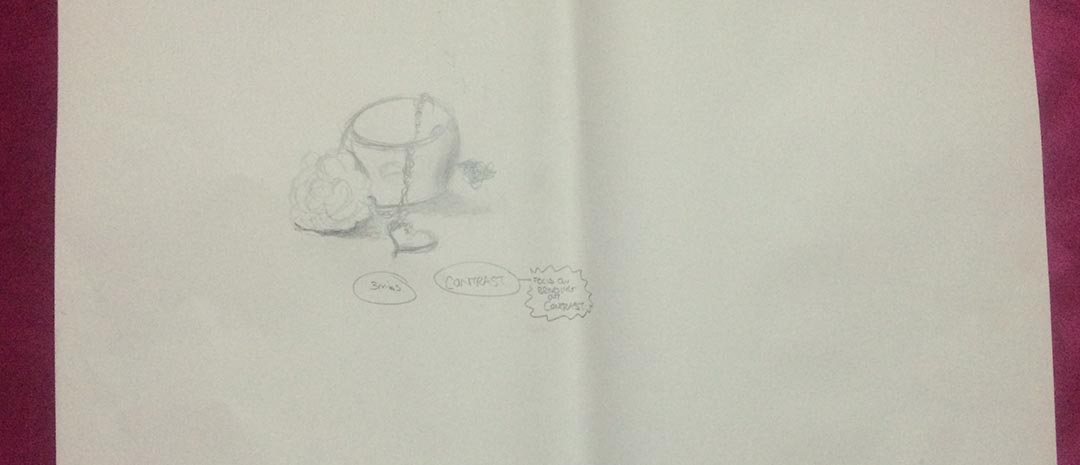 Once we had finished our sketches and selected our final composition, it was time to move onto our main drawing. One of the things I want out of this class is to try new things, so I made a bit of a mistake by defaulting to pencil for my final drawing. I guess I feel safe with a pencil, but next week I'm going to make sure I take myself out of my comfort zone and do my final drawing with something other than a pencil.
So my final drawing this week was done in graphite, I don't normally like still life, but this one I enjoyed a lot. I don't know if it was because I had a connection to the items I was drawing, or if I liked the colours, but this was the first still life I've done where I finished it feeling like I wanted to do more!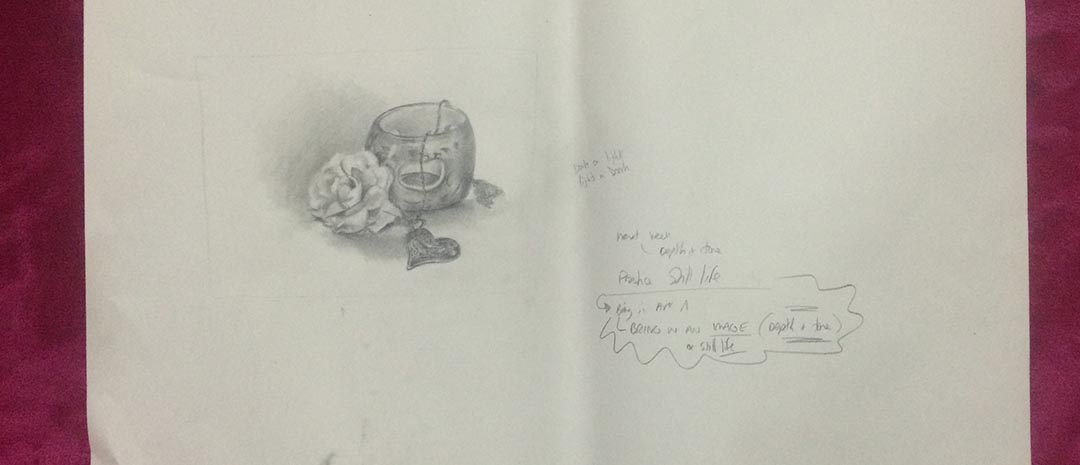 I'm someone who really thrives on feedback. Good or bad, I need feedback as I find it the best way to learn. This week, once we had finished our quick sketches and were part way into our main drawings, Katie spent some time with each of us one on one, critiquing our work. The good thing about her offering advice one on one, is while we were drawing you could listen in and pick up extra secret tips :)
When she arrived at my desk she said I had captured the top ellipse of the bracelet nicely, but that I needed to create more contrast on the flower hair clip to make it have more depth and pop. She also said I needed to capture the smoothness of the bracelet's surface more, but she really liked the shapes the necklace were producing and my various shadows.
All in all it was a really nice class. When Katie said it was time to pack up I was genuinely upset. I wanted to keep drawing. I left class excited to try still life at home, but also aware that I need to push myself more. I have a habit of doing my drawings too small, so I'll be quick sketching much bigger in next weeks class, Katie says this will help make drawing bigger, easier.
I also need to step out of my comfort zone and use different mediums. I keep defaulting to graphite pencils. I did pick up a load of coloured pastels at the start of class with the intention of using them in my final drawing, but once the sketching was over I felt this urge to draw it in pencil. Next week I'll be self aware and say, "No, you're not allowed to use pencils this week!" :)
Week fours topic is depth and tone. Katie wants us to bring in either an image, or something for a still life to draw. I haven't got a clue at the moment what to draw but as it's depth and tone, I need something that has a lot of contrast. I bet I end up with something super feminine again, mwwhahaha! Can't wait :)
You can find Katie Comley Jones at KatieJonesUK.com