ART EXHIBITION BRINGS THE FAMILY BACK TOGETHER
As I write this, I'm tucked up in bed, slurping on a Lemsip … I'm ill, but fortunately I was fine yesterday when I got to attend an art exhibition by three artists, Katrina Vettorel, Russel Aisthorpe and Dave Crocker, who I got to know via the Plymouth Hoe Art fair.
Dave Crocker kicked off the evening with a talk about his time painting 365 paintings in a year on the coast path, before unveiling his latest works.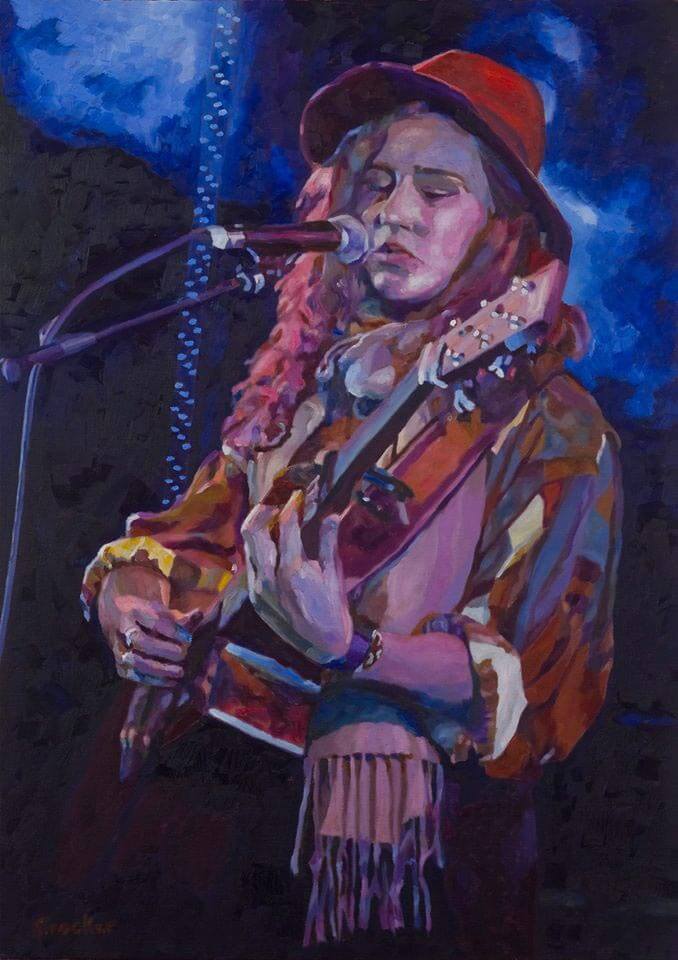 Alice Painting by Dave Crocker
Breathtaking. Dave is now capturing local Plymouth musicians, such as the painting above of Alice. These new works really connects with me. I think it's the colours, lots of blues, pinks and purples. It makes me want to see more. I especially like the emotion Dave captured in this one of Alice.
Dave's speech was just want I needed to hear, I'm such a structured person, sometimes I wonder if I'm too structured. Last Sunday I spontaneously painted a pair of my High Heels. I never paint. I think I've produced about seven paintings in my life, so it was refreshing and exciting to be painting. Dave's message was sort of mimicking this spontaneity.
"JUST GO FOR IT.
TRY NEW THINGS.
MAKE MISTAKES."
– Dave Crocker
These were the messages of the night, effectively, be fearless and just go with the flow. It was refreshing, just what I needed to hear. The art exhibition was really nice, held at the Devonport Guildhall, which is where Dave and I met last year when I was exhibiting my work for the first time. It was pretty emotional to return to this place as so much has happened over the past year. The highlight of the night was seeing everyone, lots of people from the Plymouth Hoe Art Fair showed up, and it felt like the family was back together. I really enjoyed the evening.
The following images are from the event, taken by official photography for the night, Caroline from Pin and Pose. Who was also the photographer at the On Course South West award ceremony I attended in 2015.
It was some twenty minutes after leaving the exhibition on Friday night that I fell ill, so I'm just thankful I managed to make it through the night ok. I don't mind being ill now, but to have missed this event would have been heartbreaking.
You can find about more about these Artists via their websites • Dave Crocker • Russel Aisthorpe • Katrina Vettorel