LIFE DRAWING WITH IAN BARLOW 2016
Last weeks Life Drawing class at the Plymouth Arts Club saw Ian Barlow return as tutor. Usually we just turn up each week and draw the nude model, but when Ian Barlow is in the house lol, we get a lovely two hour session full of advice, tips and guidance; all while we draw. I personally love these structured sessions. Ian last ran our class in October 2015, where he motivated me to continue doing gesture drawing after saying "I'm liking that line you've got going on there," referring to one of my pencil lines.
Ian started us off with some two to five minute quick sketches, before moving on to a final hour long pose. He normally tag-teams up with female model Elsie, whose one of those girls with that special something, always making the poses her own; a joy to draw. I sometimes wish we could have more tutored life drawing sessions, but in a way, maybe only having one every so often makes them more special :)
"EVERYTHING'S GOT RHYTHM, LOOK FOR THE MOVEMENT."
– Ian Barlow
Lately, I've started using different mediums when quick sketching at Life Drawing class. This week was no exception, as I took to using Charcoal pencils, my Staedtler Mars clutch pencils and a big fat brush pen. I personally wasn't that happy with my sketches, but Ian said he felt I did a good job of capturing the motion.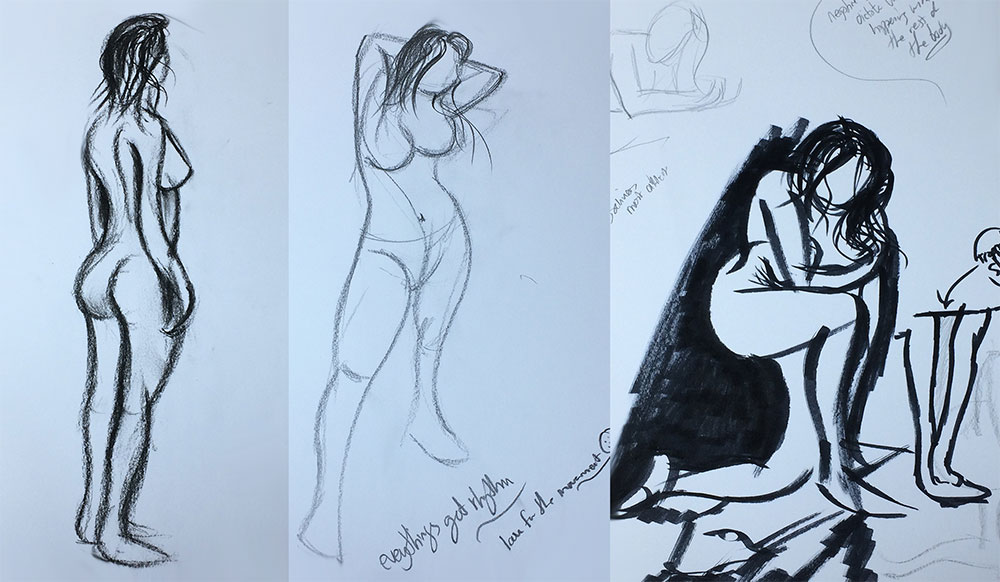 I love the fact that while we're drawing, Ian goes around giving everyone advice. You can learn so much by listening in, something he notices a lot, for instance, is the incorrect distance people draw the space between the neck and waist. Most people tend to draw the waist too low, in reality, the waist is much higher than we think it should be. Goes back to that classic quote, "Draw what you see, not what you know!"
Ian was also talking to someone else, explaining how from their particular angle, he saw Elsie as a Snail. He had broken her down into basic shapes, and was visualising a snail. This reminded me of my first Art Teacher Cheri Hunston, who once did a similar thing with one of my drawings. She once looked at part of my complicated drawing and said, "That looks like a shoe." I can't remember what it was I was drawing, but she too had broke it down and visualised a basic shape.
"NEGATIVE SHAPES DICTATE WHAT'S HAPPENING WITH THE REST OF THE BODY."
– Ian Barlow
For the long pose, Elsie was draped over the side of a chaise longue. It was a really nice pose, but all we could see was Elsie's back, and as Ian Barlow said, "The back is one of the hardest things to draw." I used me trusty 0.5 mechanical pencils, but struggled so much to see the tone. Ian said I should darken the tone of the left of her back, as while it is light, if I squint it's much darker than the high light running down the right of Elsie. To make that high light pop, I should darken the tone on the left. It was very hard!
I was relatively happy with the unfinished drawing, but something was bothering me. I felt her back was too straight and not foreshortened enough, but one of the other girls said she felt the proportions were fine, I just should have added a line to hint at the chaise longue. I think she was spot on, I'm sure that would have helped a lot, sadly I was so focused on trying to sort the tone of her back out I didn't even think about drawing the chaise longue.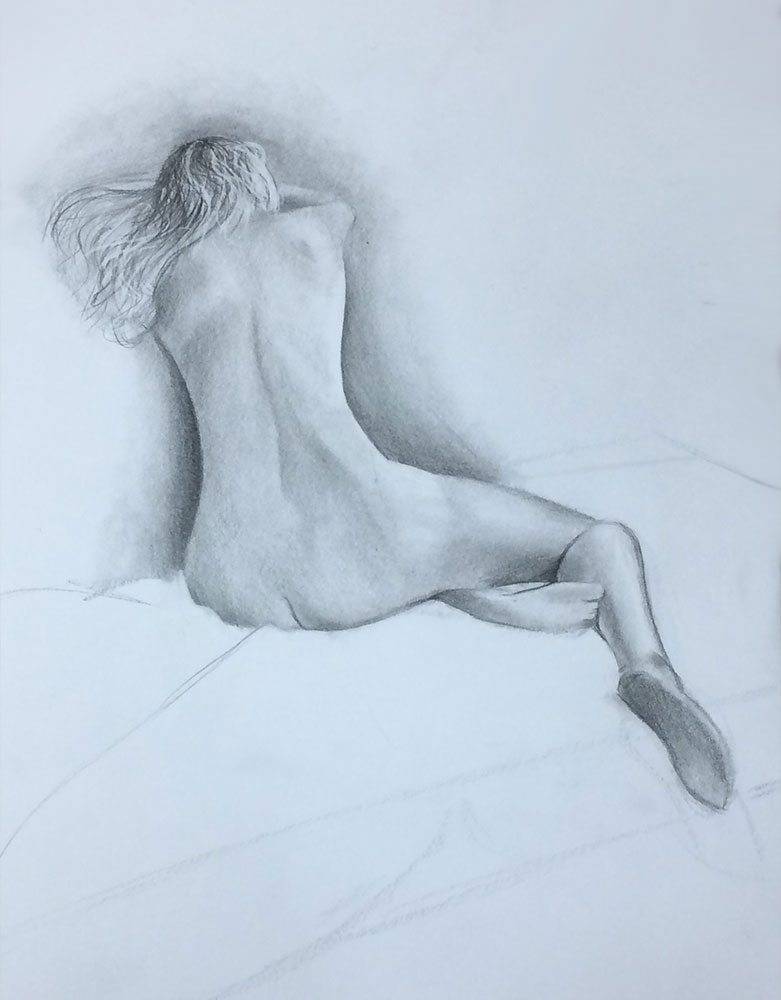 Ian said something tonight that resonated with me. Elsie had just got back into position, after our ten minute break, when someone said how her arm wasn't in the same place as before, to which Ian replied, "There will be differences, that's the beauty of a life model." I loved this as it is why I love Life Drawing too. Things are always changing, so you have to adapt and surrender control, making life drawing a highly challenging but insanely rewarding experience.
2017 saw Ian Barlow return once more for another tutored life drawing class, which was all about lines and feeling.
Ian Barlow is such a nice man, a great teacher, and as you can see from his website, an amazing Artist.