ORIGINALLY POSTED • 12TH AUGUST 2017
June 2017 saw Ian Barlow return as tutor for the weekly Plymouth Arts Club Life Drawing Class I attend. This was the third time I had the pleasure of learning from Ian, and once again, he didn't disappoint. Whereas 2015 was all about gesture and 2016 about movement, this year was all about feeling.
Ian wasn't working with female model Elsie this time, instead, we were treated to a new model called Dawn, who held four quick poses, and one longer 45 minute pose. Ian Barlow has a way of seeing and drawing that really connects with me. He's all about the lines, the movement and the feeling. One of the other ladies was struggling to convert Dawn into basic lines and shapes, to which Ian asked –
"EVERY POSE IS DIFFERENT.
ASK YOURSELF.
WHAT IS IT ABOUT THIS POSE, THAT GIVES ME A NICE FEELING?"
– Ian Barlow
I love this way of drawing. Forget what you think, forget about accuracy, instead, focus on what you feel. It goes all the way back to that first art book I read, Keys To Drawing by Bert Dodson, where he said about using trigger words. Trigger words are words you repeat in your head while drawing, that describe the feeling of what you're trying to draw. For instance, you might be looking at a bunny that you think feels fluffy, so while drawing it, you repeat the word fluffy in your head. This creates a feeling inside as your draw, which somehow influences your drawing, resulting in a bunny drawing that looks and feels fluffy.
I know it might sound bonkers, but for some strange reason, trigger words really work.
Ian reminded us to "…look for one long line. Something that strikes you. Something that you can get hold of." This is something Proko talks about in his videos too, where you want to find gesture lines. In fact, one of the other girls said to me that my quick sketches had a Proko feel to them; she tends to focus on structure, whereas I tend to focus on gesture and feel. I said to this girl how I'd like to improve my structure, and she recommended an Artist on YouTube called BORODANTE … after watching some of his videos, I've since subscribed.
During the quick sketching, Dawn had an umbrella as a prop, which allowed for some really fun poses. "There is not enough time to worry about proportions, only go for the feel of the pose," Ian reminded us. I really enjoy quick sketching at Life Drawing class for this very reason, it forces you to loosen up and just go for it.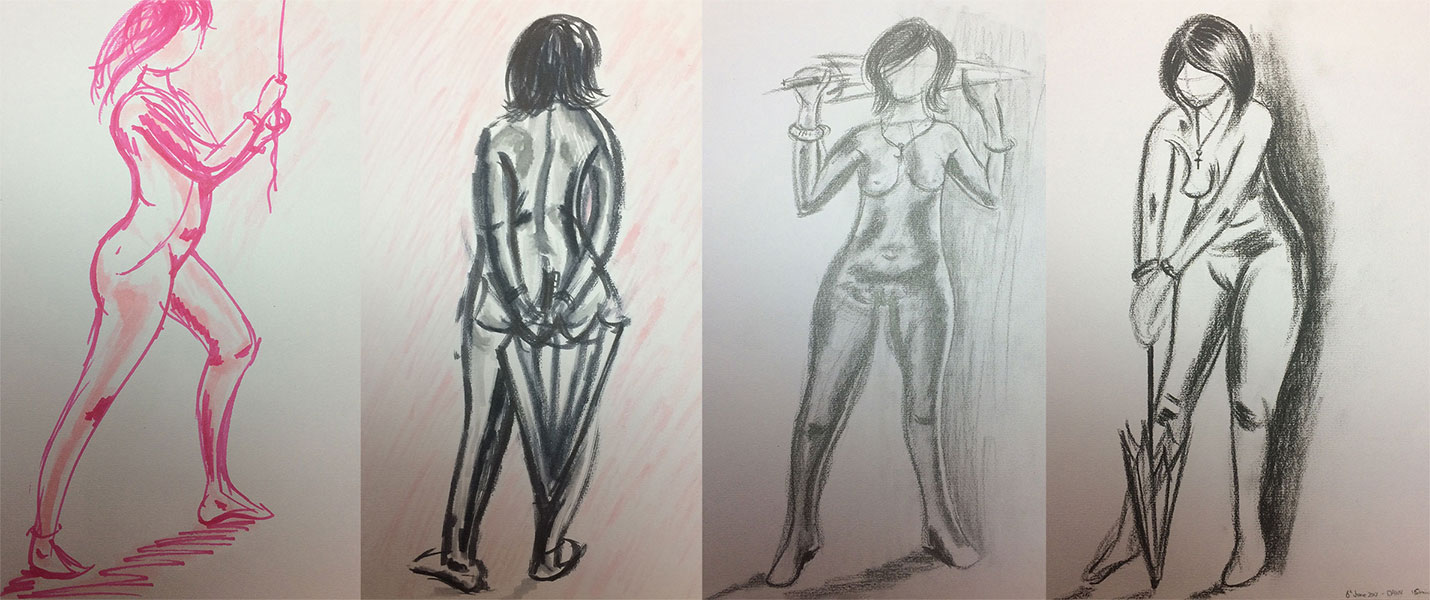 While I was sketching, Ian came around and commented on one of my sketches. "Notice the space between her shoulder and the umbrella," he said. I looked at my sketch, than looked up at Dawn. I was pretty shocked. There was no space between the shoulder and umbrella, yet on my sketch I had left a massive space. I didn't even notice it until he said. How did I miss this? I wasn't looking for the negative spaces, that's how. Ian always says to look out for Negative Spaces, which are the spaces between things, such as the space between your fingers if you hold them out flat in front of you. On this occasion, I hadn't noticed them.
Once again, like in 2016 when he turned the model Elsie into a Snail, he started giving shapes names. He saw a complicated shape and named it a gnomes hat. I was smiling as he said this. I find it cute, but I'm not 100% sure naming shapes is for me. I feel like there's a risk you could start drawing the thing you're thinking of, instead of what you're seeing. I like to just say the type of line or shape I see while drawing instead.
"LINES ARE AMAZING WHAT THEY CAN DO.
SOME ARE FAST.
SOME ARE SLOW."
– Ian Barlow
Another beautiful Ian Barlow Quote. I love lines. I really became aware of them while studying Artist ALEKSEI VINOGRADOV, who uses fast and slow lines and brush strokes to emphasise areas, thus being able to guide the viewers eye around his painting. Lines are not only amazing, but actually very powerful.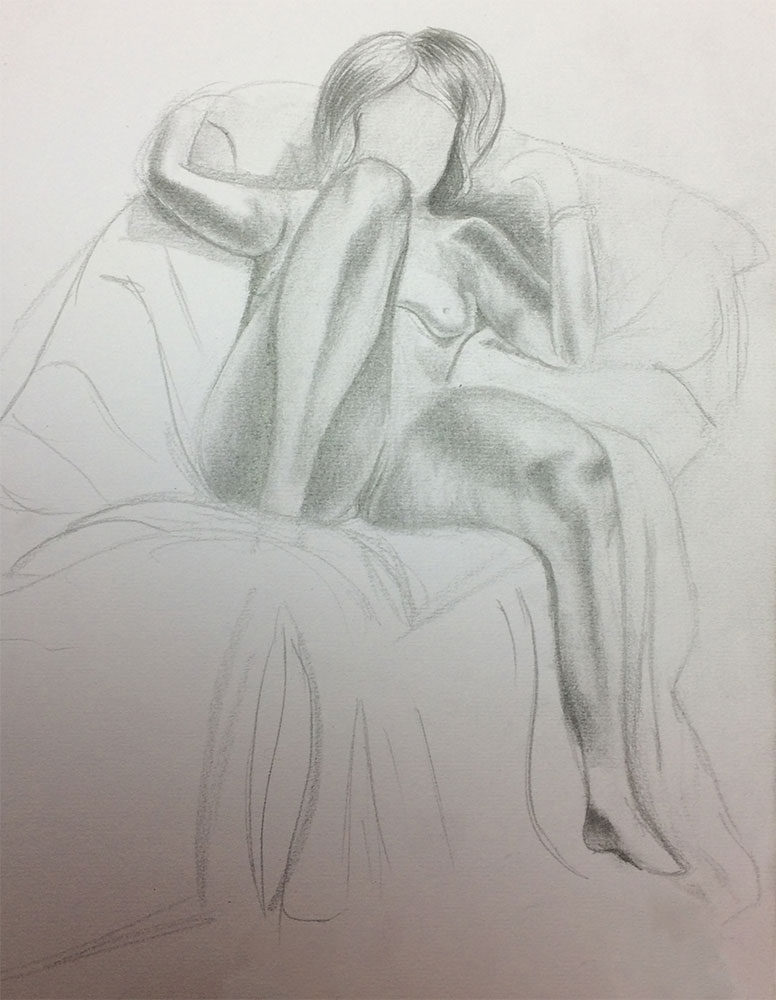 Once the quick sketches were over, we had a break before jumping into the long pose. "Break it down into Shapes where you can," and, "use the edges of the chaise lounge to create negative shapes," were just some of Ian Barlow's wisdom as we got started. However, before I knew it, the class was over. I looked at my long pose drawing and was pretty happy, but as is often the case … I wish we had more time :)
Ian Barlow held an art exhibition entitled, A Passion For Life; an exhibition featuring a selection of oils, pastels, sketches and sculptures of the female nude. It ran between the 17th and 30th of August 2017.
I was lucky enough to go on the opening day, and was left in total awe, you can read all about it via my 'A Passion for Life' Ian Barlow Art Exhibition Blog Post; but I'll leave you with one of personal favourite Ian Barlow paintings from the show :)