REREADING KEYS TO DRAWING BY BERT DODSON
In 2013 I got the urge to start drawing. It all happened after playing the videogame Persona 4. It sparked something off inside of me. I wanted to design my own characters, just like the ones in Persona 4. The urge got so strong that I started to research books on how to draw. Amazon reviews were my main source, and the one book that ended up catching my attention, and it wasn't just because of the bright yellow cover, was Keys to Drawing by Bert Dodson, now one of my recommended books.
I can still remember how at the time, the flat I was living in was a complete mess. Stuff all over the place, but instead of tidying up, I opened up my newly delivered book and started reading. The rest, as they say, is history. I couldn't imaging life without art now. Art has changed everything, and I owe a lot of it to this book. If I had purchased a different book, who knows, I may not have connected with it and thought to myself, 'Drawing's not for me' … this book made me feel like I could draw anything. That was three years ago, and now, after a somewhat crazy 2015, I find myself returning to the book that started it all. It's time to reread Keys to Drawing by Bert Dodson.
"KEYS TO DRAWING ESSENTIALLY, IS LEARNING TO TRUST OUR EYES AND LEARNING DIFFERENT WAYS IN WHICH WE CAN REINFORCE THAT TRUST."
– Bert Dodson
The plan is to study from the book for at least two hours everyday. Each chapter contains multiple drawing exercises that I'll also be working through. These range from drawing your feet, to going outside and drawing something in perspective. Talking of drawing your feet.
The 'drawing your feet' exercise, is the first exercise in the book. It was an exercise I'd forgotten about until December of 2014, when I received an email from an artist who signed themselves off as, 'a little artist from Europe'. You can read the full email below, but attached was a drawing. A drawing of this artist's feet … all the memories came flooding back, and I smiled. Even now, this photo still makes me happy. I'm happy for I imagine this artist now out on their own epic journey. Happy for I remember how oblivious I was to the power of art back then. Happy for I felt a real connection with this "little artist from Europe".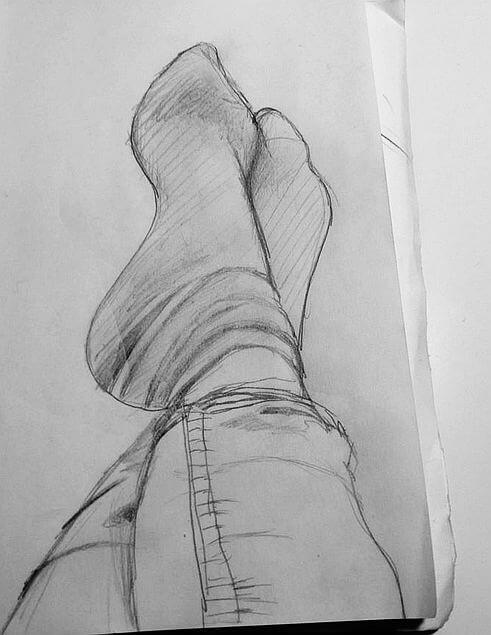 So over the next few weeks, and potentially months, I'll be returning to Bert's book. Going through it chapter by chapter, exercise by exercise, to see what it's like studying from this book, now that I have a little bit more knowledge. Since adding it to my Recommended Books in 2013, it has pretty much sat on my shelf untouched.
I'm fascinated to see
How will I feel about the book now?
Will some of Bert's knowledge, that I wasn't ready for back then, now make sense?
Will old tips I'd forgotten about come flooding back?
I've heard on podcasts, how you're sometimes not ready to take in certain knowledge. Sean McCabe calls it the magic of seven, where you need to hear something seven times before it sinks in and makes sense. So hopefully I can learn some new things from the book that were invisible to me the first time. If you're also studying from the book, feel free to contact me or leave a comment below so we can share our stories and drawings :)
For now, I'm off to go do some studying. See you next week, for week one of Rereading Keys to Drawing by Bert Dodson.
"IN ADDITION TO TRUSTING OUR EYES, THE QUALITY THAT MOST DEFINES ANY OF US AS ARTISTS, IS CURIOSITY."
– Bert Dodson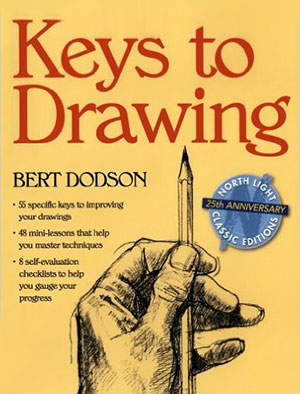 COMING UP IN MY REREADING OF THIS BOOK
WEEK ONE • Covering
chapter 1 (The Drawing Process)
chapter 2 (The Artist's Handwriting)
Including
Bert's four rules of shape:
1. Draw Large Shapes First
2. Look for Enrichment Shapes 
3. Tie Shapes Together
4. When you see a Trapped Shape, Draw it
WEEK TWO • Covering
chapter 3 (Proportions: Taking the Measure of Things)
chapter 4 (The Illusion of Light)
Including
Bert's discussion on three Sighting Strategies:
1. Finding the Midpoint
2. Using Plump and Level
3. Taking Comparative Measurements
WEEK THREE • Covering
chapter 5 (The Illusion of Depth)
chapter 6 (The Illusion of Texture)
Including
four depth principles:
1. Overlapping Shapes
2. Diminishing Sizes
3. Converging Parallel Lines
4. Softening Edges and Contrast
THE FINAL WEEK • Covering
chapter 7 (Pattern and Design)
chapter 8 (Drawing and Imagination)
Including
Bert's discussion on what makes a good Composition;
Balance and Paradoxes