THE DIGITAL DREAM WEEK SIX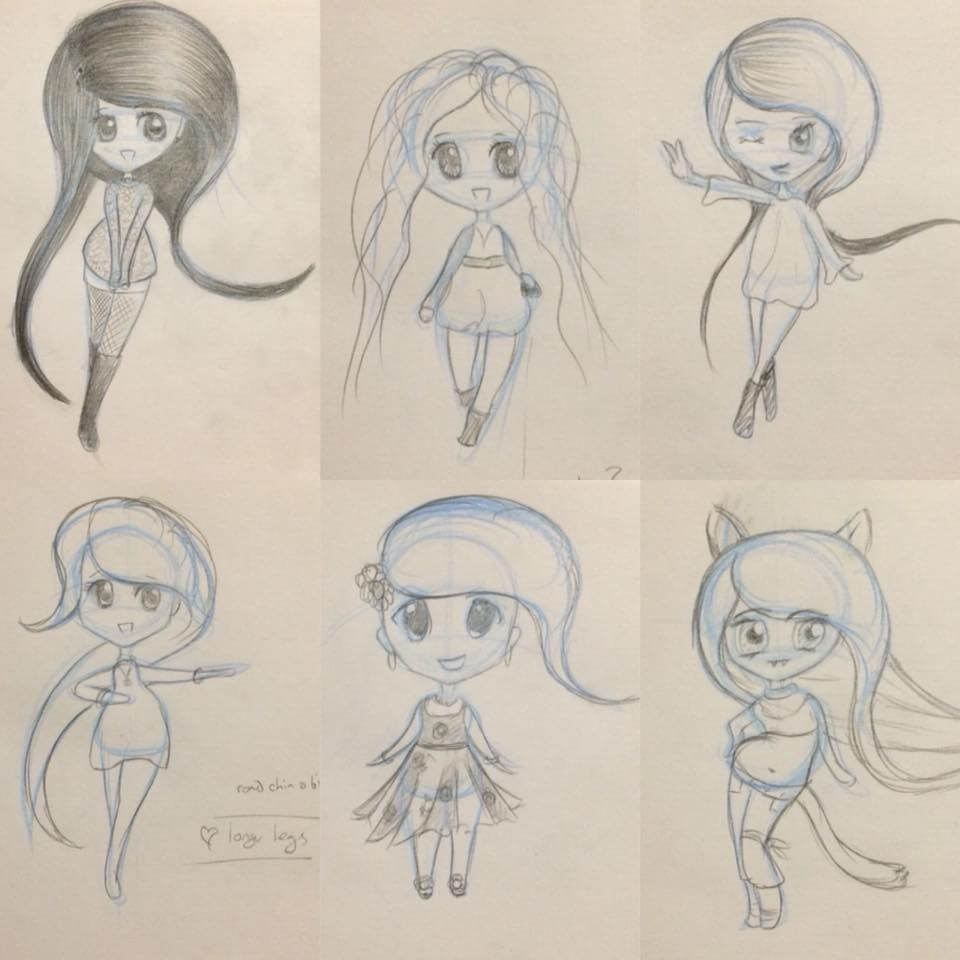 I'm having so much fun creating these chibi characters :)
Believe I've settled on a size; I made their legs a teeny bit longer, and rounded out the chin.
I got thinking today … what if I render lilSOPHIE's hair super realistically.
Normally chibi characters have basic flat hair, but I might try and merge my realistic drawing with lilSOPHIE :)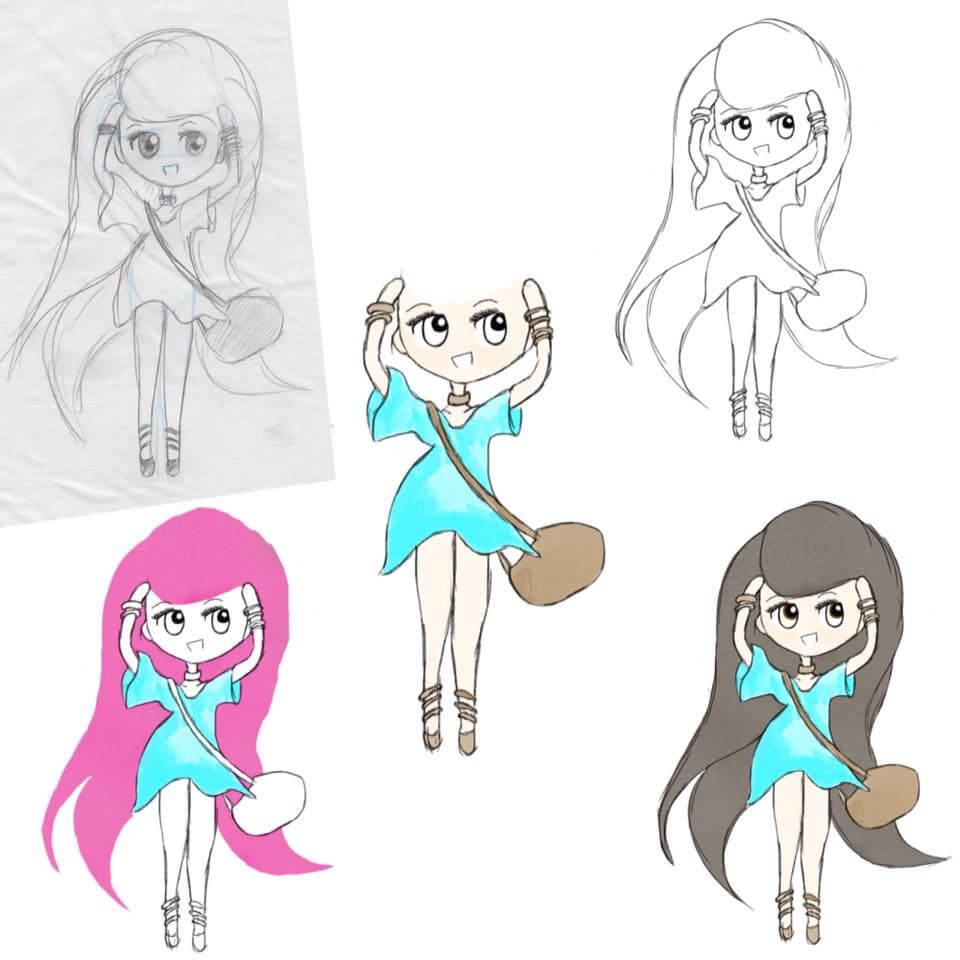 lilSOPHIE's still finding herself :)
Turned one of her pencil sketches from today into a digital sketch.
She's wearing one of my dresses, my brown bag, and … just like me … trying out the wigless look :)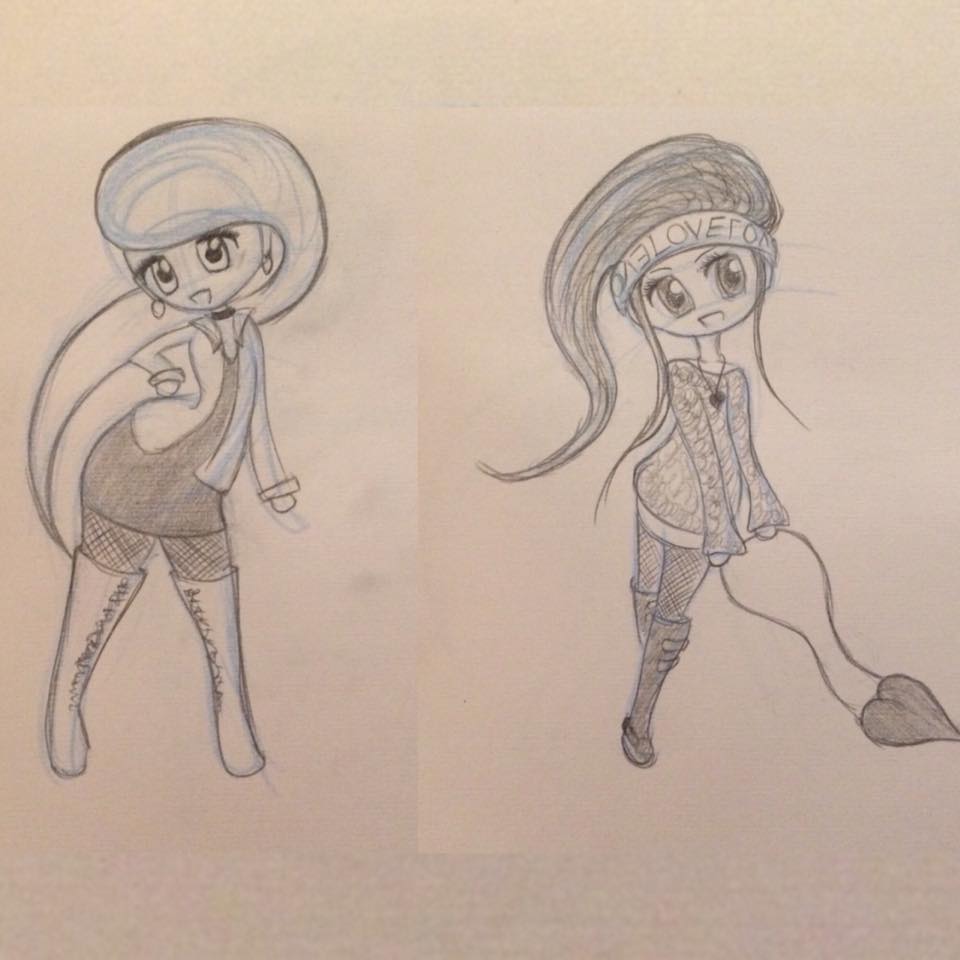 A couple more sketches from today :)
Got to get ready for Life Drawing Class now, but I've come up with an idea…
…I'm going to quick sketch tonight's life model, as a chibi character lol
Think it'll be fun :)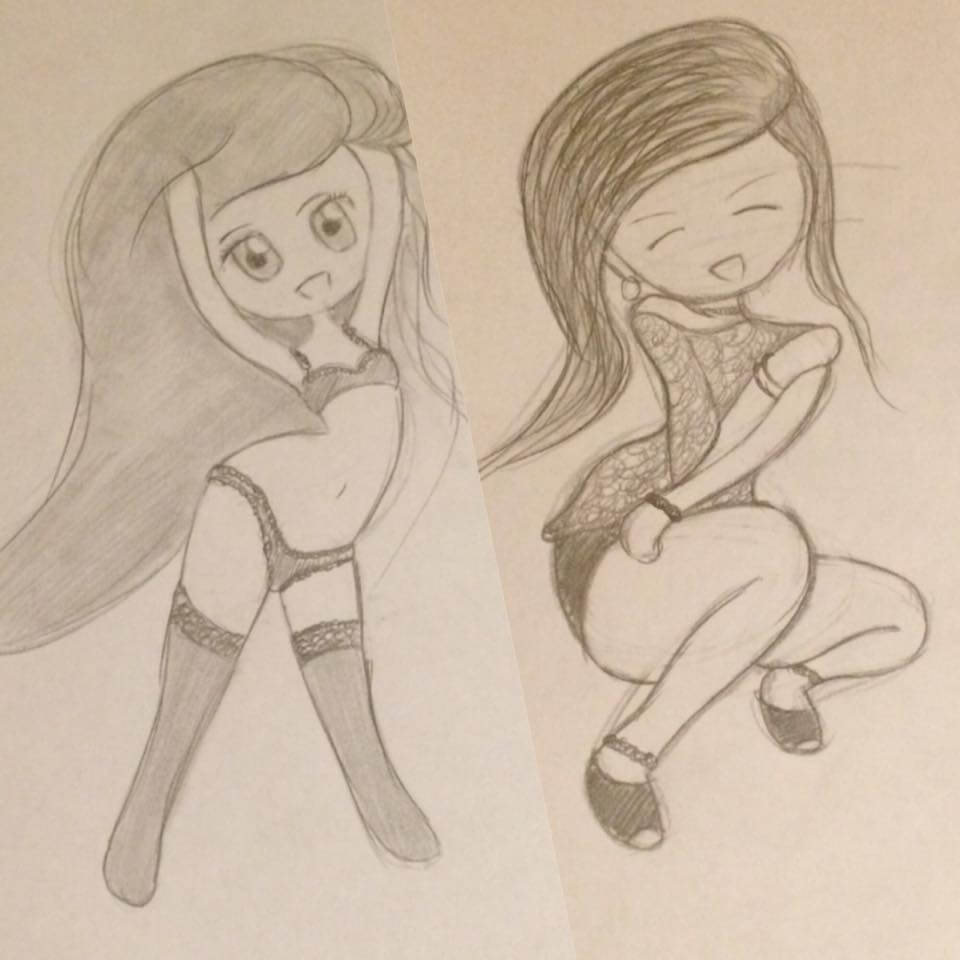 Started turning photos from google into chibi characters today.
Capturing the pose is really fun :)
But it's hard to keep track of the proportions, and I really struggle to consistently draw the head the same shape.
The one on the left gives me a vibe of a really cool anime I watched years ago, called • Panty & Stocking
"I FIND IT INCREDIBLY RELAXING, AND FREEING, SKETCHING lilSOPHIE"
FUN, FUN, FUN
The truth is, last week, I was in a such a confused place, dealing with the conflicting goal of learning digital and learning how to draw chibi characters, that I almost quit the challenge.
The digital dream is a 75 day challenge, taking me till the 29th December 2017, with ONE MAIN GOAL – bring lilSOPHIE to life, and a SUB GOAL – finding out if I enjoy the process of working digitally.
Last week I realised I had lost sight of the main goal and was too focused on learning digital painting. Instead of quitting, I turned it around and allowed myself to put the computer to one side for a while, focusing instead on finding out how to draw chibi characters, and what lilSOPHIE looks like; I feel I made a lot of progress in both areas this week.
A WEEK OF SKETCHING
sketching her while on the ferry to work
sketching her first thing in the morning in bed
sketching her before bed at night
sketching her on the train
sketching her wherever and whenever I could :)
I enjoy finding poses online and trying to turn them into chibi character poses; I've even found myself acting out some of the poses to get a real feel for them.
I also enjoy imagining outfits and dressing her up; I've been basing a lot of her clothes on outfits I own :)
It's just been a lot of fun.
"Are these technically impressive?
Probably not :(
But Does it really matter if you're enjoying yourself?
Definitely not :)"
BASIC SHAPES
My feeling is, she'll get better the more I draw her, so I focused on finding out what the basic shapes were of a chibi character, I came up with:
HEAD : elongated CIRCLE
NECK : tiny GAB below her chin
BODY : BEAN shape
ARMS : SAUSAGE shape
HANDS : STUMPS lol
LEGS : SAUSAGES
FEET : STUMPS :)
The video above, CHIBI TUTORIAL! by Yamuo, really helped, giving me a good starting point for the shapes.
It's funny, because she mentioned the bean shape of the torso, which triggered a realisation; I already knew about this shape from the Proko Figure Drawing class I purchased ages ago.
I just assumed that was only for realistic drawing; I never realised the same shape could be applied to a manga style chibi character.
DOH!
I haven't really focused on her face yet, like the eyes or mouth, as I didn't want to try and learn too much at once; so in a way her eyes are only place holder at the moment, but I imagine they'll be similar to lilSOPHIE's final eyes, just refined a bit.
DIGITAL DREAM?
I did dabble a lil bit on the computer, turning one of the sketches into a digital sketch … but this was much harder than I expected.
While it didn't have the same nice feeling as pencil sketching, it did highlight how cool it is to work digitally … like being able to change the colour of her hair instantly; digital really allows you to play around and experiment with things.
I imagine in the future I'll do the sketch with pencils, than scan her into the computer to do the final colour and stuff :)
NEXT WEEK
Week Seven was another fun one – lots of sketching – but it also came with a big question mark … Does lilSOPHIE have a face? Does she need a face? Why do characters need faces? To find out what the devil is going on here, check out the WEEK SEVEN POST
Be sure to also check out my Facebook Art Page / Digital Dream Album – which gets updated daily, wahoo :)
"Art enables us to find ourselves and lose ourselves at the same time."
Thomas Merton