THE DIGITAL DREAM WEEK SEVEN

W
eek seven of
The Digital Dream
; over halfway now :) and :( … I hadn't touched the computer for over a week until today, instead I've been focused on sketching
lilSOPHIE
; trying to find out what she looks like.
This week, I experimented with different eyes, than randomly tried the faceless look … I now need to make a decision; WHAT DOES lilSOPHIE LOOK LIKE?
First, let's take a look at this weeks daily posts from my Facebook Art Page :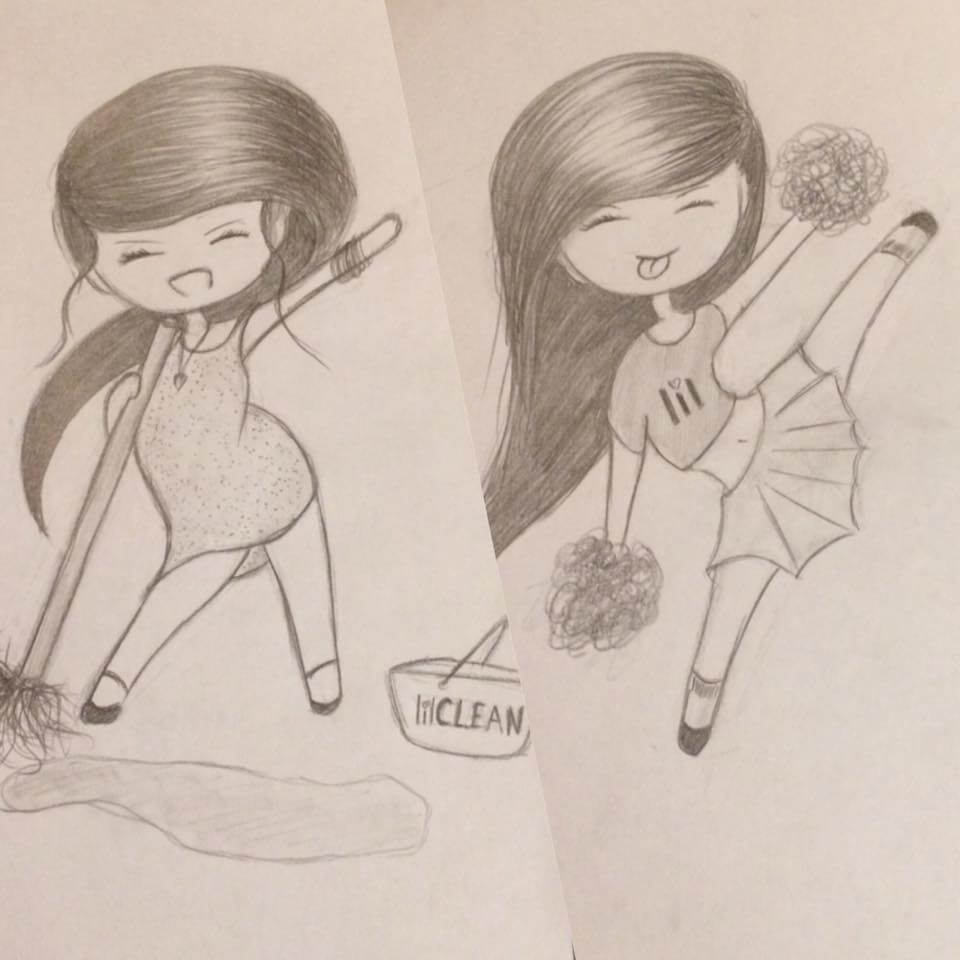 Today lilSOPHIE was: a lilCLEANER, and a lilCHEERLEADER
I get more fun creating the poses and outfits, but I really need to start focusing on her face.
This is where digital will shine; quickly re positioning her head to play around and experiment.
Might have to sketch a ton of floating heads to practice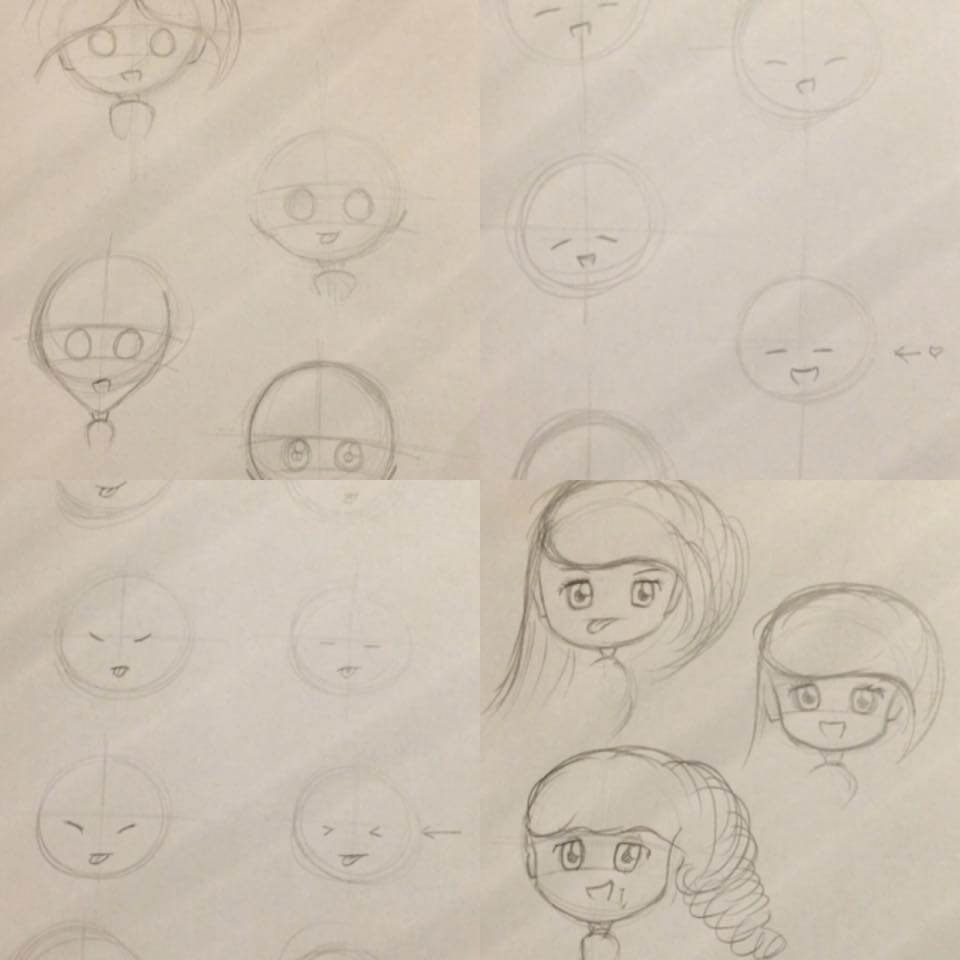 Had a job interview today, so didn't do too much sketching :(
What little time I did have, I used to start practicing floating heads :)
Think I like the rounded head and chin, as opposed the pointy one
Need to understand how to capture expressions in chibi eyes too; arghh, so many things to learn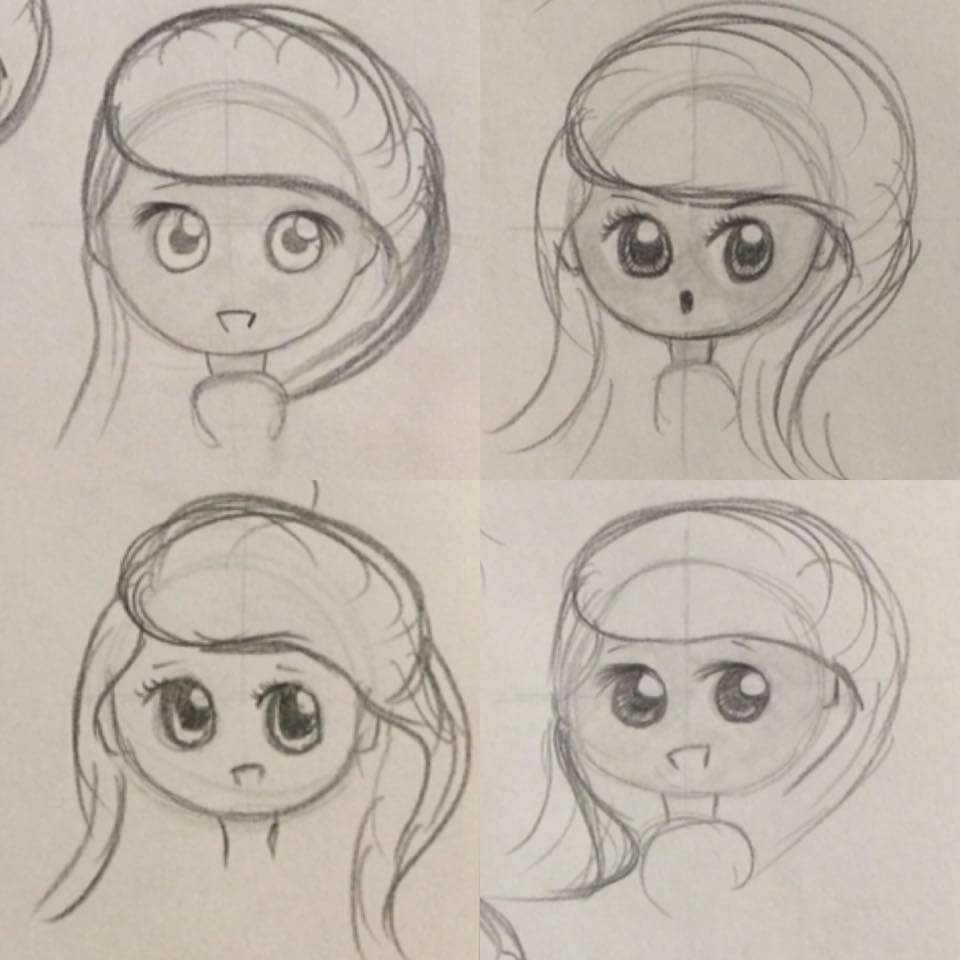 Half way through the challenge :)
Today I mostly played about with eyes; making them more rounded and slightly bigger
I like how they feel, but not sure which style I like best
Might sketch them digitally tomorrow to see how they look on the computer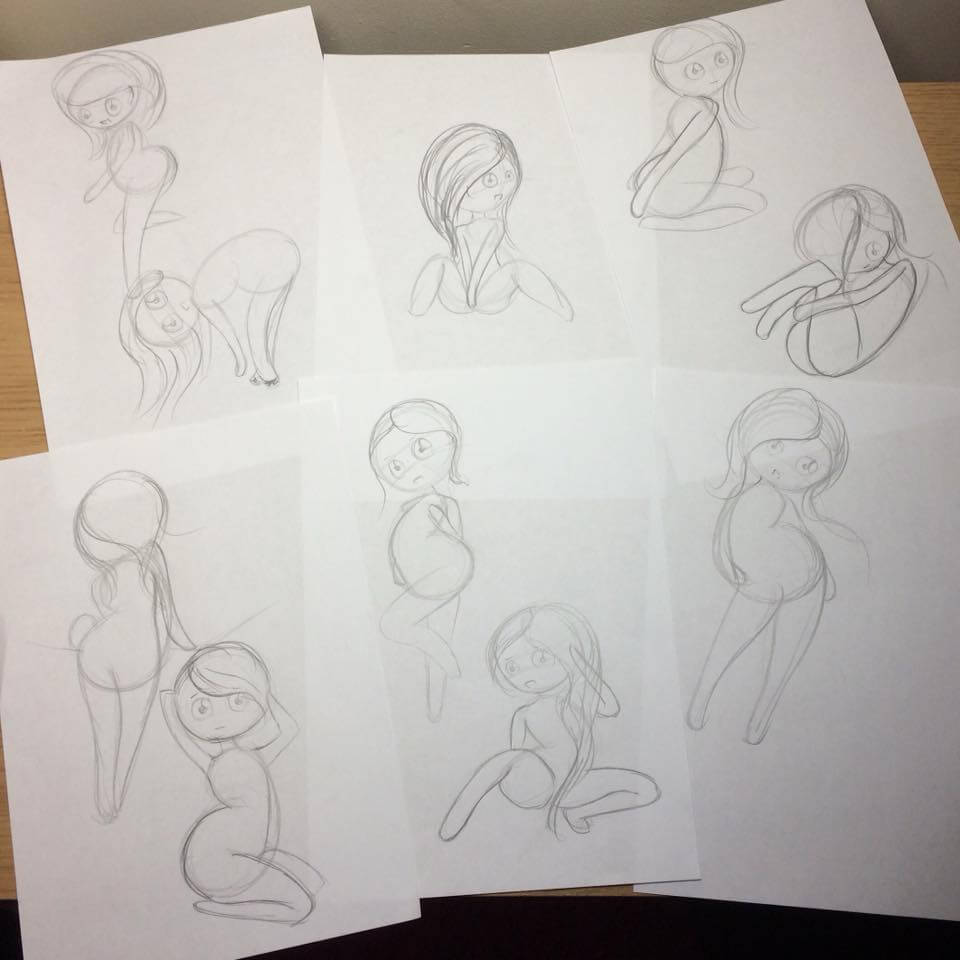 Had a brainwave at work today!
I've been missing my daily Gesture Drawing sessions; instead sketching lilSOPHIE … but I thought – you can do both at the same time!
So I tried it today; it was really hard, but so much fun :)
I did loads of 2 minute quick gestures, using • QuickPoses.com but turned the pose into a chibi character
I also did a new mini drawing, which I posted on my Instagram • instagram.com/sophie.lawson/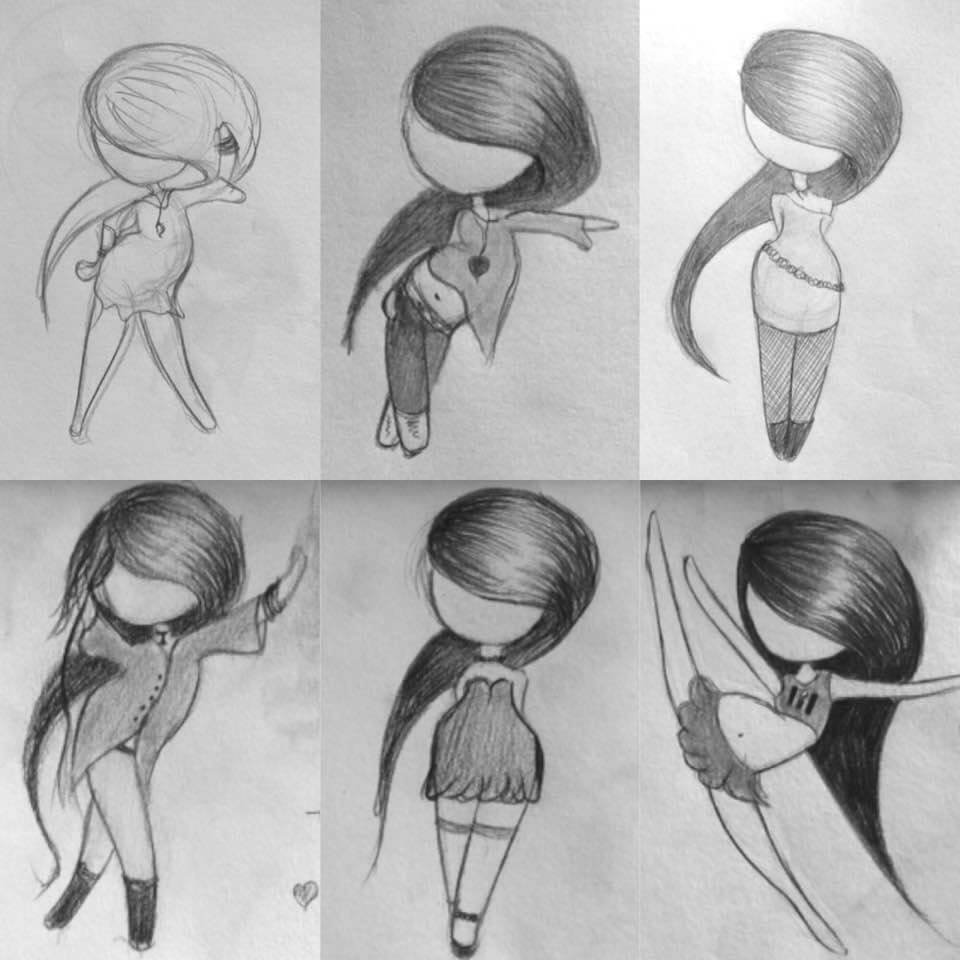 Does lilSOPHIE have a face?
I'm toying with the idea of making her faceless … a random gesture from yesterday, where she had no face, gave me a nice feeling; so I sketched her all day today, without a face.
At Life Drawing Class, I never draw the face
When I Pose for Photos, I never show my face
My PaintBrushGirls, are all faceless
I like the feeling you get when you don't see the face … I'm just not sure on lilSOPHIE
What Do You Think?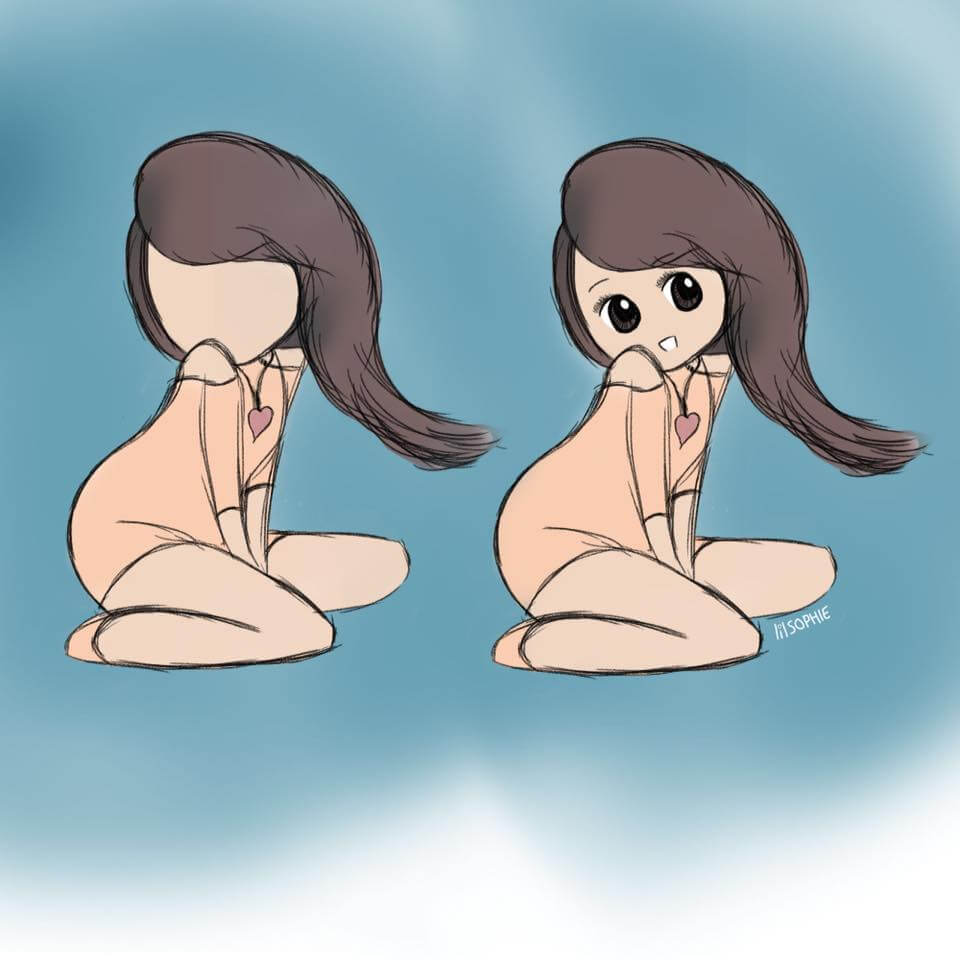 Still can't decide if lilSOPHIE has a face or not
I got back on the computer today, and turned one of my 2 minute gestures, into a little digital sketch.
Try this … cover one of them up, and see how the faceless lilSOPHIE has a totally different feel to her, than the other one
You only really feel it when you see them on their own.
Which do you prefer, face or no face?
"I can let my hand find the gesture,
while my head finds the structure."
GESTURE DRAWING
On day 39, I started a new thing … I started combining daily Gesture Drawing, with chibi sketching. It's funny, I've been doing Gesture Drawings for a few years now, I even emailed Stan Prokopenko, from Proko.com, in 2015 asking for feedback – he said, "Start adding Structure to your Gestures."
You can add structure by finding and adding the bean, which represents the rib cage and pelvis (I spoke about this a little bit last week), I never moved on to this phase in 2015 though … I was scared. I tried it a couple times but found it so hard, I stuck with quick Gestures. Turning these quick gestures into a chibi character, is actually using the same Bean method.
I love how the Universe works, I just naturally started doing what Stan Prokopenko said to do, but when the time was right, and in a more fun way; this may end up being a stepping stone to later added more advanced structure to non chibi drawings :)
TWO MINUTE GESTURES
Instead of 30 or 60 second quick gestures, I now do 2 minute gestures over a 40 minute period.
I break the 2 minute gesture down as follows:
A few seconds to study the pose
Place a quick gesture, as if I was doing a 30 second one
Work out where the pinching and pulling of the body is happening
Place the bean onto the gesture and start added basic structure
All the while being self aware that I need to turn the human pose I'm looking at, into a chibi :)
So there is a bit more going on that simply turning what I see into a gesture … this squishing of the human pose into a chibi gesture sketch is what makes it so fun. You have to use your eyes and imagination at the same time, trying to capture the essence of the pose, while imagining the character :)
It's challenging, but really so much fun. All those years spent doing Gesture Drawing are actually paying off; I can let my hand find the gesture, while my head focuses on finding the structure, and my imagination finds the character :)
"I STARTED ASKING MYSELF
DOES lilSOPHIE HAVE A FACE?"
FACELESS?
It was after one of these Gesture Drawing sessions that I randomly saw something. For a few days beforehand, I had been struggling to find what lilSOPHIEs eyes looked like. The truth is, I don't really enjoy drawing faces on full bodied characters; I get the most enjoyment from capturing the flow of the form and capturing the hair.
I always see hair as the main part of a character, I love exaggerating it; making it almost have a life of its own. Eyes and faces, I find distracting. To some extent, I find they take away from the overall pose once you draw them in; they become the focal point, taking your attention away from the whole.
After doing some 2 minute chibi gestures, I noticed one of them didn't have a face. This wasn't by choice, it was merely because I ran out of time. However, I liked the feel of it. I liked the way this little character had mystery and a different vibe about her than the others around her … SHE STOOD OUT :)
I started asking
SHOULD lilSOPHIE HAVE A FACE?
WHY SHOULD SHE HAVE A FACE?
WHY DO I FEEL LIKE SHE HAS TO HAVE A FACE?
DO I WANT HER TO HAVE A FACE?
I Started thinking; all my Sketches and Drawings from Life Drawing Class, all My Photos … always faceless. I don't like drawing faces, but I want lilSOPHIE to star in a manga webcomic with her pet sidekick, Kev the Cat … a manga telling little funny trans related stories, but how can a lead character in a manga, not have a face?
Hmm.
So that's where I'm at, trying to feel if she has a face or not.
NEXT WEEK
The plan is to start doing some digital sketches next week, this will allow me to duplicate a sketch and have the same pose side by side, with and without a face to try and work out which direction I want to go in.
I feel like my heart wants to go faceless, my head says no, you must have a face, it's the rule.
I always follow my heart, so maybe I've subconsciously made my mind up, my head just needs to catch up :)
Be sure to check out my Facebook Art Page / Digital Dream Album – which will be getting updated daily throughout the week :)
"YOU'LL SEE MORE,
WITH YOUR EYES CLOSED."
– Lulu
"Art enables us to find ourselves and lose ourselves at the same time."
Thomas Merton