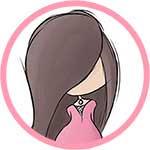 lilSOPHIE SAYS...
*splosh*
"Big Sophie set me up on this one. I was gathering all my art tings together, to go do some painting with her, when she suddenly started shouting, "Hurry lilSOPHIE, come look at this!"
Fully loaded up with all my art supplies, I burst into the room and BAM! She'd strategically spilt some slippery wet paint on the floor ,and over I went; all I could see were my lil heels spinning through the air.
*Click Click*
The sound of big Sophie's camera went off and I knew what was going on, I was mid air posing for this months lilAFFIRMATION – When You Rush, You Delay.
Not cool Big Sophie I thought, but I guess I did learn my lesson. A very wise Monk, Venerable Thupten Phuntsok, once said –
"When You Rush, You Delay.
When You Take Your Time, That's When You Speed Up."
It's an Affirmation that applies to all areas of life, from the lil tings, to the big big tings.
So next time you find yourself rushing through life: trying to get somewhere, do something, or force something to happen before it's ready. Pause. Think of my lil bum flying through the air and remember, When You Rush, You Delay."
"Art enables us to find ourselves and lose ourselves at the same time."
Thomas Merton