BLANK COLOURED PENCIL COLOUR CHARTS AND VALUE SCALES
Recommended Art Tools
BLANK COLOURED PENCIL COLOUR CHARTS AND VALUE SCALES
WHAT ARE THESE?
Blank colour pencil charts for you to download and complete, for future reference of what all your colours look like.
If you would like me to make you a colour chart for other pencils, please contact me and I'll create it for you :)
The Prismacolor pencil chart was created by Deviantart member TransientArt. Please note, there was a slight error on the original where pencil number 1103 was incorrectly listed as Violet Blue instead of Carribean Sea which I've fixed in the download below. The Derwent Inktense chart I created was based off the completed one at BroadCanvas.net.
WHAT DO THEY LOOK LIKE FINISHED?
After a few hours of filling them out, they should look something like the image below. I also took a photo of the Derwent Inktense colour chart before adding water, so you can see what those pencils look like before and after water is added with a waterbrush pen.
COLOUR CHARTS are a great way to see all your colours together, but if you want to have a more detailed view of each individual colour, I recommend creating a colour pencil VALUE SCALE FLIPBOOK.
ANOTHER WAY?
While watching Lee Hammond's Lifelike Drawing in Colored Pencil dvd, she was explaining the importance of practising value scales, and mentioned how a student of hers once created a binder full of business card sized value scales for each of their coloured pencils. Lee Hammond actually said she didn't have the patience to do this herself, but I thought to myself, I do lol
I then set about creating my own binder of value scales for each of my 132 Prismacolor pencils. Unlike the blank colour charts above, these business card sized value scales are much bigger, and so require more patience and time. If you're like me though, you'll get excited at the thought of a wallet full of business cards, each containing a value scale of all your reds, blue, yellows, greens etc. This will fuel you to get them all done.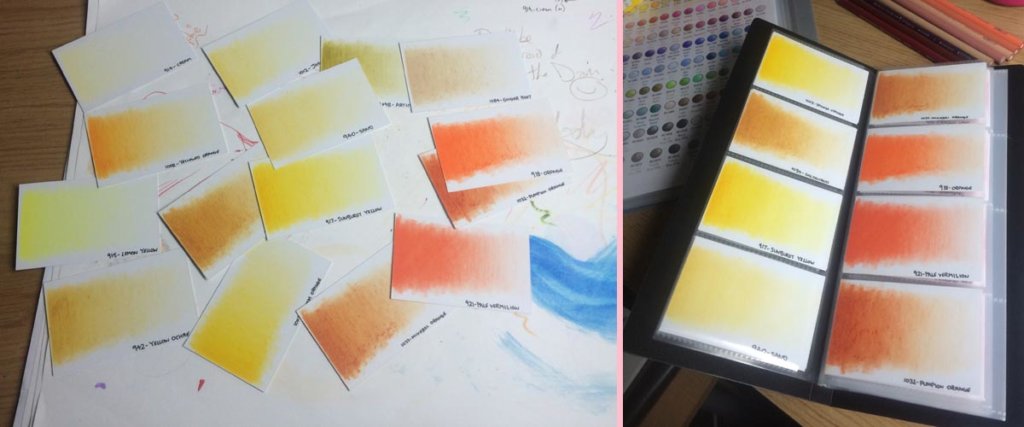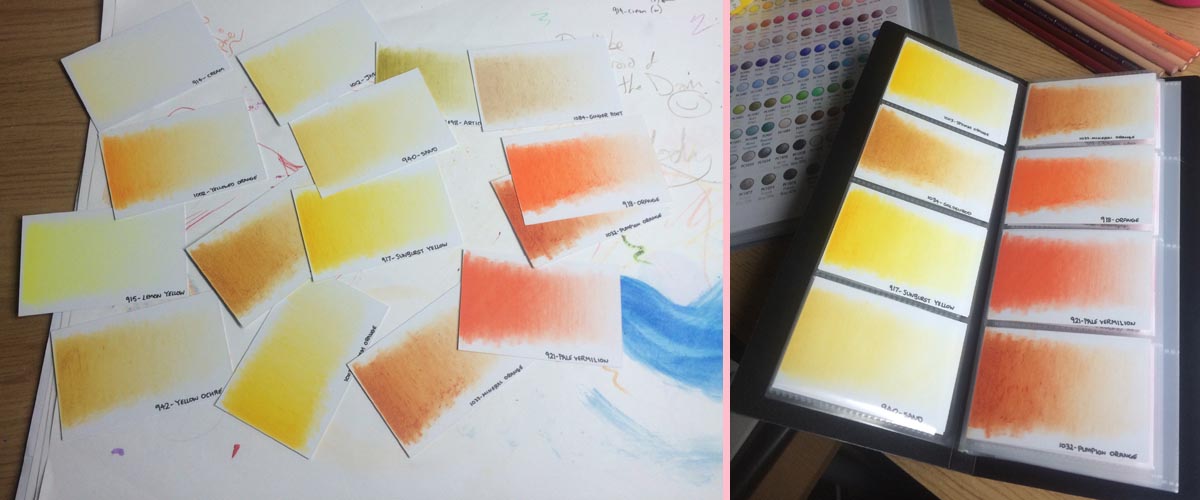 WHAT WILL I NEED?
It depends on how many pencils you have, as to how much of the following things you will need to buy, but you will need
blank business cards
business card flip wallets
I had 132 Prismacolor pencils I wanted to create value scales for, so I needed at least 132 blank business cards and a wallet to hold them all. I was able to find, on ebay, the following: 250 blank business cards for £4.39 and a 160 capacity business card flip wallet for £2.99. You can even buy cute little pink and blue flip wallets that hold 24 cards should you only have a few pencils you want to do this for, and they are very cheap too so you could even have a little red flip book dedicated to only your reds, a little blue one just for your blues etc. I did think about this, but I preferred the thought of having all my Prismacolor value scales together in one wallet.
So as you can see, it's not going to cost you very much at all in terms of money.
HOW LONG WILL IT TAKE?
It will take a bit of time, I started the first one on a Sunday, and had the last one finished on the Tuesday, I timed it to begin with and worked out that you can get 15 value scales produced in around 1 hour 20 minutes, this includes the time needed to sharpen the pencils. So, for the 132 pencils, it took me around 12 hours. I personally found that time flew by; it was fun knowing you were building up a collection of cards. I would stop every 15 pencils, to place the 15 new sparkly cards into my wallet. This gave me the satisfaction of seeing the collection taking shape, which made it more manageable and motivating.
WHAT DO I HAVE TO DO?
Just take a blank card, sharpen a coloured pencil and then starting out lightly from one end to the other, build the tone up so that the start of the card is as dark as the pencil will go, blending out into the white of the paper as smoothly as you can. Lee Hammond in her video explains the best way to do this – up and down, and back and forth slowly with a very sharp pencil. To get the darkest dark, you'll want to press really hard and during this stage, you're better off with a more blunt tip. You also want to take a pen and write down the name of the pencil on the card for future reference.
WAYS TO MAKE IT MORE FUN
I did the first 30 listening to trance music, than switched things up and listened to Art podcasts for the other 102, so in this way, you'll dual learning :) Learning the art of shading with coloured pencils and how they behave, plus, you're consuming knowledge via the podcast. Doing value scales you don't need to think too hard, so you can focus on the podcast, I was even taking notes from the podcast while doing the value scales.
WHAT YOU'LL GET OUT OF IT
You'll get a lot out of doing this, way more than just a wallet full of cards!
1. You'll improve your shading skills with coloured pencil
2. It's a cool way to keep track of the colours you own
3. Future reference of how each colour actually looks and behaves on paper, in all of its shades
4. It's a cool way to compare in real time how each colour sits alongside each other
Point 4 is an important part of each colour having its own separate card. It means, say you have a pretty pink you like and want to use in your drawing, you can take that card out of the wallet with ease, then flick through the rest of the wallet comparing the colour on the card with all the other colours to see how well they compliment each other. You can also move the card up and down the value scale, so you may realise that you want to use the pretty pink lightly shaded alongside a much darker shade of a beautiful blue. You can even take multiple cards out and compare them all to see which set of colours you'll use for your drawing!
I really feel this is something worth investing a few hours/days of your life to, just take each pencil one at a time, and before you know it you'll have the full set completed, even if you only do one pencil a day, you'll still get it finished in the end. It's now years later and these cards are always by my side when working with coloured pencils. Such a handy tool!