KOH-I-NOOR HARDTMUTH 6B CLUTCH PENCIL

Recommended Art Tools
KOH-I-NOOR HARDTMUTH 6B CLUTCH PENCIL
WHAT IS IT?
Now this is what I call a pencil. This thing is a beast, not just to look at, not just to hold, but most importantly with the quality of the lines it can produce. The KOH-I-NOOR HARDTMUTH CLUTCH PENCIL has a 5.6mm 6B lead. This means, it can produce incredibly dark thick and thin lines. It takes a while to get the hang of this pencil,
A box of 6 fat lead refills costs around £3.50 with the lead holder itself costs between £5 and £10. The lead holder itself comes in silver, black, red, brown and even blue velvet, the photos on this page show the pinky mauve colour.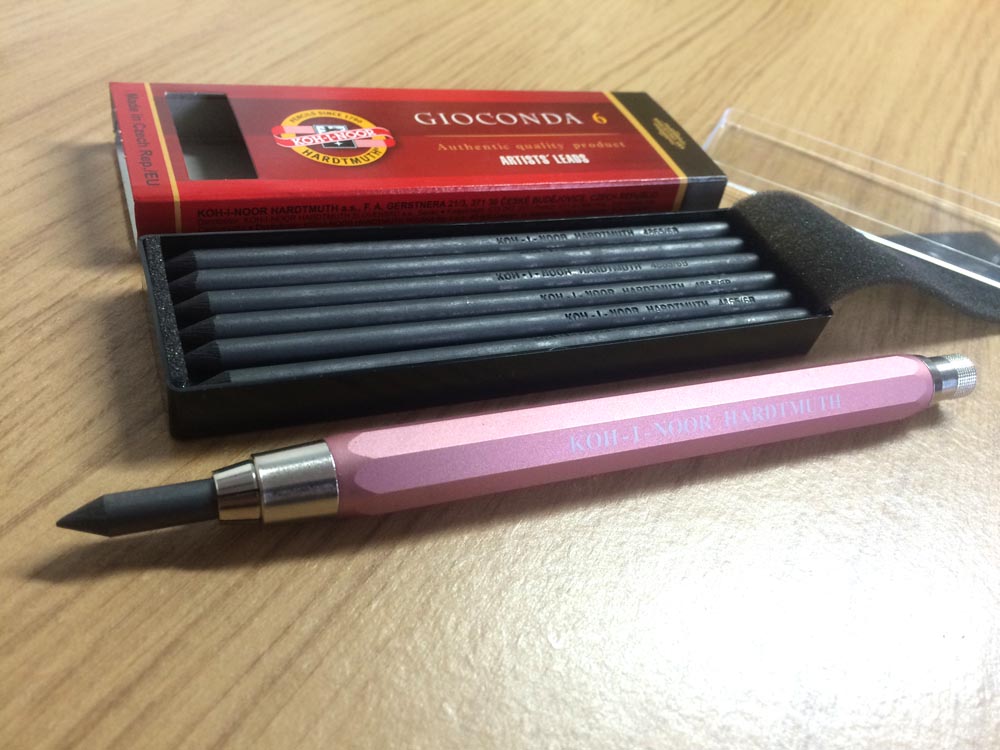 DESIGN
First things first, I love the look and feel of this pencil, the unique metallic pink colour looks really nice against the silver ends. When holding the pencil you can feel the quality, the weight of the thing is insane, this pencil makes you feel like you're wielding a weapon, I swear you could knock someone out with one of these lol
This weight really helps you get into your drawing, especially if you are doing quick 30 second gesture drawings or the like, you can just throw this thing around and it somehow starts to feel like it's part of you. When you go back to a normal 0.5 mechanical pencil for instance, you feel like they could snap in half at any moment.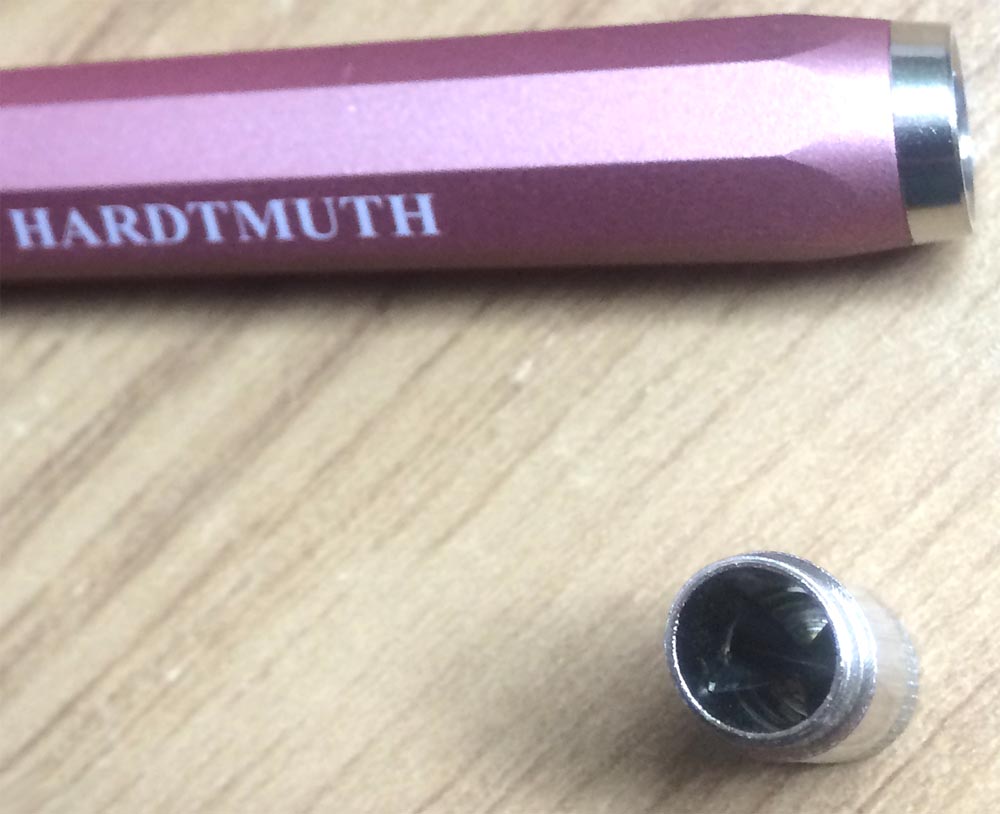 The pencil also comes with a nifty little sharpener hidden away in the pencils cap, you simply unscrew it and have yourself a cute little way of keeping your leads nice and sharp, very classy. It's also worth noting that the presentation of the refills is also of the same high standard, with the leads being stored in a nice little case.
COMPARED TO OTHER PENCILS I OWN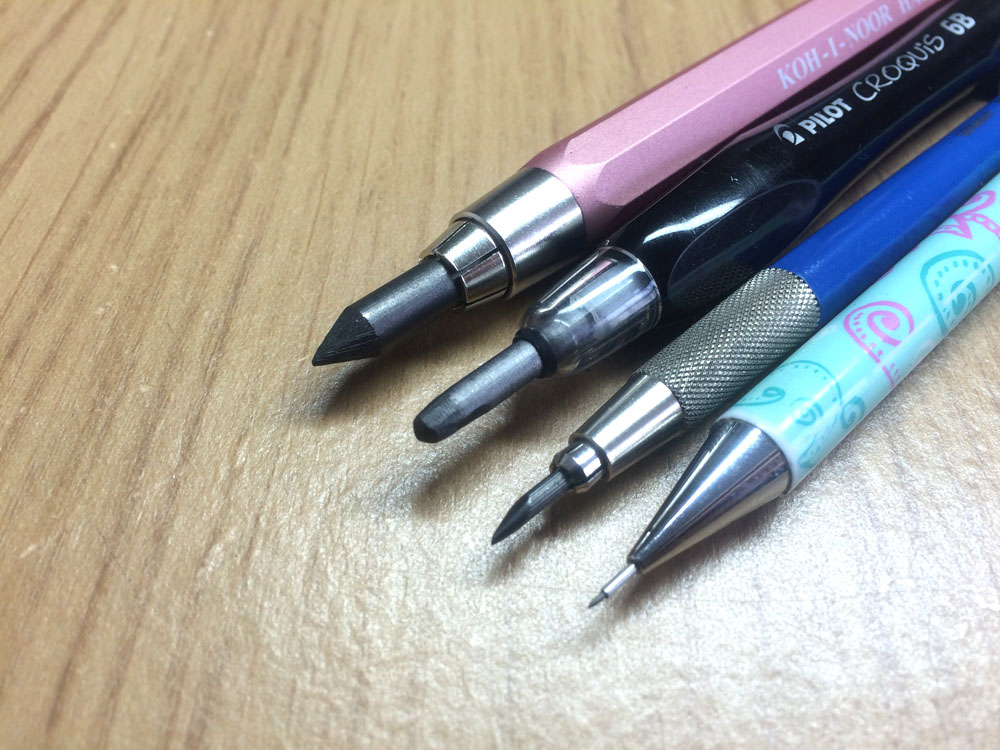 From left to right – 5.6mm KOH-I-NOOR HARDTMUTH Clutch Pencil, 3.8mm Pilot Croquis 6b Pencil, 2mm Staedtler Mars Technico Clutch Pencil and 0.5 Mechanical Pencil
The first thing you'll notice is just how thick this thing is, it really is a monster. The 5.6mm lead almost triples the 2mm of the Staedtler Mars Technico clutch pencil, and even the 3.8mm Pilot Croquis 6b pencil looks small, but the normal 0.5mm mechanical pencils look so diddy and fragile next to this beast. The image above shows just how fat this pencil is, I don't think there is much chance of you pushing too hard and breaking these leads, you might end up putting a hole in your table though :)
LINE QUALITY
Beautiful! Forget about how nice the pencil looks or is to hold, all that really matters is what the lines are like, and this is where the pencil shines. It does take some getting used to, having such a fat heavy lead in your hand, especially as I'm so used to 0.5mm leads, but once it clicks, you will feel at one with this pencil.
I thought the Staedtler Mars Technico pencil was producing sexy lines, but they really pail in comparison alongside this pencil. You can go from chunky fat to delicately thin lines so effortlessly just by gently twisting the pencil, the lines appear crystal clear and sharp. There's a time and a place for thick lines/super fine lines, but for People sketching or gesture drawings, the line quality is by far the best I've seen so far.
CONCLUSION
Sexy, confident lines, it soon somehow becomes part of you and you just feel in complete control. This pencils younger, sexier Sister is so much fun. She goes by the name of Magic, and I use her all the time for my Gesture Drawing. These 5.6mm pencils are weapons I urge you to add to your arsenal. You'll soon be putting down sexy lines on the the paper battlefield.
"It's worth practicing with this pencil on scraps of paper, by experimenting how rotating your hand and arm affects the thickness / thinliness of the lines it produces."
– Sophie's Top Tip
"Hands are the Tool of the Painter, The Artist."
Agnes Varda