T
his lil episode it's all about copying … not the naughty kind, but the one that's a good drawing exercise to adopt, because
Copying Other Artists Work is a Fun way to Play and Learn at the same time
; stick some music on, and you can get lost for hours :)
I talk about some of the reasons why I love copying other artists work, like how you don't really see something until you try to draw it, how other artists work can inspire and motivate, and how by studying other artists work, you not only find out who they are, but also who you are too.
The following examples are the three sketches I talk about on the podcast –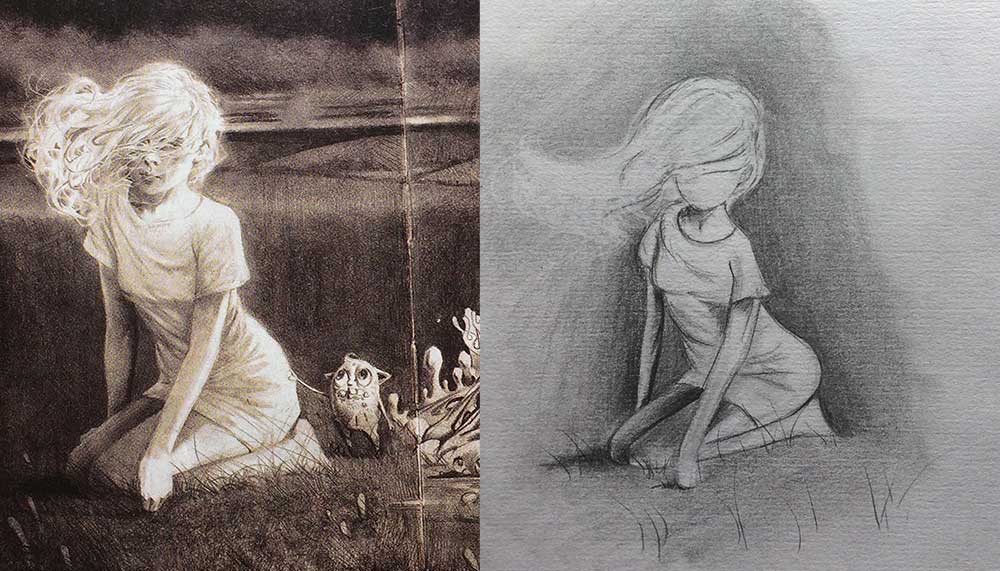 GREETINGS, by Artist Miles Johnston
original on the left, my copy on the right
Find out more about Miles Johnston • miles-johnston.tumblr.com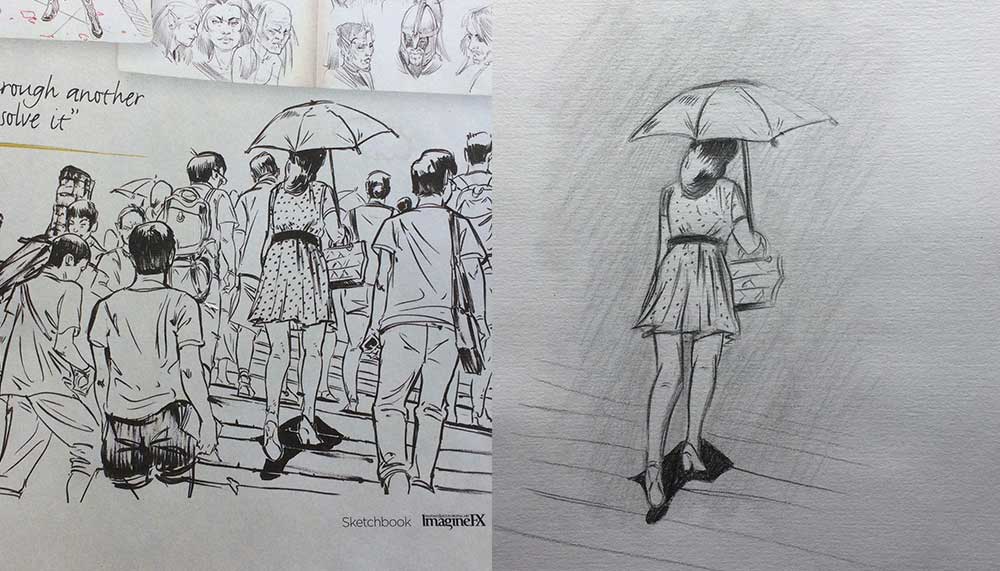 CONTOUR SKETCH, by Artist Rembert Montald
original on the left, my copy on the right
Find out more about Rembert Montald • rembertmontald.carbonmade.com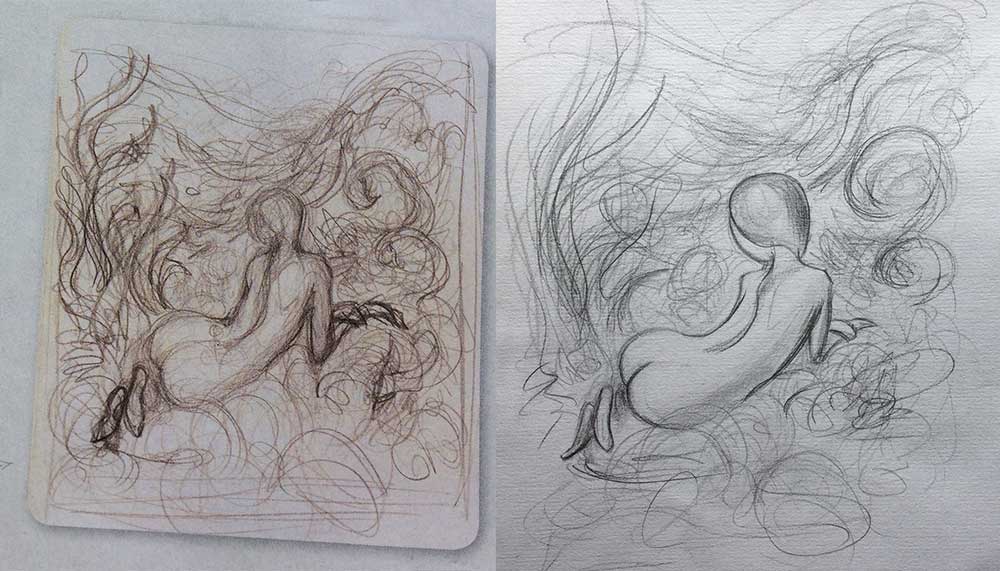 SCARLET AND FUSCHIA, by Artist Julie Bell
original on the left, my copy on the right
Find out more about Julie Bell • www.borisjulie.com
This week also sees the introduction of a new weekly feature, lil ART TIPS :)
This weeks lil ART TIP is "ALWAYS CARRY A SKETCHBOOK WITH YOU :)"
Hope you enjoy this one. If you have thoughts about copying other artists work, or any questions/topics you'd like discussed on the show, please get in touch. You can message me down the bottom of this page, or by sending me an email
This weeks Inspirational Quote goes to Yohji Yamamoto
"START COPYING WHAT YOU LOVE.
COPY COPY COPY COPY.
AT THE END OF THE COPY, YOU WILL FIND YOURSELF."
– Yohji Yamamoto
You can listen to this episode below, via Apple Podcasts, or via Stitcher if that takes your fancy :)
LINKS DISCUSSED ON THE SHOW
RESOURCES
• ImagineFX Sketchbooks Vol 3 – This is the sketchbook I flick through on the podcast and sketched the three sketches above from …, well, I have vol 4, but I believe they are all pretty much the same just different covers :) This is only £5 with free UK Postage … absolute bargain. I highly recommend it; full of so many inspiring sketches.
EXTRAS
• YOUTUBE @SophieLawson – including Sophie's lil Art tips and some of my Pencil Drawings :)
• TWITTER @SophieLawsonArt – Come say hello, I post stuff on here sometimes … not at the moment though lol
HAVE A COMMENT OR TOPIC FOR THE SHOW?
Send me a message, using the form below, and I'll see what I can do :)
"THAT'S THE MAIN THING, WE HAVE TO MAKE SURE THAT WHAT WE'RE DOING IS FUN."
– Sophie Lawson
"Podcasts are Music for the Mind."
Anonymous