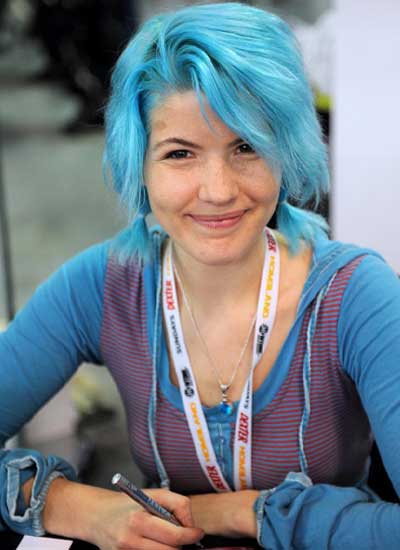 DESTINYBLUE
I DRAW BECAUSE SOME THINGS I CAN'T EXPRESS WITH WORDS
Emotion. That's what bursts out of DestinyBlue's characters … deep, deep, deep emotions from the heart. Sometimes I even find myself physically saying aww out loud! If I could, I would jump into these paintings and give the characters a big hug.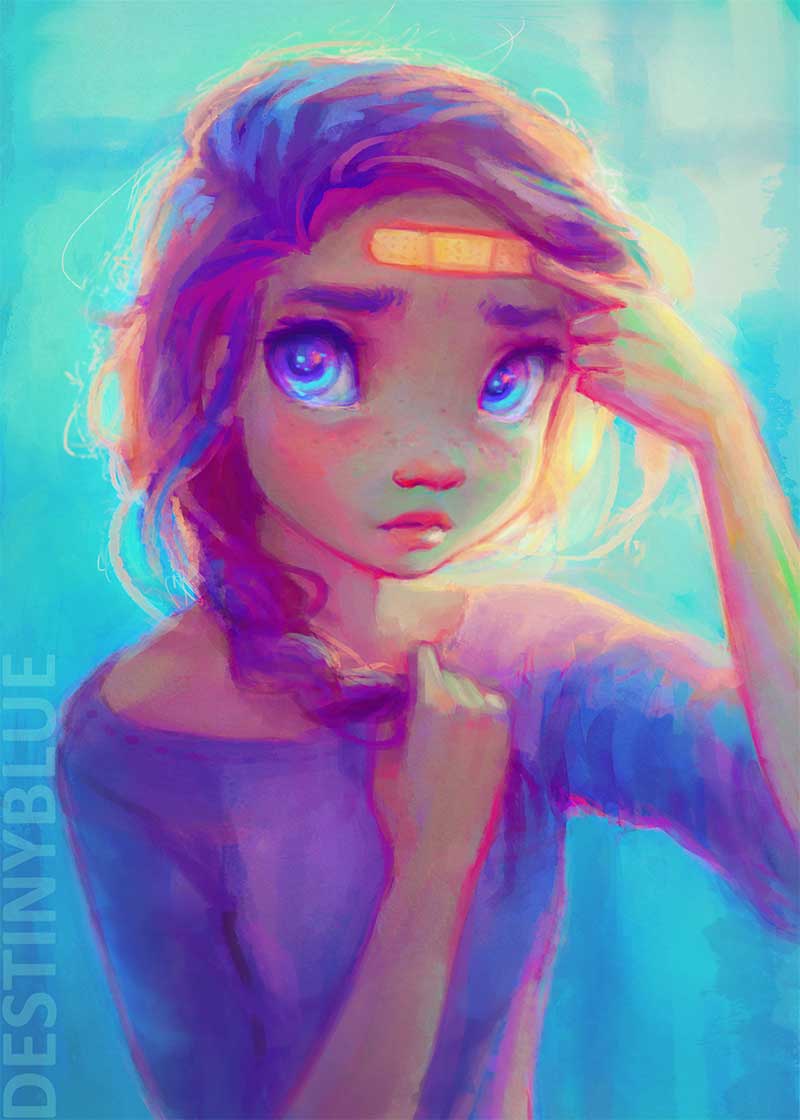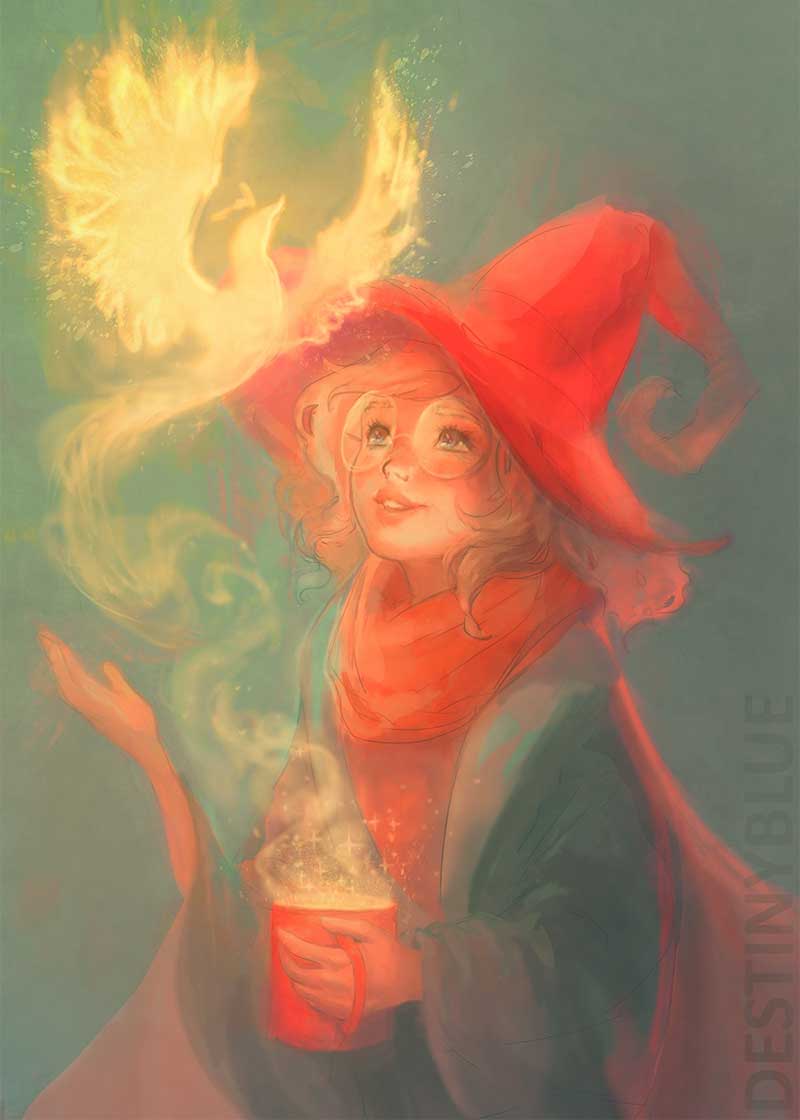 In 2015 I was still living as Kevin Preston, but returned to London MCM Comic Con, this time dressed as Superman lol I was so nervous though, social anxiety was doing it's best to hold me back from seeing DestinyBlue. I'd get close to her display, all ready to say hello, when the voices in me head would start saying You can't do it! I believed them at first, and found myself walking right past, but after a few laps of the artist ally, Superman finally plucked up the courage lol
My reward? I didn't just get to say hello, DestinyBlue came out from behind her display and gave me a big massive smiling hug :) You can see the photo of DestinyBlue hugging Superman on the My Story Timeline – inside I was bursting with joy, on the outside I looked like I was shitting myself … Superman maybe had the shits that day, but he still showed up! :)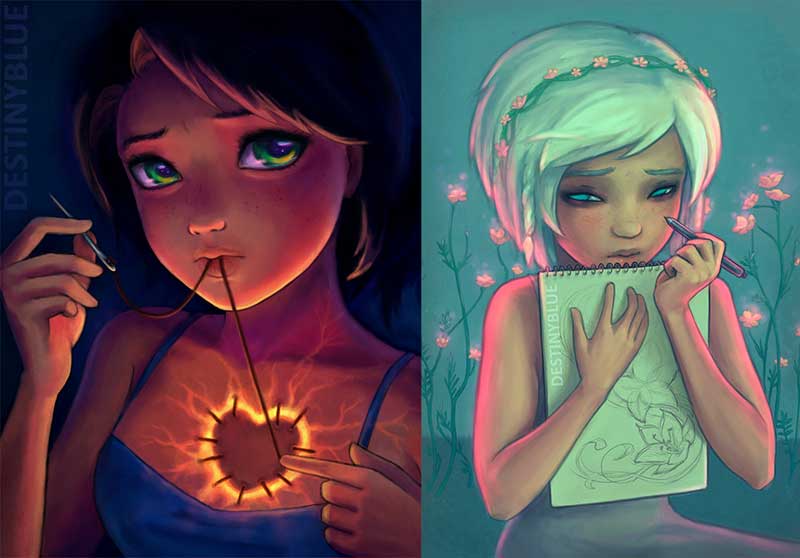 ME FAVOURITES
My favourite DestinyBlue paintings are Sew Closed My Soul, which shows a beautiful female character sewing up her heart; I love the subtle look in her eyes.
Another favourite is Don't Watch Me Draw, which shows a girl hugging her sketchbook so no one can see it. The colours and pink lighting are delicious, but it's the feelings I love so much, I always used to get self conscious when people watched me draw.
Both of these paintings are now hanging on my wall, signed by DestinyBlue herself. Funny thing is, one's signed to Kevin, my old name, the other to Sophie :) Heehee, I love this!
Both of these paintings can be found in the gallery below.
DESTINYBLUE GALLERY

COLOUR ME IN
DestinyBlue is so cool, she's even created a folder on Deviantart filled with lineart of her paintings, for us to colour in :)
How cool is that!
On a visual level I adore how brave DestinyBlue is, to always go with extreme colours in her lighting, everything seems to be glowing from within; Such a beautiful feeling, especially when mixed with her 'good enough to eat' colours.
There's more to these characters than the visual delights though. The colours may be glowing and radiating, but so too are the emotions. Back in 2015 I wrote how there was something much deeper to DestinyBlue's artwork, but I couldn't explain it, all I could say was how I felt a deep connection in my soul.
I was intrigued … were these characters blissfully content, or deeply lonely? Whatever they were, there was an inner strength shining out, as if no matter what obstacles got in their path, they would find a way to overcome them.
Years later, DestinyBlue started sharing her story about depression, and suddenly everything made sense. These characters are a visual representation of DestinyBlue's soul, and it's a soul that communicate with mine without words.
DestinyBlue isn't just an inspirational artist, she's an inspirational human being.