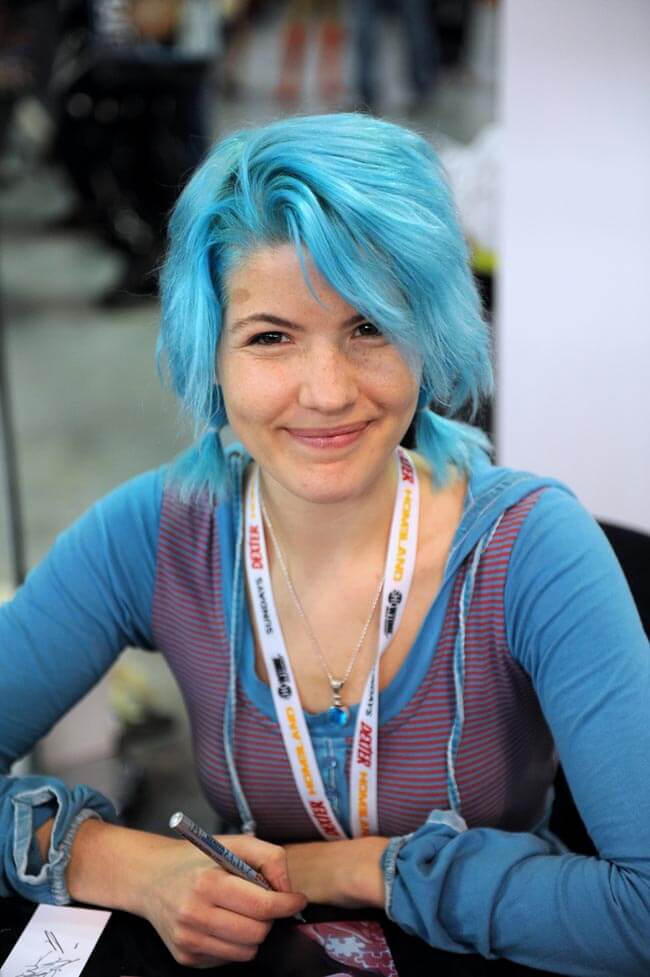 BIO
"I draw because some things I can't express with words…"
– This may be brief, but
DestinyBlue
, 
real name Alice de Ste Croix,
has summed up all you need to know about her beautiful artwork in just 10 little words. Quoted from her Facebook page at
Facebook.com/DestinyBlue
.
The photo on this page of DESTINYBLUE smiling away, is from this New York Comic Con 2012 Flickr account, while all artwork photos are from  DestinyBlue.DeviantArt.com
I was fortunate enough to meet DestinyBlue at the 2014 and 2015 London MCM Comic Cons. I was super shy, but she gave me a huge hug :) I also purchased a print that she signed for me, it's now My Most Prized Possession
HOW I FOUND HER
If truth me known, I honestly can't remember exactly how I found her, it was via DeviantArt and it would either have been via a random search, or by one of her paintings being favoured by someone I followed. All I know is, I fell in love with her paintings and instantly followed her.
HOW HER ART MAKES ME FEEL
It's hard to put into words at the moment, but the best thing I can say is, so many times I find myself just saying "Aww", as I look at DestinyBlue's work. This is one feeling I have always adored, this sense of just feeling all "Aww" inside :)  There's so much emotion captured in her work, little subtleties in the characters eyes for instance that allow me to feel a deep connection to them.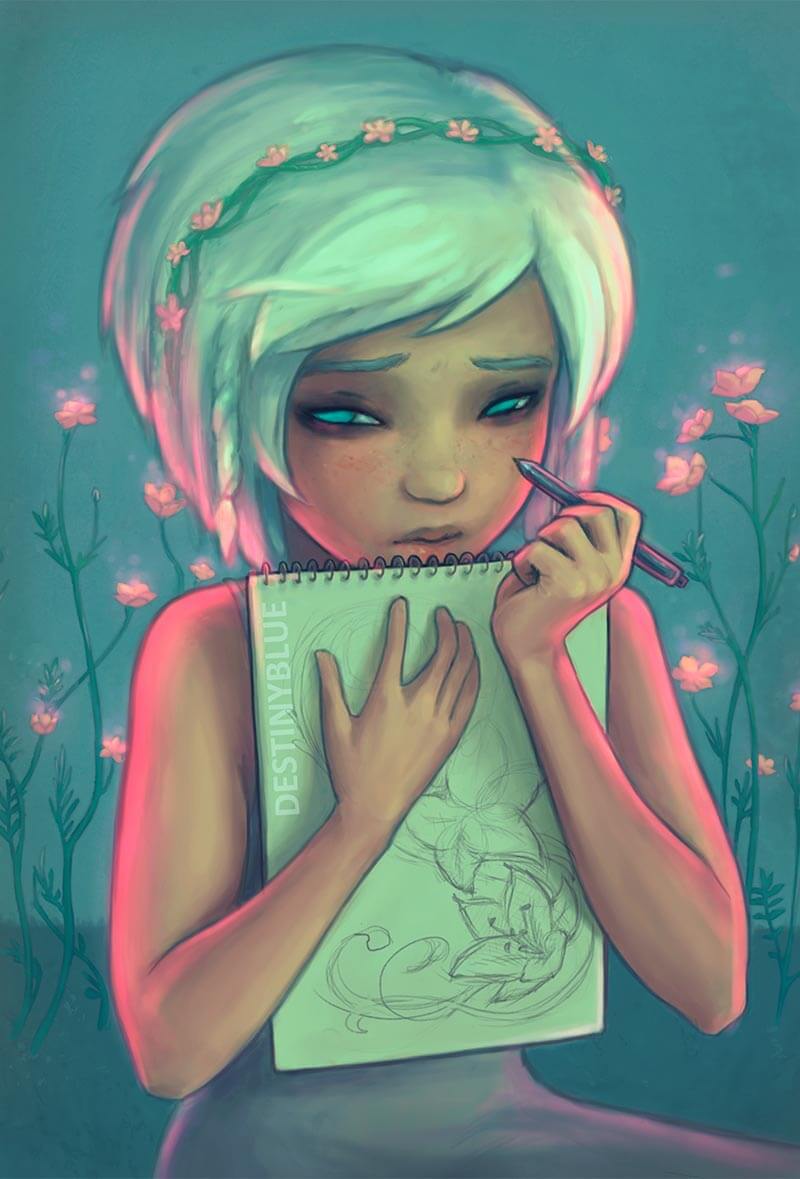 FAVOURITE ARTPIECE
My favourite DestinyBlue artwork is the one entitled "Don't watch me draw…", which shows a girl hugging her sketchbook so no one can see it, you can view this painting just above this text. I can just relate to this so much, as I always feel slightly awkward when people watch me draw, this painting makes me feel something inside. On a technical level, I adore the colours, the way her white hair is softly lit by the pink lighting for instance, I find this painting so beautiful.
WHAT I'VE LEARNT AFTER STUDYING HER ARTWORK
The main thing, on a visual level, that I've learnt from studying DestinyBlue's art, is how she uses light…in particular, how she's always very brave in going with extreme and bright colours in her lighting. I've noticed this is a big factor in my love of her work visually, along with her choice of colours.
The colours DestinyBlue uses are simply delicious, always picking hues that sit together nicely, each having that tasty 'good-enough-to-eat' vibe about them. I feel her lighting really pulls the whole scene together, creating a nice colour harmony. It baffles me how I never really noticed the different colours in her lighting before, but this is why I love studying my Inspirational Artists so much; you really start to see things you never knew existed, almost as if you begin to look into the soul of the painting, and not just its face.
There is something much deeper to DestinyBlues artwork than just the visual delight, I can't explain it, as I'm finding more and more to be the case in Art I love, but I feel a deep connection to her art and characters. They're all so emotional and intriguing … sometimes I'm left wondering if they're blissfully content or deeply lonely, yet all the while I can sense that these characters are very strong willed and will overcome any obstacles in their path. I love this feeling as it really captivates me, often leaving me feeling highly inspired.
These images and more can now be found on my
Inspirational Artists Pinterest Board
DESTINYBLUE WAS ADDED TO MY INSPIRATIONAL ARTISTS ON 1st APRIL 2015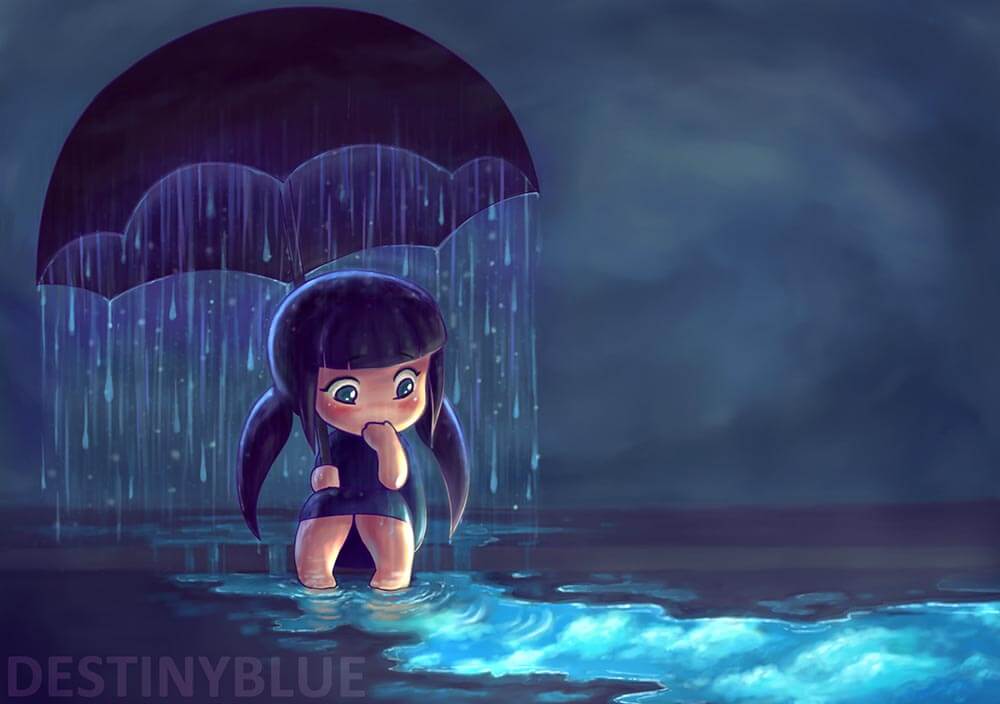 "Try to be inspired by something every day. Try to inspire at least one person every day."
Mihaly Csikszentmihalyi