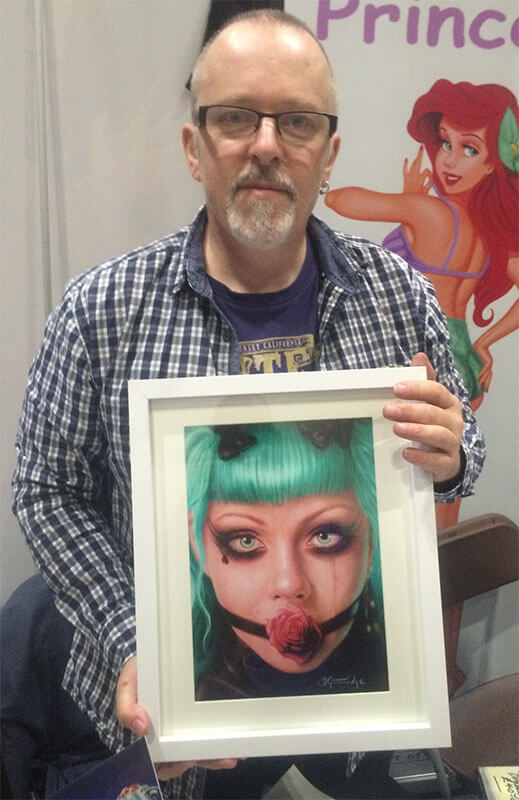 BIO
"Duncan Gutteridge's artistic works are almost as old as the Sonic series itself. He is responsible for every image in the brilliant Sonic 2 calendar, which saw constant use even beyond the calendar it was intended for, including several Sonic merchandise items. Duncan's portfolio also includes artwork done for Ecco the Dolphin, and the box art to Streets of Rage II."
– Bio quoted from | 
westonsupersonic.wix.com
The photo on this page of DUNCAN GUTTERIDGE I took when I met him at Comic Con 2015. He's holding a framed print of his painting Loligoth, which I now own :) All artwork photos are from his Drawn to the Dark website.
HOW I FOUND HIM
I went to London Comic Con in 2014, and while in the artists alley I saw this one image that made me go take a closer look. I walked over to the desk and Duncan was there, I spoke with him briefly, I can't remember what we said, but I remember thinking he was a nice bloke. I ended up buying a print of said image, it was his Medusa painting. It now sits on my table framed :)
HOW HIS ART MAKES ME FEEL
When viewing Duncan's artwork, I'm again left with a feeling I can't quite put into words. There's an element of sadness, almost loneliness about some of these girls, yet they each possess a great sense of power. I'm always left feeling the power of femininity.
FAVOURITE ARTPIECE
My favourite Duncan Gutteridge artwork is one of the prints I now own entitled 'Medusa'. You can see her just to the right of this text, just below on mobile. I really can't explain how much I love this piece. I look at it every day, and it still has that something special about it. Her eyes are so intense, she really pulls me in and on a sheer technical level, she's beautiful. One of my all time favourite art pieces so far.
WHAT I'VE LEARNT AFTER STUDYING HIS ARTWORK
Duncan Gutteridge's work is at times slightly odd, freaky and a little bit scary. Making this a perfect time to study his work, what with it being Halloween this month. Duncan's latest work all includes single females as his subjects, a theme I'm beginning to see I'm attracted to with all my favourite artists.
However, doing this piece on Duncan has quite literally been epic for me. As a kid I was the biggest Sonic the Hedgehog fan. I adored him, I could beat the Master System game with my eyes closed I played it so much. Well, on researching Duncan, and trying to find as many photos of his artwork as I could online (he's a hard man to find) … I came across some Sonic the Hedgehog artwork. It turns out that back in the day he was producing official Sonic artwork for SEGA. I couldn't believe it.
If only I knew when I met him at Comic Con, I would have thanked him and been even more in awe of him. It goes even deeper with him having created the Streets of Rage 2 boxart for SEGA, another game I idolised as a kid. That soundtrack will forever be one of the greatest 16bit soundtracks ever. This feels so special to me, if I had never been drawn to his art enough to add him to my Inspirational Artists, I maybe would never have known about his Sonic past. I feel so happy :) This page only includes photos of his female artwork, to fit in with my site, but let it be known he has some amazing Sonic Artwork out there.
I love the sense of power that Duncan manages to capture in his females, while at times they may appear sad or lonely, they still manage to radiate this feminine power. I'm adore this feeling. On a technical level Duncan's work is simply jaw dropping. The realism is incredible, these lifelike girls feel alive, making their emotions even more powerful.
One of the biggest things I learnt while studying Duncan's work, was that he produced official artwork for SEGA back in the day, particularly the Sonic series. As a massive SEGA/Sonic fan growing up, I find it almost magical that I fell in love with Duncan's work not knowing his history with the Sonic series. This really makes me feel like I've connected with Duncan and his work on a much deeper level.
 These images and more can now be found on my
Inspirational Artists Pinterest Board
DUNCAN GUTTERIDGE WAS ADDED TO MY INSPIRATIONAL ARTISTS ON 1st OCTOBER 2015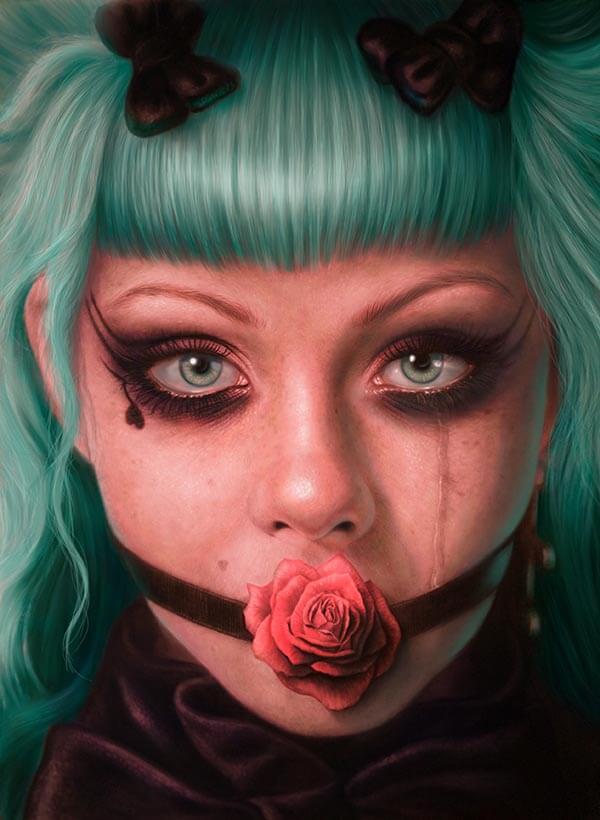 "Try to be inspired by something every day. Try to inspire at least one person every day."
Mihaly Csikszentmihalyi