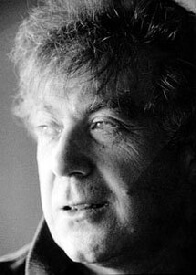 BIO
"His paintings of girls in natural surroundings soon became his trade mark and the popularity of the watercolours in the early 80's, together with the success of his prints, limited editions and silk-screens, brought him the high profile that he has today." – 
Bio quoted from 
GordonKing.co.uk
All photos on this page, of both Gordon King and his artwork, are taken from the following websites | chelmerfineart.com , outsidethesquaregallery.com , originalpaintings.com
HOW I FOUND HIM
I found Gordon King very randomly, while searching  eBay one day. One of his paintings happened to pop up in the search results and it instantly caught my attention, I clicked on it and the next thing I can remember was having multiple browser tabs opened with images of his work. I then found his website – Gordon was actually the first Artist I felt something more then normal when looking at his art.
HOW HIS ART MAKES ME FEEL
I truly love Gordon Kings artwork, I get that little tingly feeling in my belly when looking at his art, and while I can't really put it into words, I find myself feeling like I'm looking at a moment in time that's been paused and could resume at any moment, I swear I've seen some of them actually moving :)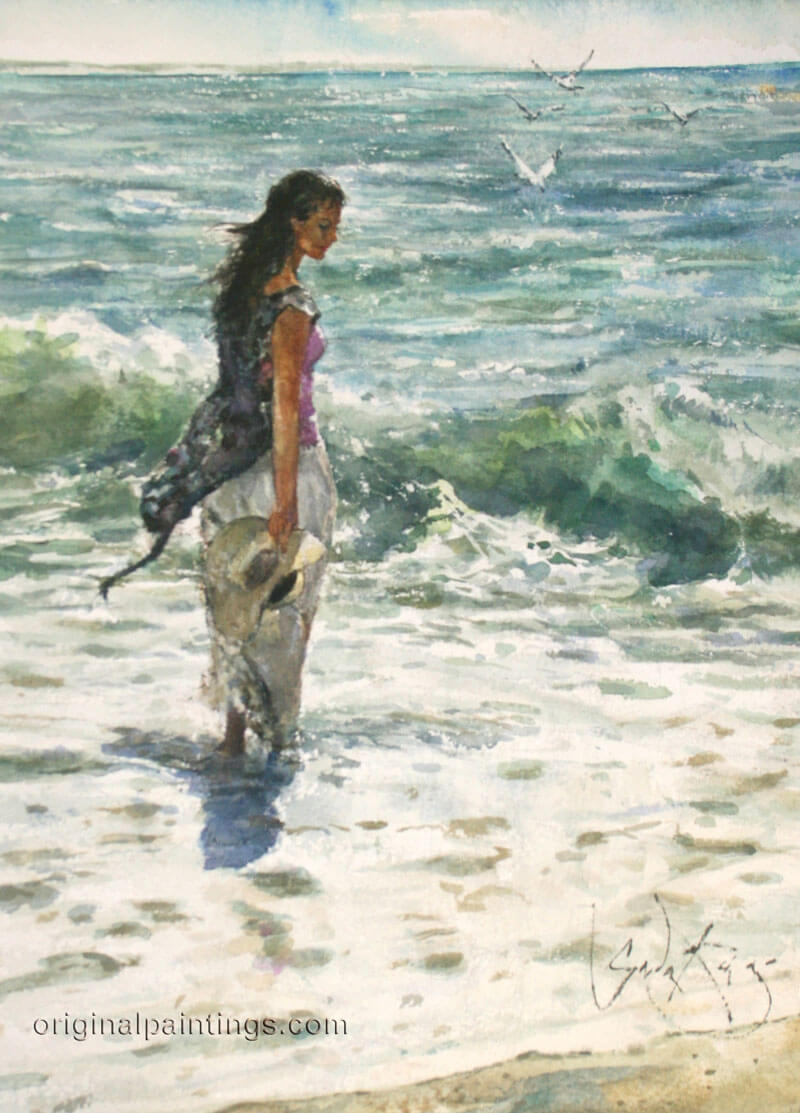 FAVOURITE ARTPIECE
My favourite piece of Gordon Kings artwork is a watercolour painting entitled Through a Sea of Light. You can see this painting just above this text. I love everything about it.
WHAT I'VE LEARNT AFTER STUDYING HIS ARTWORK
After studying Gordon Kings paintings for the past couple of weeks, and now looking at the keywords and phases that sprung to my mind during that time, I've come away with a few interesting discoveries.
I actually had a mini aha moment, it was when the word content came into my mind. I thought "Yeah, that's it.", I feel that word perfectly sums up the sensation I feel inside when looking at Gordon Kings artwork. The subjects always seem in a state of pure bliss and contentment. I think that word gets closest to my feelings, I have a sense there is still something I'm missing, but content is definitely the word I was left agreeing with most.
Delicate, feminine, dreamy, relaxed and innocence are also very strong feelings I kept bringing up, so if the overwhelming feeling in Gordon Kings artwork is contentment, I would say on a technical side, I'm most in love with Gordons use of colours. The pastely colours he pickes all blend together; leaving behind a sensation that the subjects are melting into the canvas. The colours are so tasty looking, you feel like you could almost eat a piece of the painting at times :)
I also began to notice that on many of his paintings, the edges fade out, which I think is creating the feeling of being sucked into the scene, making it very inviting. The way Gordon captures light is beautiful and the water effects he creates are just amazing, so dense and watery looking, and the reflections cast by the female figures … wow!
I've really enjoyed studying Gordon Kings artwork, the funny thing is, I've fallen even more in love with his work since studying it more closely. I've noticed things I didn't realise I was seeing before. Beautiful!
These images and more can now be found on my
Inspirational Artists Pinterest Board
GORDON KING WAS ADDED TO MY INSPIRATIONAL ARTISTS ON 1st JUNE 2014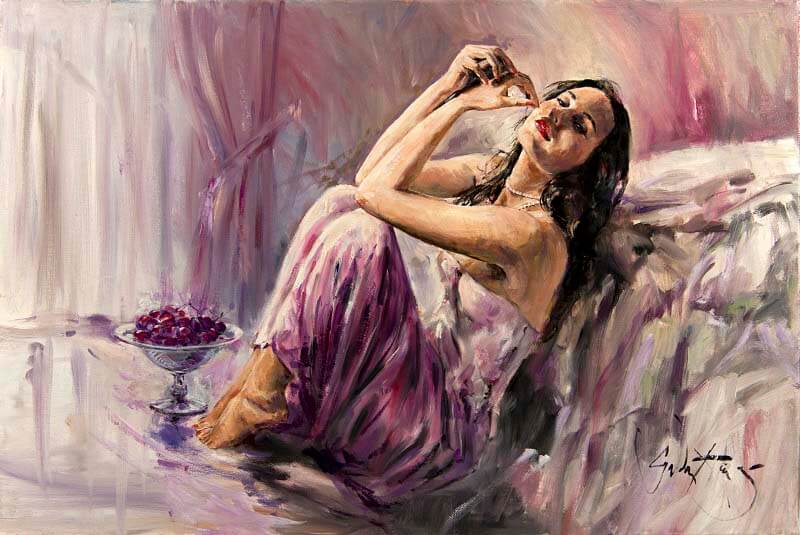 "Try to be inspired by something every day. Try to inspire at least one person every day."
Mihaly Csikszentmihalyi