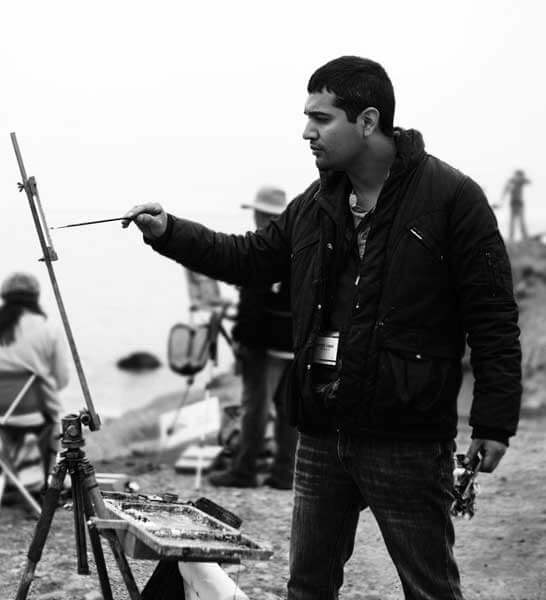 BIO
"His paintings of female nudes are unique and arresting. They have been soaring in popularity since they first began appearing in publications such as Juxtapoz, Hi-Fructose, Spectrum, Bluecanvas, and more online publications than are fit to list here. He has even been selected twice as a finalist for the Art Renewal Center's prestigious yearly Salon."
–
Bio quoted from TheMainLoop.com
All photos on this page, of both SERGIO LOPEZ and his artwork, are from Sergio's website themainloop.com
HOW I FOUND HIM
I was flicking through issue 109 of ImagineFX for the month of June 2014, when this one image just made me stop in awe. It was a painting by Sergio Lopez. I instantly googled, found his website and was in love!
Without doubt, Sergio Lopez is one Artist who really speaks to my soul.
HOW HIS ART MAKES ME FEEL
I find Sergio's paintings to have a really freeing feeling about them, they just give me a sense of hope, as if it's ok to be who you are in this world. Technically, the way the fabric and figure combine as if together; it's impossible to explain how this makes me feel, but the words I want to use to try and describe it are magical and mesmerising.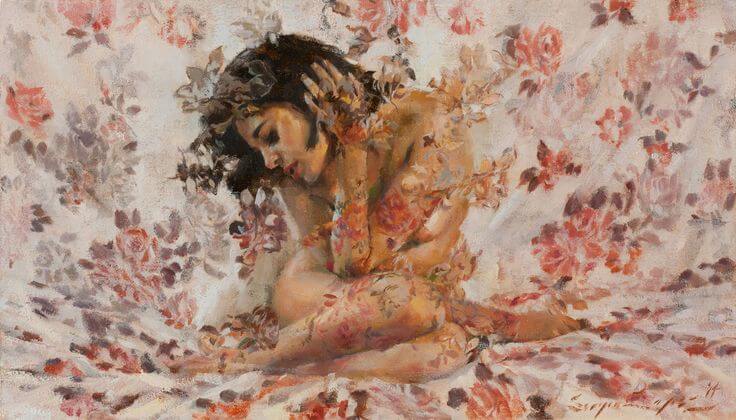 FAVOURITE ARTPIECE
My favourite Sergio Lopez artwork is actually a painting entitled Mayflower. The fleshiness of the skin, the expression on her face, the pose, the delicate way she's touching her hair, the colours of the fabric, the colours of her skin. This really is a painting I wish I could buy and have on my wall. You can see a photo of this painting just above this text.
WHAT I'VE LEARNT AFTER STUDYING HIS ARTWORK
After Studying Sergio Lopez's art I've noticed that I'm still struggling to explain how I feel, I want to come back in a years time and do this again with these paintings, as I think I'll be able to make more sense of what I'm seeing. So many of his paintings make me get that little tingly feeling inside; maybe you're not supposed to be able to explain that feeling, maybe just feeling it is enough.
I think the key is femininity and how he manages to express the energy and essence of the subject, it is so freeing and powerful. As I'm just starting out on learning gesture drawing, I really appreciate how loose and alive his gestures are. I also love how the background melts around the subject as if the energy of the female is so powerful it can take control of her surroundings.
I noticed that once again, like with Gordon King, I'm drawn to how the light is captured. I'm beginning to realise light plays a massive part in how I react to a painting, I like extremes, and am always drawn to the lights and darks. I also love the pastel colour palettes and how only a few colours are used in each piece, but yet they compliment each other so perfectly.
I think I'm honestly not intelligent enough yet to truly understand the technique reasons as to why I love Sergio Lopez's work so much, but I've come away realising that light, gesture and colour palette are all very important to me. Hopefully in the future, when my knowledge gets better, I will look at these paintings with different eyes and the technical reasons will pop out at me.
I do know one thing, I need to own a Sergio Lopez painting :)
These images and more can now be found on my
Inspirational Artists Pinterest Board
SERGIO LOPEZ WAS ADDED TO MY INSPIRATIONAL ARTISTS ON 1st SEPTEMBER 2014

"Try to be inspired by something every day. Try to inspire at least one person every day."
Mihaly Csikszentmihalyi