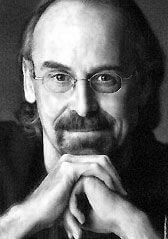 BIO
Putting this page together has been bitter sweet. It's opened my eyes to even more of Steve Hanks beautiful paintings, but in the process I've found out that he past away on April 21st, 2015. I'm sad that I'll never get to meet him, sad that he won't be producing any more art but happy that he's left behind a trail of beautiful paintings that will live on forever.
The photo on this page of STEVE HANKS is from his official site at SteveHanks.info, while all artwork photos are from ArtMight.com
HOW I FOUND HIM
I found Steve in 2014, via an episode of the Artists Helping Artists podcast. The feeling I initially felt in 2014, is the same feeling I have to this day … I cannot believe that these are watercolours. I have no idea how he did it. I've looked online for any workshops or demos he may have done, but I can't find any, so it may remain a mystery forever.
HOW HIS ART MAKES ME FEEL
I feel very peaceful and content when viewing Steve's paintings. The females all seem to share this vibe, as if they've forgotten about their worries and are just enjoying the moment; this feeling rubs off on me. I also come away feeling the power of femininity.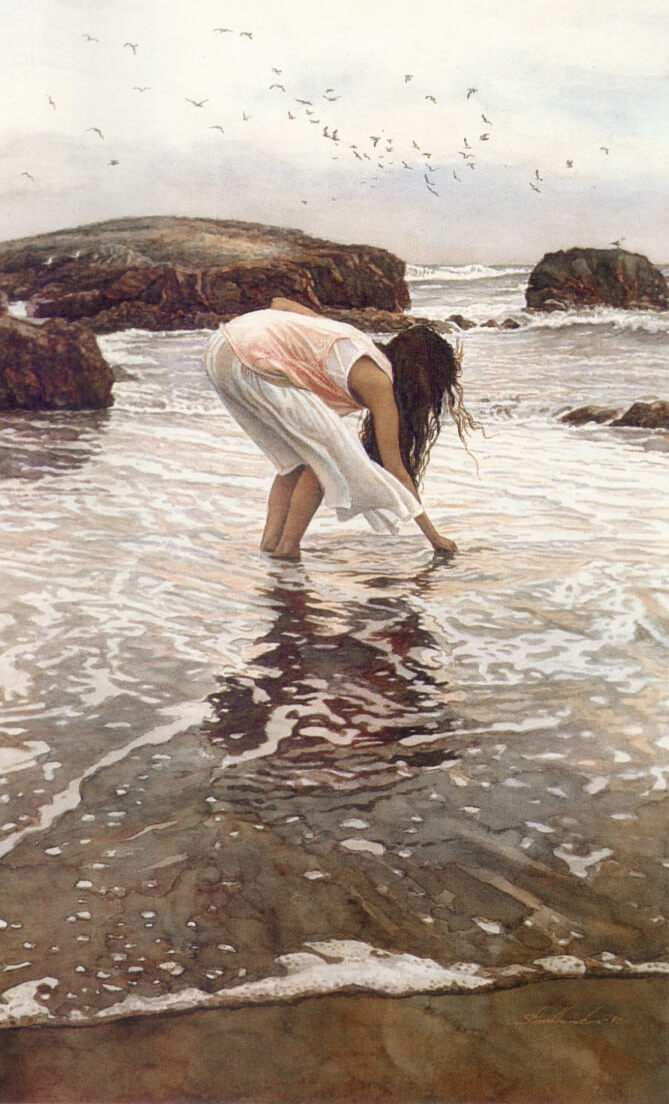 FAVOURITE ARTPIECE
My favourite Steve Hanks painting always used to be 'Black Lace Nightgown', but since doing this feature, I've fallen in love with the image above, entitled, 'Conferring with the Sea'. Showing a female reaching out to the water, as birds fly overhead and the waves find their way to the shore. This painting does it for me. The feeling of the wind blowing against her hair and skirt, the texture of the water and the muted colours, a colour palette I've realised over the past few months hits me in the joy spot. This painting has it all for me.
WHAT I'VE LEARNT AFTER STUDYING HIS ARTWORK
Technically, I've learnt that you can do detail with watercolour. I never knew it was possible, I always thought watercolour was a medium that was out of control. A medium where you had to adapt to its chaotic craziness as colours blended together or dribbled down the canvas.
Steve
had a way of controlling the watercolour to create detail I never thought possible. I really hope there is a video out there somewhere of
Steve
painting, I would love to see how he did it.
Once again I've been drawn to a muted colour palette. This is something I'm now aware of since studying my Inspirational Artists. I need to understand what it is about muted colours that connects with me, or do I? Maybe I don't, maybe all I need to know is that muted colours are what I connect with :)
The main thing about Steve Hank's paintings, is that he has come closer than anyone else I've studied so far, at recreating the freeing feeling of femininity I feel when I'm out taking photographs. This is why I've connected with his work so much. I would like to know more about Steve Hanks the man, not the artist. I need to research him, I need to see if he has any family who I can ask what he was like.
Steve Hanks may no longer be with us, but he has left behind such beautiful paintings. I'm so thankful to have found him, and that he was able to produce this work, allowing him to live on forever.
 These images and more can now be found on my
Inspirational Artists Pinterest Board
STEVE HANKS WAS ADDED TO MY INSPIRATIONAL ARTISTS ON 1st FEBRUARY 2016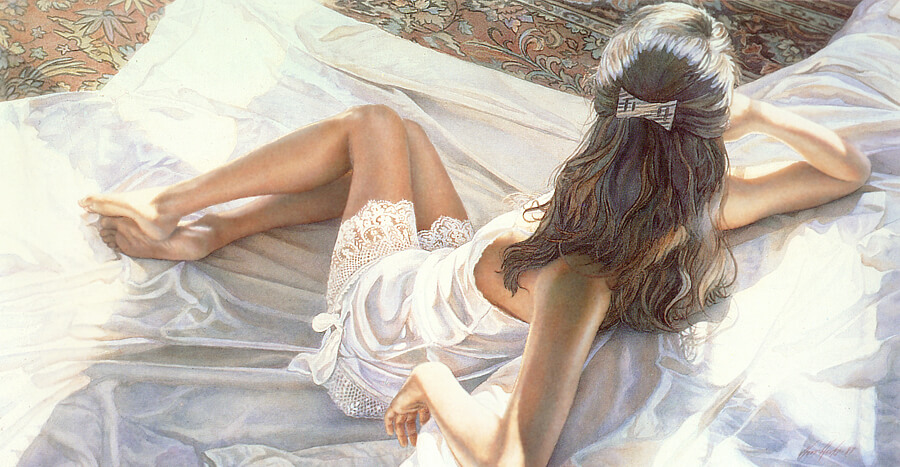 "Try to be inspired by something every day. Try to inspire at least one person every day."
Mihaly Csikszentmihalyi