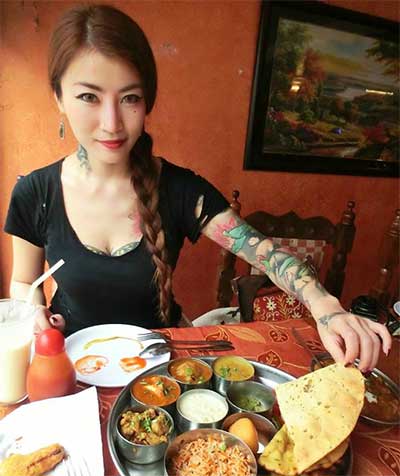 ZHANG XIAOBAI
PAY ATTENTION TO THE THINGS AND CULTURE THAT YOU ENJOY AS IT WILL ASSIST YOU IN FORMING YOUR OWN APPRECIATION OF BEAUTY AND HELP THE DEVELOPMENT OF YOUR OWN ARTISTIC STYLE
Zhang XiaoBai's illustrations often come with a sense of motion, the girls sometimes seen spinning or jumping around, animals living their lives in the background, or weather simply happening around the character. At times it almost feels like you're looking into the window of another world, a world where everything is in motion, yet totally at peace.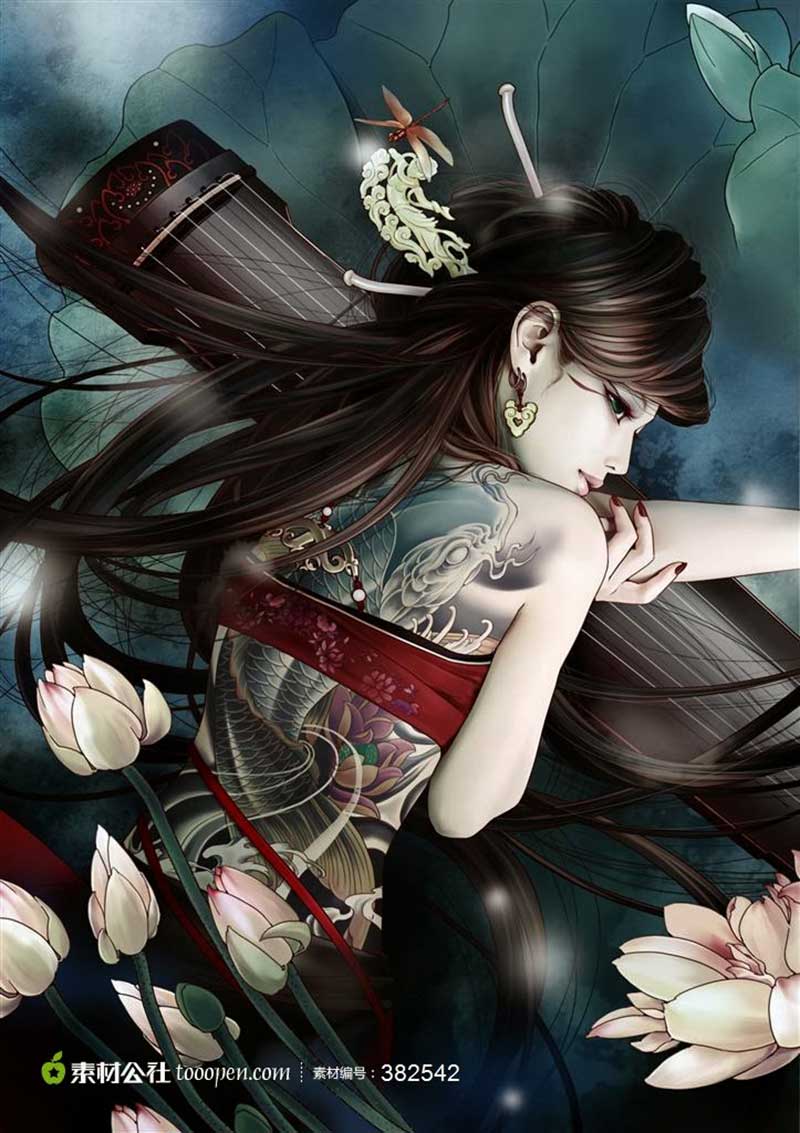 SENSITIVE
SECRETIVE
SEDUCTIVE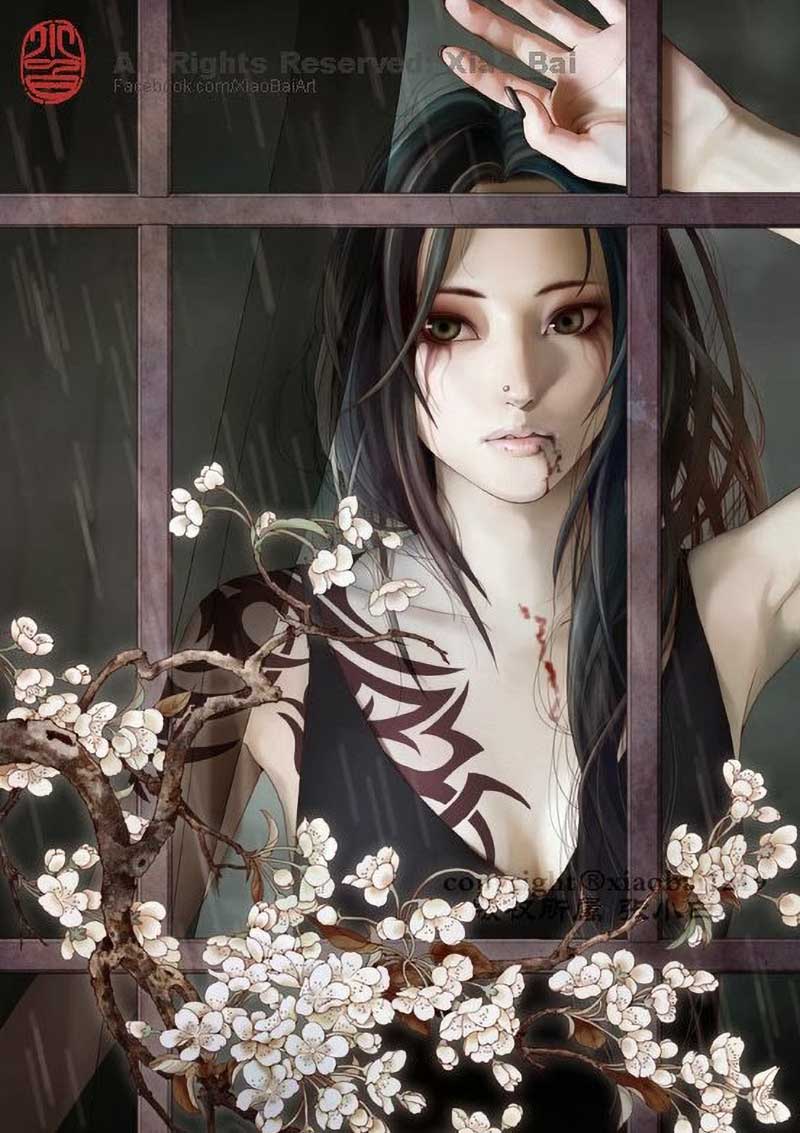 Unlike most of my Inspirational Artists, whose work I've found online, I discovered Zhang XiaoBai in person at the 2015 London MCM Comic Con. She had a huge display, in the centre of the hall, with so many beautiful paintings to look at; I was like a kid in a candy store!
Thirty minutes later I was the proud owner of a Zhang XiaoBai print, but It wasn't just her art that left an impact on me. She had this sweetness about her person that was captivating.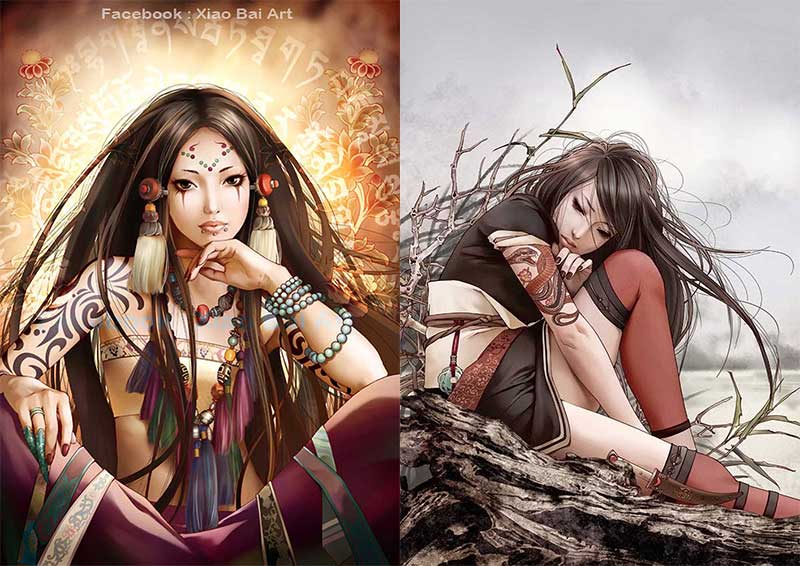 ME FAVOURITES
My favourite Zhang XiaoBai paintings are both powerful pieces. First is Tibetan Ritual, which shows a confident, yet gentle female looking deep into our eyes, as if she's waiting for us to make the next move.
I love the warm colours of this one, whereas my other favourite, entitled Jian Jia, is a lot more cooler in tone, but still has a nice delicate feeling about it.
This one shows a warrior type girl in red stockings, peacefully reminiscing while the wind gently blows her hair. Both of these paintings can be found in the gallery below.
ZHANG XIAOBAI GALLERY
Like Sergio Lopez, artist Zhang XiaoBai captures movement beautifully. It's almost like a moment in time has been captured on the canvas, ready to resume when you hit the play button. This feeling really pulls you in, and allows the mind to start imagining the scene, creating stories, and bringing the characters to life.
The beautiful thing with Zhang XiaoBai is, while there is very often lots of motion in her illustrations, there's always a constant sense of stillness.
I'm always left feeling positive too, even if the characters appear to be hurt, lonely or vulnerable, as they often do, I still feel incredibly positive and hopeful. These females all radiate a confidence, contentment, and connection with nature, that's make studying Zhang XiaoBai's art a real joy.
YOU CAN FIND ZHANG XIAOBAI AT GUIZANG.CO.UK