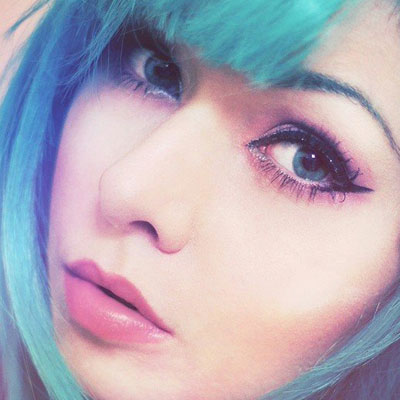 AMY THUNDERBOLT
I HAVE AN OBSESSION WITH CUTE THINGS AND PRETTY COLOURS
Back in 2014, while on Deviantart, a photo from photographer Beethy popped onto my screen of Amy, xThunderbolt at the time, cosplaying Hilda Touko from Pokémon. It was one of those I NEED TO DRAW HER moments, which I did, and from that day on, I became a massive Amy fan.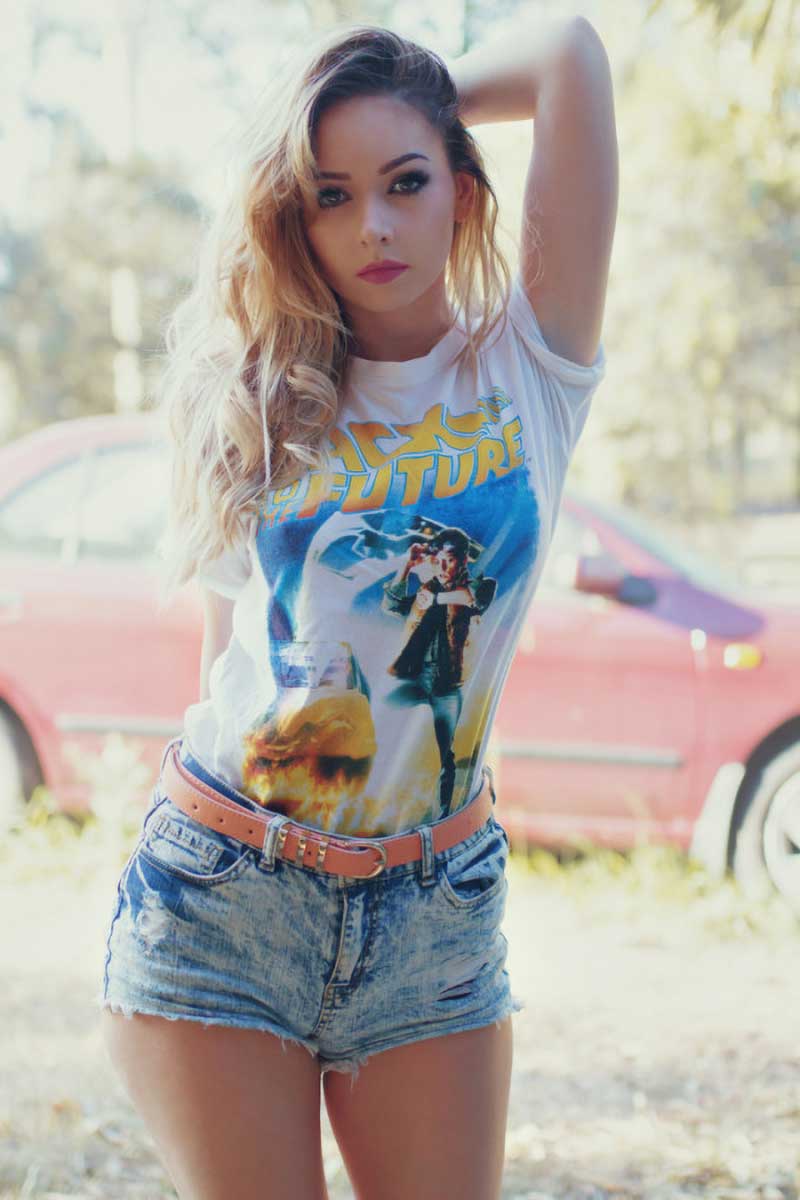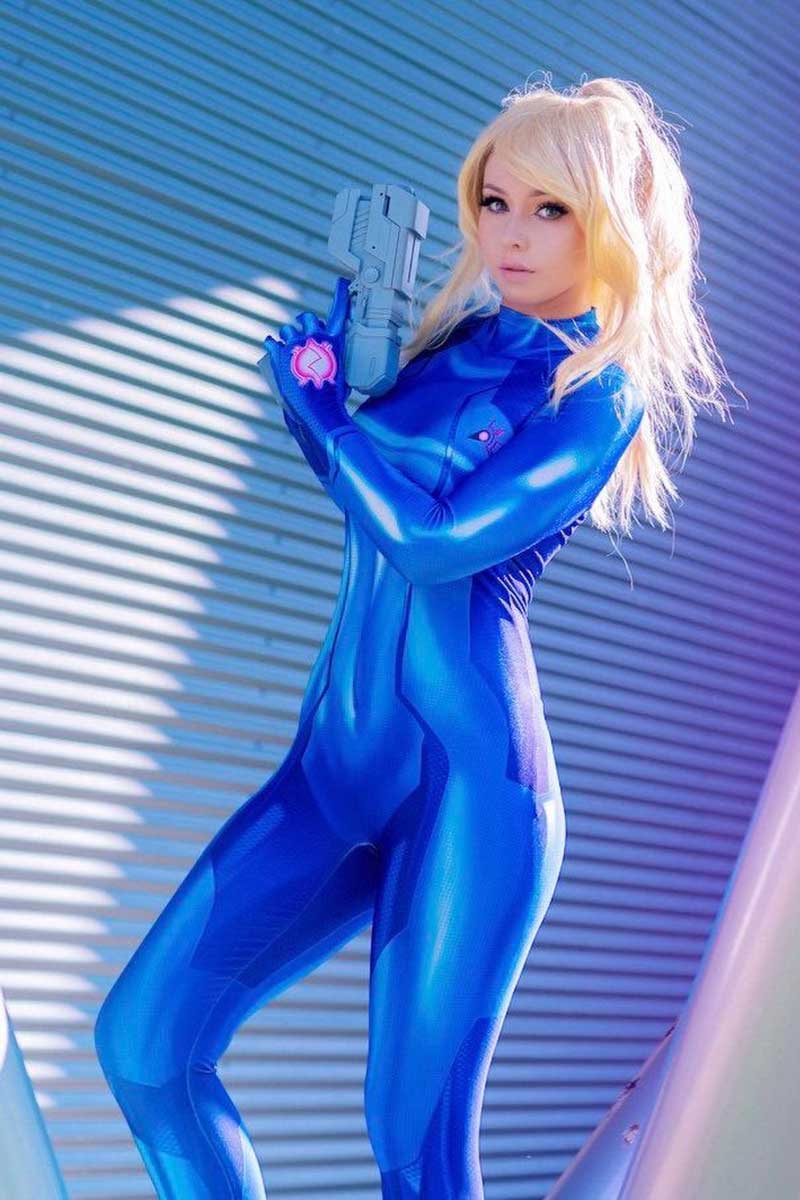 I know I shouldn't say this, but Amy Thunderbolt is without doubt my favourite inspirational model. She has this essence about her I find captivating, and there's a fun vibe radiating from everything she does, be it her cosplays, her social media accounts, or even things like her books, which have covers playfully parodying classic video games boxes … Amy has a way of bringing the fun.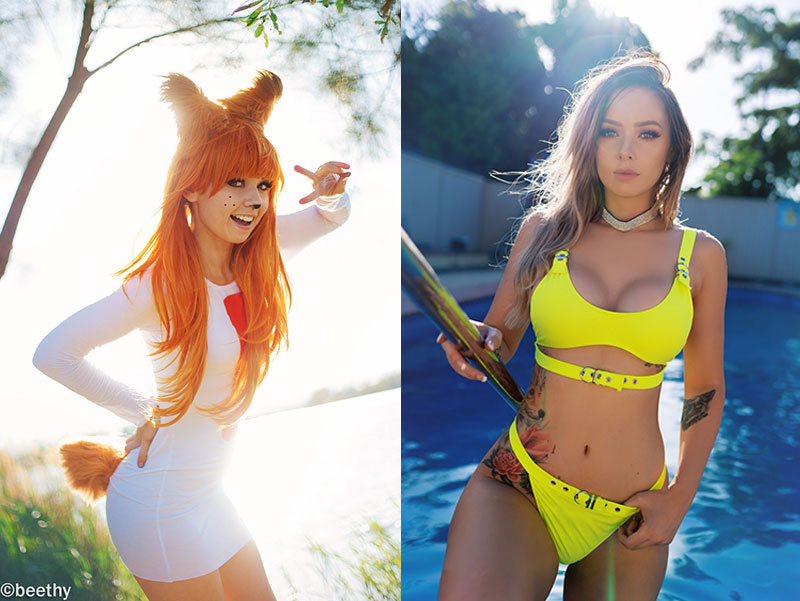 ME FAVOURITES
Me first favourite Amy Thunderbolt photo, sees her in a sexy lil white dress Cosplaying Bubsy. This is my all time favourite cosplay of anyone ever! It's been over six years since I first saw this photo, but it still brings a smile to my face; Amy looks like she's having the time of her life :)
My other favourite I first found via one of her photo books, and shows Amy walking out of a swimming pool in a lil Yellow Bikini. I never realised how perfect yellow and blue go together, the colours in this one pop so beautifully.
Both of these photos can be found in the gallery below.
AMY THUNDERBOLT GALLERY
She's sexy. She's cute. She's adorable. She's Amy Thunderbolt, and I love her :)
One of the tings I love so much about Amy, is her attention to detail. The way she uses colour and light, the way she poses, the quality of her cosplay outfits … you can see she's a super creative soul.
In fact, she is a bit of an artist, often sharing some of her drawings and paintings on her social media accounts. Maybe one day she'll even become an Inspirational Artist? :) Speaking of the future, I still dream of Amy doing a Vanille from Final Fantasy XIII cosplay. She could really pull off the over the top feminine, happiness vibe that Vanille has about her.
But where can I buy an Amy Plushie? That's what I really want to know. You could even have a lil turbo the cat sidekick plushies too lol That'd be so cool.
Thank you Beethy for introducing me to the fun world of Amy Thunderbolt!
YOU CAN FIND AMY THUNDERBOLT AT AMYTHUNDERBOLT.COM