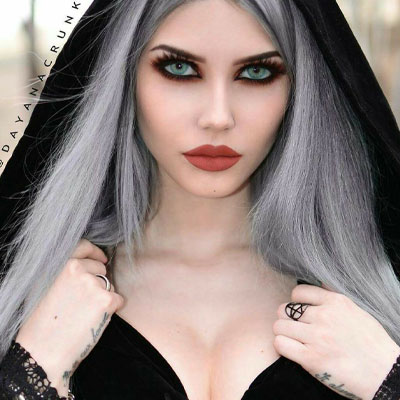 DAYANA CRUNK
Uniquely Mysterious and Mesmerising, Spanish Alt Model Dayana Crunk's online presence is equally secretive … only really existing via her Instagram feed. Intriguingly, this lack of information only heightens her alluring nature.

Hope you enjoy this lil look into the world of Inspirational Model, Dayana Crunk.

FIND DAYANA CRUNK ONLINE
I LOVE BEING ABLE TO CUSTOMISE…
Dayana is the ultimate Paradox; Is she waiting to be set free, or waiting to consume you with her spell? Is she completely Lost, or All-knowing? Is she Naughty or Nice? Of all the Inspirational Models, Dayana Crunk is the most fascinating. I love how one minute she'll be wearing a casual lil rock outfit, like Avril Lavigne, the next she'll be gothing it up in a ball dress during the dead of night, with shadows being cast across her face by candle light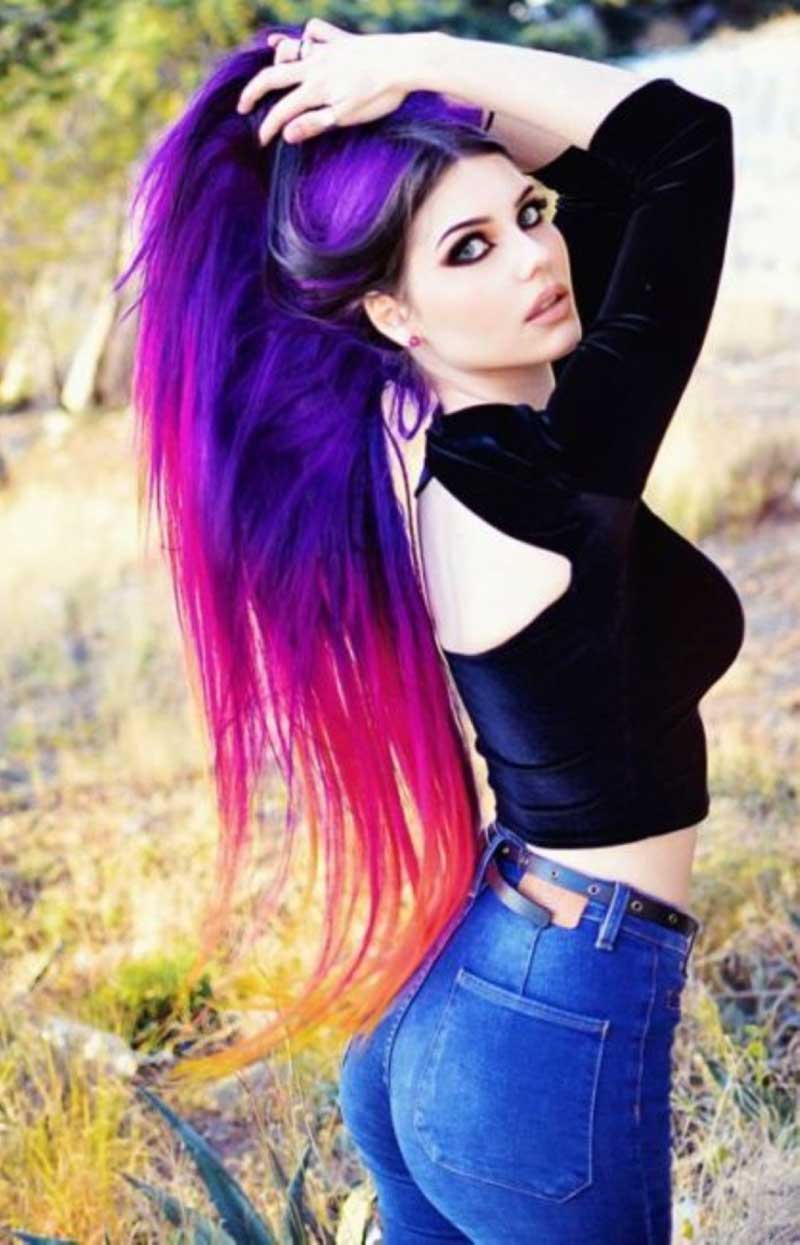 INTENSE
INTRIGUING
INVITING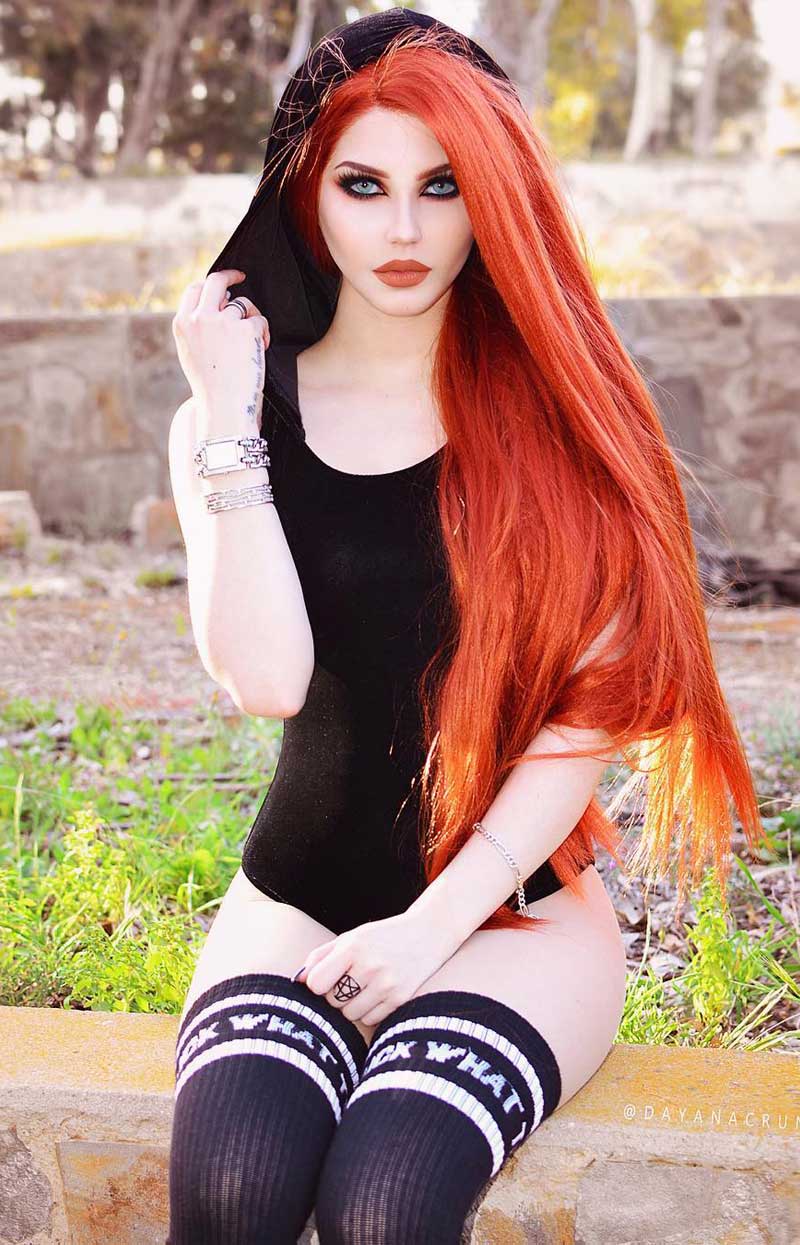 I want to wear all of Dayana's outfits, seriously, everything she wears is full of such style and coolness, she even makes me want to try a goth look :) The fairy tale dresses seem fun, especially that Cream and Mint Dress with the Headpiece, it's like something out of the video game Skyrim.
Her compositions are always exciting too, like the oranged haired Dayana at the very bottom of this page; The juxtaposition of the curviness of her body, outfit and hair against the straight line of the tree branch is perfection; it sort of reminds me of lilSOPHIE'S curvy hair style :)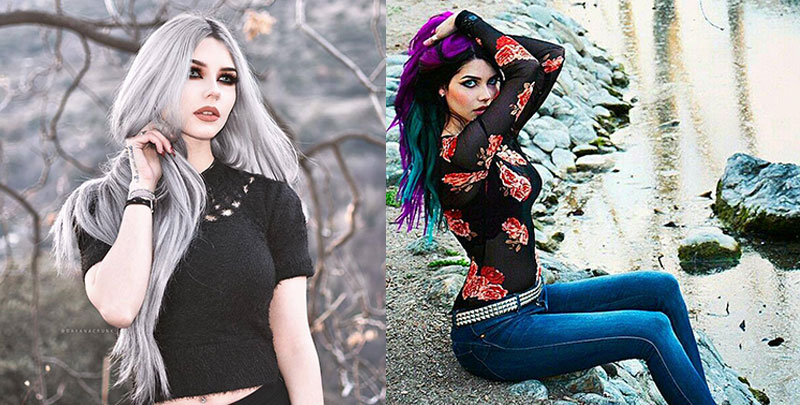 ME FAVOURITES
My favourite Dayana Crunk photos both highlight her ability to unify the background and foreground. The first shows Dayana with Grey Hair in a casual lil black top. It's super simple, but super effective thanks to the way the tree branch wraps around her in the background.
My other favourite sees Dayana with Purple Hair, striking a seductive pose as she pulls the river into the picture, creating lovely curvy shapes that almost flow with her body. Both of these photos can be found in the gallery below.
DAYANA CRUNK GALLERY
Dayana Crunk is very much like an inspiring piece of art to me, she has something about her that I can't quite put into words, but I feel it. She radiates this vulnerable, yet powerful energy. Paradox really is the best word to describe Dayana, she fascinates me probably more than any of my other Inspirational Models.
It's that look in her eyes … it's those eyes full stop, I think she has me under her spell to be honest. She's done something to me, and as I said right at very the start, the fact very little information exists about her, only adds to her intrigue.
I adore her uniqueness. I adore her connection with nature. I adore how she always leaves me wanting more. I adore how she leaves me wanting to bring her to life in a painting. I adore how she leaves me wanting to try the goth look. But most of all, I adore how she leaves me with so many unanswered questions, yet filled with so much awe.
YOU CAN FIND DAYANA CRUNK ON INSTAGRAM @DAYANACRUNK