BIO
"Dayana Crunk is one of the most important alternative influencers currently." – This teeny weeny bio is quoted from an equally teeny tiny interview Dayana gave at AllNewRock.com
Not only is Dayana an intriguing model, but her online presence is equally mysterious … only really existing via her Instagram feed. She doesn't even appear to have an official website, yet somehow this lack of information on Dayana Crunk only heightens her mesmerising nature.
All photos on this page of Dayana are from the Gothic and Amazing Facebook page
HOW I FOUND HER
I found Dayana, or rather she found me, via a Pinterest email. Every few days I get these emails from Pinterest, full of images they think might inspire me. This time, they were right; there was a photo of Dayana Crunk wearing jeans and a flower body top posing by a lil river. Sadly, the image is so small I couldn't include it on this page, but it inspired me to start researching Dayana online … well, it was one of those moments where I knew, she was destined to me an Inspirational model and a future drawing :)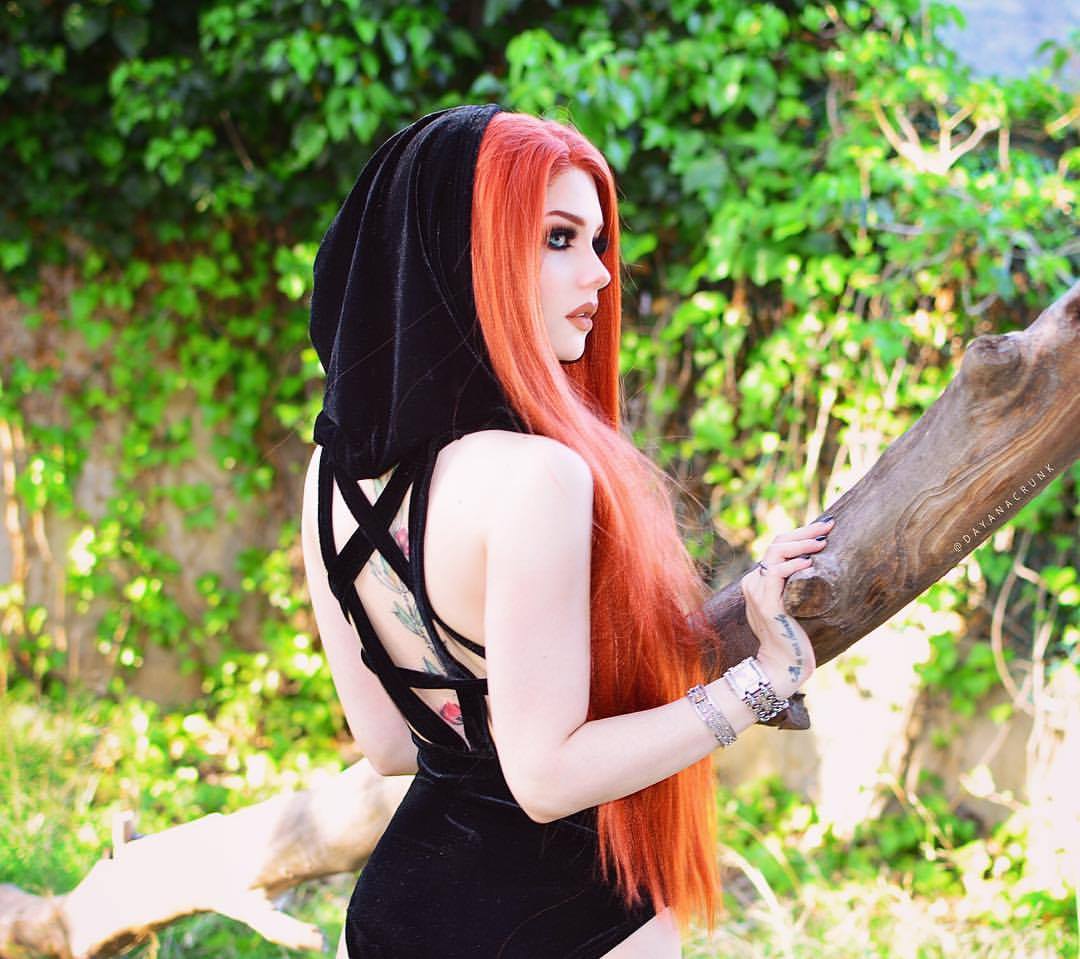 FAVOURITE PHOTO
I seem to say this all the time, but it's really hard to pick just one. There's the photo where she's wearing a rock outfit and looks almost like Avril Lavigne, the one where she's looking peacefully content in a lil red checked skit, or the more arty one set at night with the candle light casting shadows across her face. I love them all, but my favourite, for now, is the photo above, with her long orange hair wrapping around her body.
I love the juxtaposition of the curviness of her body, outfit and hair against the straight line of the tree branch; it also reminds me somewhat of lilSOPHIE'S curvy hair style :) Beautiful Pose, Outfit and Setting.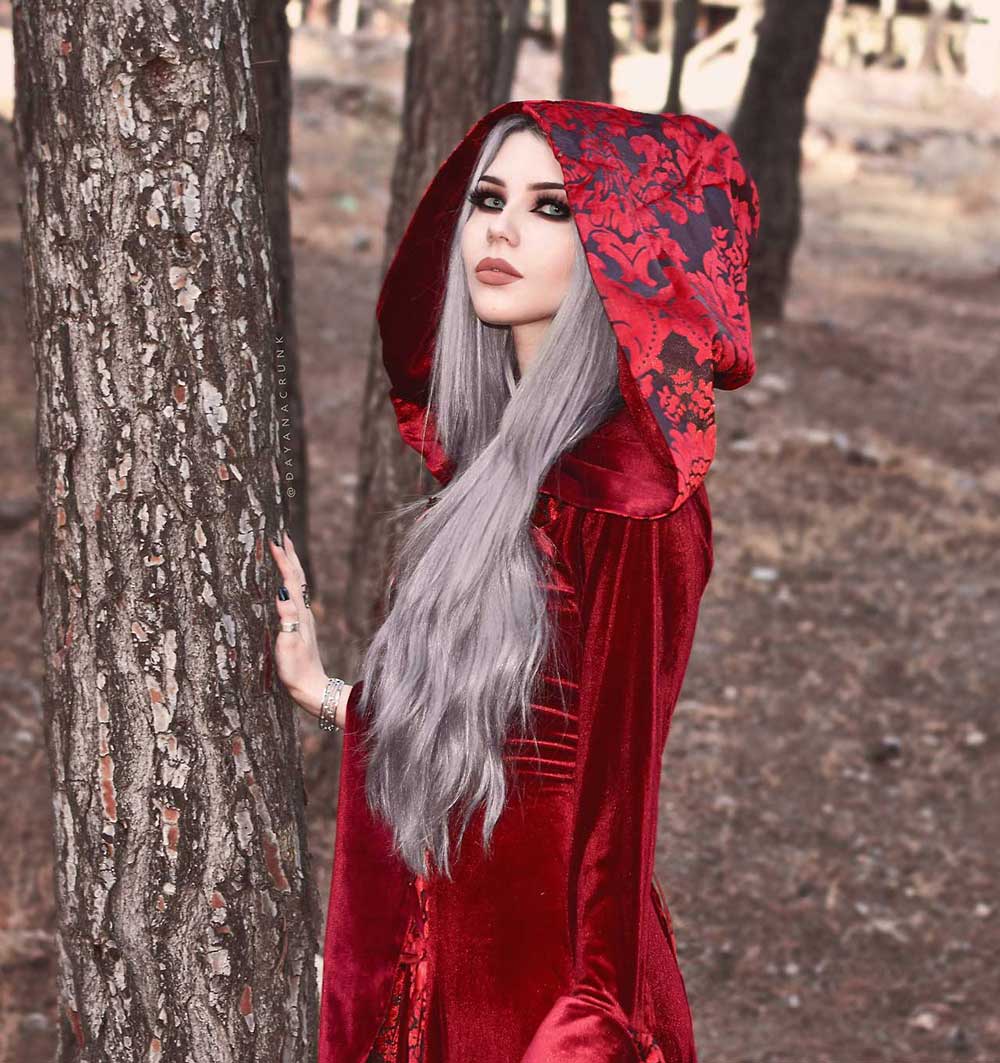 FAVOURITE OUTFIT
I want to wear all of Dayana's outfits, seriously, everything she wears is full of such style and coolness, she even makes me want to try a goth look :) The fairy tale dresses seem fun, especially that Cream and Mint Dress with the Headpiece, it's like something out of the videogame Skyrim.
But I have a ting for the casual so … yep. I've decided. The lil Red Checked Skirt with Black Jacket and Boots is my favourite, sometimes it's best to keep tings simple :)
FINAL THOUGHTS
Dayana Crunk is very much like an inspiring piece of art to me, she has something about her that I can't quite put into words, but I feel it. Paradox really is the best word I can find to describe Dayana, she fascinates me probably more than any of my other Inspirational Models so far.
It's that look in her eyes … it's those eyes full stop, I think she has me under her spell. As I said right at the start, the fact very little information exists outside of her Instagram photos, only adds to her intrigue.
SHE RADIATES THIS VULNERABLE, YET POWERFUL ENERGY
She inspires me on so many levels. I adore her uniqueness, the fact she seems to be at one with nature and how she leaves me wanting more. Leaves me wanting to bring her to life in a painting. Leaves me wanting to try the goth look. Leaves me with so many unanswered questions, yet with so much awe.
The Photos on this page and more can be found on my
Inspirational Models Pinterest Board
DAYANA CRUNK WAS ADDED TO MY INSPIRATIONAL MODELS ON 14TH AUGUST 2018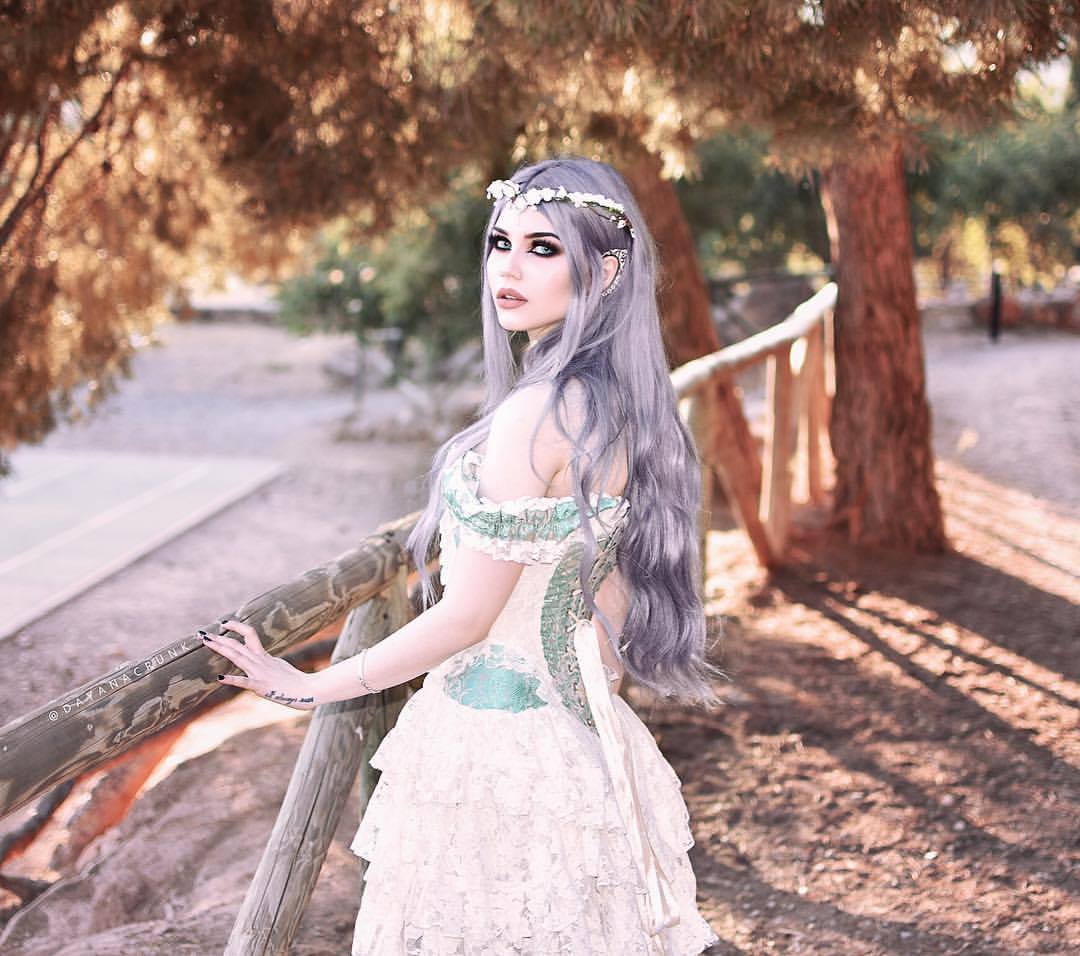 "This dress has such a nice weight to it, and feels so comfy; makes you wish you could wear it forever."
"This dress is so cute; part floaty and freeing, part tight and sexy."
"It's one of those dresses you like to twirl around in, watching it come alive around you."
"I believe in celebrating the female figure and embracing what we've been given, not hiding that."
Miranda Kerr