ORIGINALLY POSTED 17th APRIL 2017
Future me here *waves* Reading this diary entry in 2021, four years after my night out at Safe Haven, a transgender night club, is quite empowering. At the moment I'm struggling with wanting to interview guests on the podcast, but the fear appearing to be too great. But that's the mind lying to me, and once again, the quote from the anime Erased is putting things into perspective, "If you don't take that first step, a path won't open for you."
This quote is so powerful; That first step is key, it's when the fear is at it's greatest, so you need the most courage, but really you don't, because it's only the mind lying that is creating the fear. Action without thinking, that's the key, just take the first step and let the rest of the story play out.
Thinking creates fear, action creates opportunities, that's what I'm beginning to realise.
*end of future me*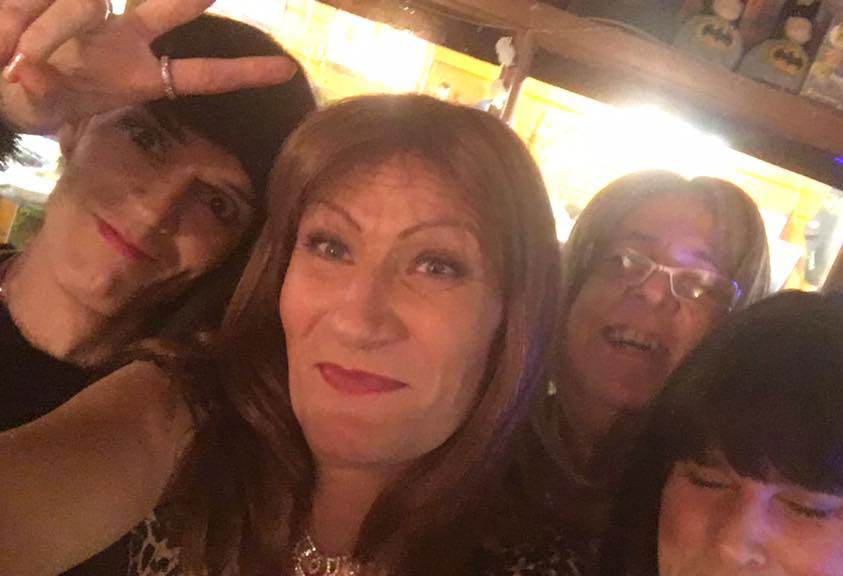 I'm writing this on Monday the 17th of April, two days after my first night out as Sophie; a trip to Safe Haven with Vanessa. It's 9am, I'm sat in the launderette, having just finished work and all morning I've been crying. Unlike the sad tears of the past few weeks, these have been joy tears. Happy tears. Tears were I've felt totally overwhelmed with gratitude.
It all happened so quickly. On the Friday, Vanessa, from the Not Alone Plymouth Support Group I go to, messaged me via my Facebook profile, asking if I'd like to go to Safe Haven on Saturday. Safe Haven's a non-profit making night club, located in Cornwall, providing loving support for people involved within the Transgender community. I would make my way down there with Vanessa, stay the night, and come back on the Sunday. I read her text and was hit with conflicting feelings …
I was excited, but I was terrified. I wanted to scream YES, but something kept saying, NO WAY, YOU CAN'T.
I actually typed out a reply to Vanessa explaining how I couldn't go, but Instead of hitting send, I shut the PC down and went into town to meet my Niece. I gave myself time to think. I remembered that quote from Satoru Fujinuma again, "If you don't take that first step, a path won't open for you."
The more I thought about it, the more I realised I'm going to be scared to do this forever, until I actually do it. Why not do it now? My Niece said the exact same thing, without me saying anything to her. I had to say yes, now I was getting nervous because I knew I was going to do it. In town I started buying makeup and shoes for the night out already. HaHa, I was so excited! When I got home I replied to Vanessa saying I would love to go. It was now official … for the first time in my life, I was going to have a night out as Sophie. Another dream about to come true.
THE TRIP DOWN
Vanessa picked me up at my house, and we set off on our little adventure to Camborne, Cornwall. It was a few hours drive, and Vanessa told me a lot about her story so far. She's so cool. Whereas I'm quiet and more of an introvert, she's totally out there and very much an extrovert. I adore her. I've always loved her confidence, she enters the room and you notice her, so full of energy. She has this aura, a sense that she's being herself and doesn't care what anyone thinks. I love this feeling, I hope one day to have a teeny weeny bit of her confidence.
We had a really nice chat and even stopped off at a Tesco to pick up some makeup supplies :) She gave me some really good advice while walking around Tesco. I saw her go and ask one of the workers a question and later explained how a good thing to do if you're feeling self conscious, is to ask someone a question. In London, where she used to live, she once walked past a group of youths who had the vibe of trouble. Instead of walking past nervous of what might happen, she took control of the situation by asking where the club that she wanted to go was, even though she already knew. She diffused the situation before anything even had a chance to develop. Such good advice!
AT SAFE HAVEN
Once we got there, I quickly made my way to the caravan and started putting on my makeup. I messed up, it was the worst makeup I've done in ages. Must have been the nerves. I was thinking about taking it all off and starting again when Vanessa texted to see how I was doing. She came back to the caravan to help, before leaving while I did my eyes. I still wasn't 100% happy, but than a lovely girl called Terri popped her head in … "Are you alright Sophie?," she said. I look back now and realise I didn't even have my wig on, and was only wearing a bra lol But for some reason, I didn't care. I felt safe already. I could tell I wasn't being judged.
Terri was so nice and has such a lovely smile. She helped me feel better, sprayed some setting spray on my makeup, than off we walked to the club … also known as the Bat Cave, due to the Batman memorabilia.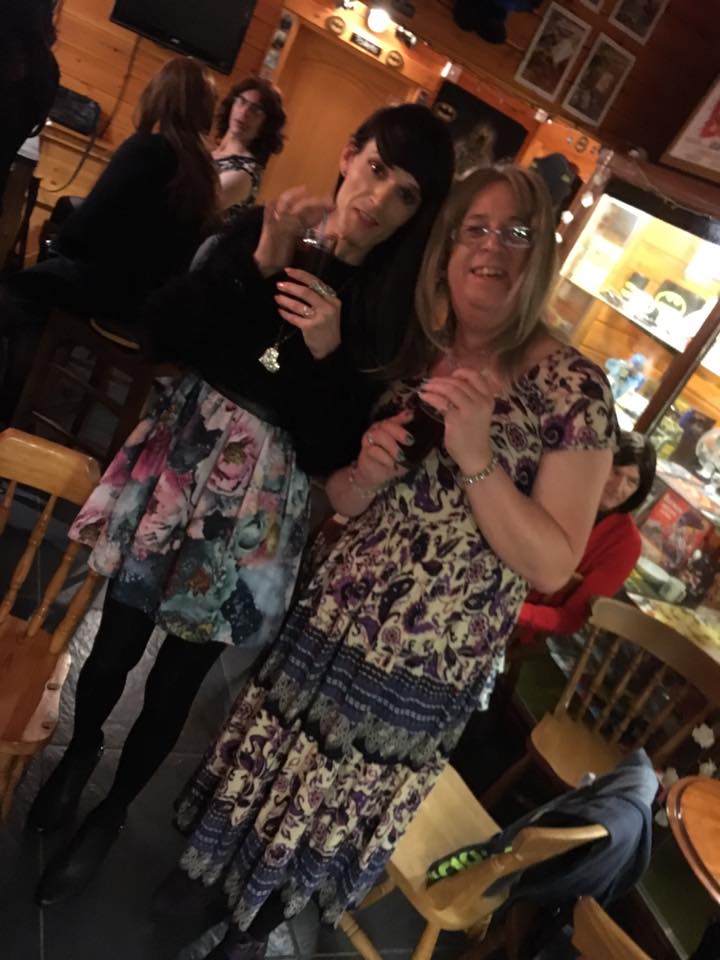 THE BAT CAVE
I was so scared, but Terri had this way of making me feel at ease. I felt scared but at ease, so strange. Before I knew it the door was open and in we went. Everyone was so nice. All so welcoming; I knew I was going to be alright. I was still nervous, but I was so happy. Erin, one of the hosts of the Not Alone Plymouth support group, was also there. I never knew she was going to be there, so that was a lovely surprise. She said how nice my eyes looked, which I found funny, because on the way down, I had said to Vanessa how nice Erin's eyes were :) Heehee, karma! She has these big blue eyes, so beautiful.
I know at the moment I'm still shy, and don't talk much, but inside I am so thankful for all these nice people who've entered my life. All helping me so much, I hope one day I can help them too. I had a lot of nice one to one chats with Roxy, Kylie, Terri, Vanessa, Pixie, Sophie … yes, there is another Sophie, she's bloody bonkers! In a good way, reminds me of my Sister. I love Sophie!
Pixie is one of the organisers of Safe Haven, and she has this essence about her that reminds me of my Gender Therapist. She oozes positive vibes. There's very few people in the world like Pixie, she actually dragged me up onto the dance floor :) Aww, the whole night was so amazing. Vanessa was dancing away, she's a great dancer, such a really nice flow about her. While I couldn't fully let go on the dance floor, I did have a moment where I was in the moment. Fully aware of the fact I was on the dance floor, with my trance tunes banging out that the DJ had put on for me. I was living the dream. I don't know if I was dancing or just standing there, but I didn't care … I felt so content.
And than it was over. I wanted to stop time and exist in that moment forever. But time decided it was bed time … or was it?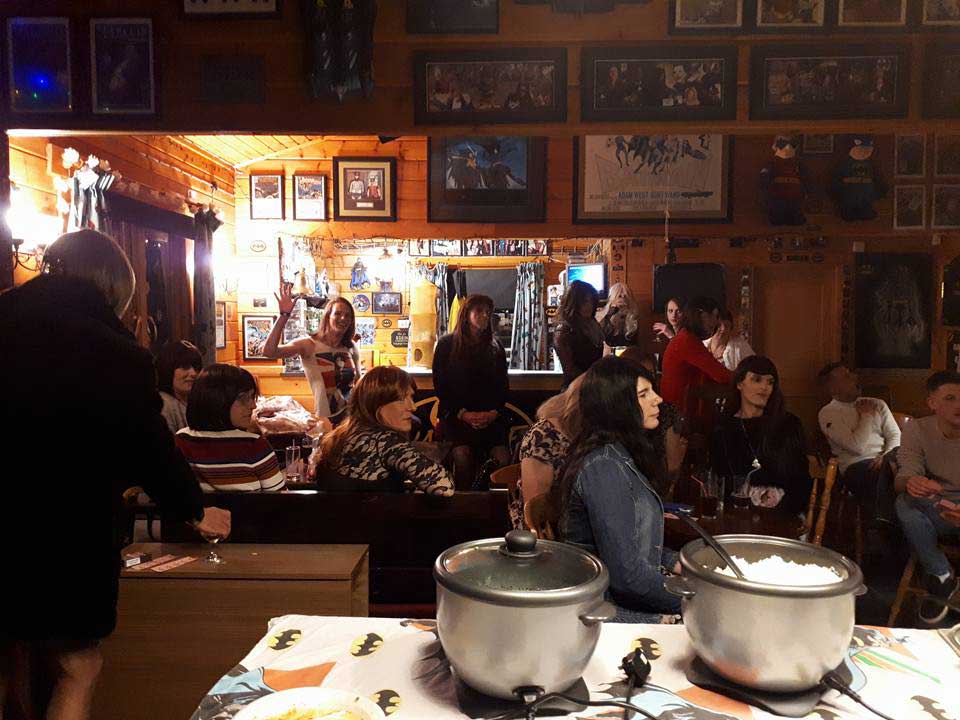 VANESSA'S AFTER PARTY
3am it was when we stopped dancing. Vanessa and I had both been up for over 23 hours, yet I wasn't tired at all. I felt so alive. We went back to the caravan where Vanessa was hilarious. She randomly moved the heater from the main room into our little room, which gave me the giggles, especially as she kept burning herself on it. Her arms, her legs, her bum lol It was like a sketch from a comedy show.
We chatted about stuff, as she continued to inspire me on so many levels. Such a strong person, I really felt a connection with her that night. She was playing tunes on her phone too, Vanessa's after party :) One of the tunes was Read All About It by Emeli Sande, the video for it is below. The lyrics are amazing, this will always be my Safe Haven tune now … forever taking me back to this memorable night.
While all this was going on, I realised I didn't want to take my clothes off lol In fact, I couldn't, and I didn't. It was around 4am when the music suddenly stopped and Vanessa went silent. I turned around to find her arm out stretched, her hand almost touching the phones screen, ready to play the next tune. But it wasn't going to happen, for she was now fast asleep.
With my clothes, wig and makeup still on, I thought about how lucky I was and drifted off to sleep myself.
Thank you for the memories Vanessa.
Find out more about Safe Haven