ORIGINALLY POSTED • 22ND MAY 2019
June 2019 will see the start of Cats Of June, a 30 day Art Challenge created in 2018 by Artist Joen Söderholm.
It's a "…Fun and Relaxing, without too much pressure…" type of Art challenge, that has you creating lil puddy cat art pieces every day during the month of June.
You can find out more about the Art challenge, via Joen's Cats of June 2019 SVSLearn Forum Post and view his artwork on Instagram @JoenSoderholm.
It's quite simple to play along though, just draw your cats and tag them with #CatsOfJune :)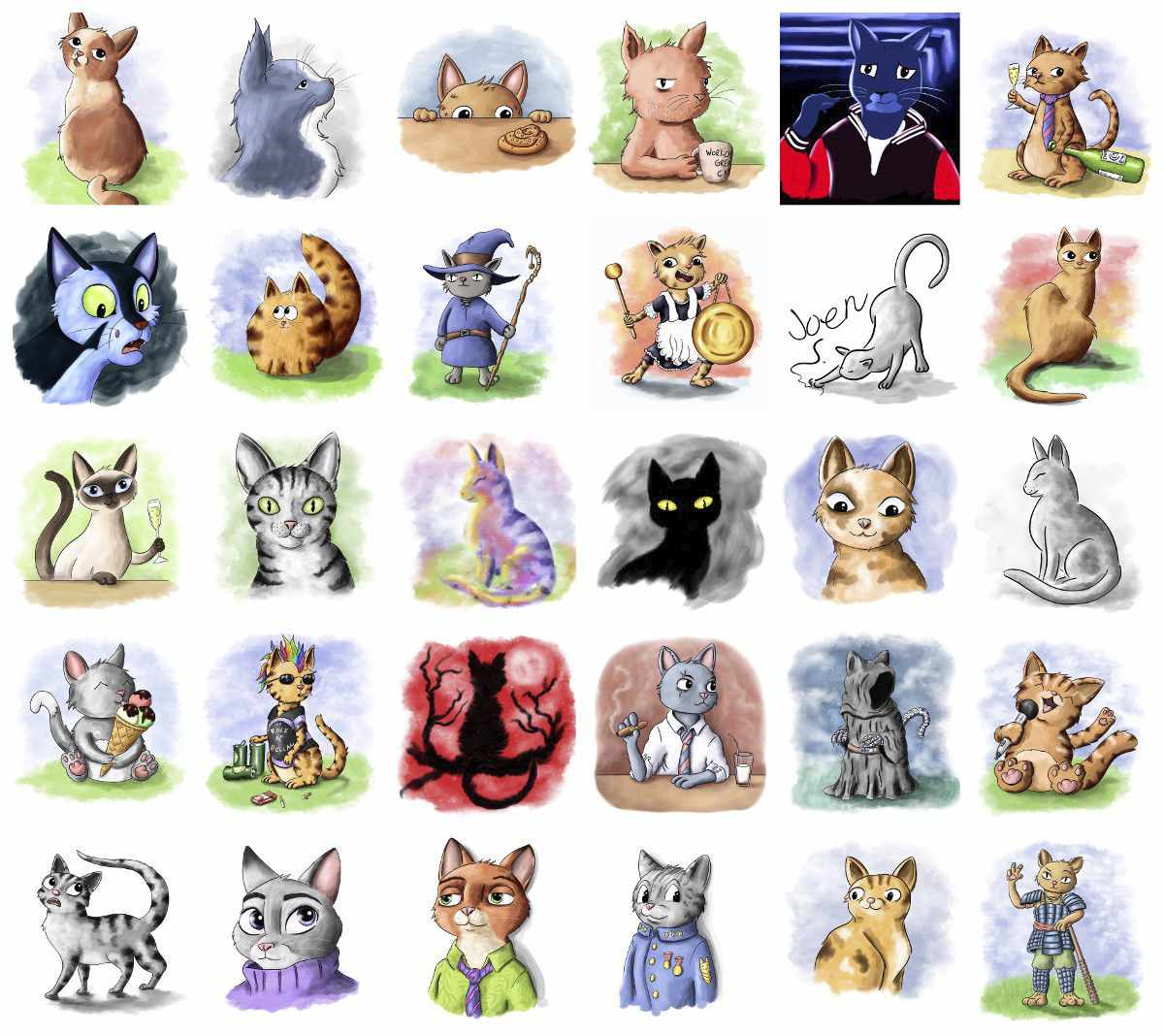 2018 CATS OF JUNE PAINTINGS BY JOEN SÖDERHOLM
The collection of cats above show the paintings Joen Söderholm created during Cats of June 2018, but why did he start the art challenge? In his own words "…to face my fears and push myself to do something new. I had started to feel that my art was going stale and thought some kind of drawing challenge might make things better. But no existing challenge really interested me at the time, and I wanted to start with something I knew I'm pretty good at drawing.
In the end, it worked out well and gave me lots of new ideas and opportunities to try different styles. So it's great for discovering new ways to draw and design your characters!"
WHAT DO I HOPE TO LEARN?
I've been wanting to create my own original cat characters for a while now. I did create Kevy the cat during the Digital Dream in 2017, but I haven't really gone back to him since. Honestly, I'm a bit scared because I don't know where to start with creating new characters.
This is why I love Art Challenges, they're a good way to EXPERIMENT, PLAY and Force Yourself to just get in there and CREATE something … no matter how bad it may be :)
So I'm going to use this challenge to study and draw Real life Cats, classic cats like Garfield and other Artists Cats, before trying to stick what I've learn together to create some of my own original Cat Characters.
Creating a new original cat character is my ultimate goal with Cats of June 2019.
WHAT'S ME PLAN?
Like Inktober and the 30 in 30 Painting Challenges I took part in during 2018, I plan to break Cats Of June 2019 down into chunks of 8 days; each 8 days will be focused around a different medium and type of reference, which should keep things Fresh, Exciting and Unpredictable.
With Inktober you're limited to Ink, but for Cats of June, you're free to use whatever you want … so my plan is
8 days of Realistic Pencil Drawings from Photo reference
8 days of Inking classic Cartoon / Video game Cats
8 days of Water Colouring Master Studies
8 days of Digitally creating Original Cats
That's the plan, it will create 32 drawings … so they'll be two lil extra cats purring away on the final day :)
PUUUURFECT
If you want to play along, be sure to check out this post as I'll be blogging about it each week during June 2019, and posting weekly videos about my lil cats in the MY ART PLAYLIST on YouTube.
Remember to check out Joen's Cats of June 2019 SVSLearn Forum Post for more information too.
I have a feeling this Art Challenge is going to be puuuurfect … I'll get me coat :)