ORIGINALLY POSTED • 22ND NOVEMBER 2017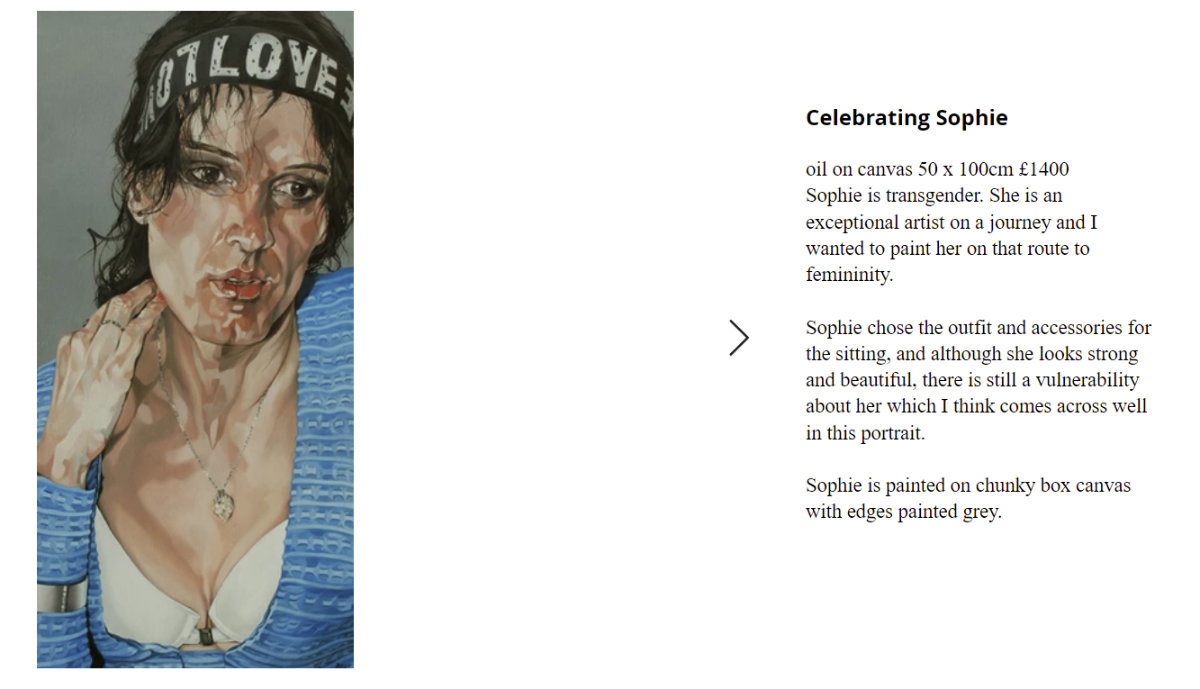 The above image is from the website of Artist Jo Beer, who on the 14th of October 2017 sent me a message that read:
"Hi Sophie,
Would you mind sitting for a portrait for me?
I have been thinking a lot about it since the Art Exhibition preview event, It wouldn't take long, Steve would snap away with his camera and we'll be out of your hair in no time.
I think you have such strength, mixed with a delicate vulnerability, which is both fascinating, and beautiful."
I'll be honest. I was both Giddy with Excitement, and Consumed by Fear. Jo is an incredible artist, so to be asked was an honour, you can see some of her work at JoBeerArt.com; we even had our work displayed together in the Gallery on the Hoe in 2015 :) Having a painting produced by Jo was amazing enough, but posing for a photographer had always been a dream of mine too.
Here I was with a Chance of a lifetime; HOW COULD I SAY NO? I almost did though, I was terrified.
I did what I learnt in the book Feel the Fear and Do It Anyway by Susan Jeffers though … I did exactly that, I Felt the Fear, and Did It Anyway :)
I said yes. I didn't allow the mind any time to start sabotage me from doing it. The rest happened so quickly though, for only two days later, on Tuesday 17th October 2017, Jo and Steve were at my door, ready to shoot.
I was ready too, ready to strike a pose :) Nervous? Definitely, Excited? More than ever before :)
We talked for a bit, and than Steve pulled out his camera, and it was time for action.
I've Posed for Photos many times before, but there's never been anyone else around. It's always been me setting up the camera, posing and shooting all on my own. This time, I didn't have to do anything but pose; it felt amazing.
We must have taken photos for about an hour, than it was over. We talked some more and had a really nice chat about being artists and our various plans for the future; I love being around other Artists, they're so inspiring.
Steve messaged me that night to say Jo was happy with the photos, and only a week later, Tuesday 24th October 2017, Jo messaged to say the painting was finished.
"It's been a joy to do, in fact I haven't been able to put it down, so consequently, finished in record time!"
CELEBRATING SOPHIE
She than told me what this huge 100cm by 50cm painting was to be called, which I loved, she'd named it Celebrating Sophie :)
Jo sent me a photo of the painting once it had finished drying, but before looking, the thought crossed my mind, what if I don't like it? I'd never had a painting done of me before, so wasn't ready for how it would actually make me feel.
When I saw it, I was overwhelmed.
It was so Beautiful.
I was smiling so much, and than I started crying.
From no where, I Burst into Tears.
I couldn't control it.
Looking at the oil painting made me realise just how far I'd come over the past few years.
I'd gone from a Shy person living in Fear, to somehow who now had Courage.
I'd gone from someone living in Shame and Denial about being Transgender, to someone who now fully Accepted and Loved themselves.
I'd gone from someone who always Hid Away from the world, to someone who now had the Confidence to pose in front of people for photos.
I felt So Many Emotions all at once.
SO THIS IS WHAT IT FEELS LIKE?
I've drawn many people before, and even personally sent them the drawing – such as my Amy Thunderbolt cosplaying Bubsy Drawing; Amy now has in her home :) It feels so nice to draw someone and share it with them, I would say one of the nicest feelings in the world … but to be on the other end, to be the one receiving a piece of art of yourself … it's hard to explain, but it's an equally nice feeling.
I'm so lucky to have experienced both sides of this.
This whole experience highlights the power of art. Art has changed my life, and it continues to keep bringing joy and happiness to mine, and many other peoples lives.
Art is powerful.
Thank you Jo
for
Celebrating Sophie

You can find Artist Jo Beer at JoBeerArt.com