REREADING KEYS TO DRAWING BY BERT DODSON – WEEK ONE
This week I set myself the task of rereading Keys to Drawing by Bert Dodson, a book I original read nearly three years ago. I managed to finish chapters one and two this week, including all of the drawing exercises. Projects that had me drawing such things as my hand, my eyes and a glass bottle, as I put into practice the techniques Bert was teaching. They're not all fun, let's be honest, but each one is there for a reason so you just have to trust Bert and give everything a go.
My favourite drawing exercises this week, were the pepper and the five minute burn.
"THERE ARE NO LINES IN NATURE, ONLY AREAS OF COLOUR."
– Edouard Monet
The main thing I learnt this week, was realising how important it is to change the way you see. How you see is the foundation of drawing. The key to seeing differently, is to see the world as shapes. This is something I realised I do almost instinctively now, and it's given me an even greater appreciation for Bert and this book. Shapes are everywhere. Everything is a shape.
It made me think back to the
Isn't it uncomfortable drawing a nude model?
post I wrote a few weeks back. In there I discussed how I don't see the nude models as nude models, but as a collection of shapes. Rereading this chapter made me realise the way I now see the world, is largely thanks to this book and
Drawing on the Right Side of the Brain Betty Edwards
. Bert and Betty, that sounds like a comedy duo lol, both explain how to see like an artist so simply, that it just makes sense and you will begin to see differently too. Seeing the world as shapes, I now realise, is how this book original gave me that feel of
'I can draw anything!'
I experienced in 2013. It's true, because once you see the world as shapes, you realise … you really can draw anything :)
I'll quickly go over four rules of shape that Bert discusses, which are the cornerstones of changing how you see, and ultimately draw.
1 | DRAW LARGE SHAPES FIRST, THAN SMALLER ONES
This can help you when staring at
the blank canvas
,
Bert
talks about how you need to look at your subject and draw the big shape to get started. Than work backwards to smaller and smaller shapes, this way, you don't get confused by all the details. Keep it simple,
squinting
also helps to simplify these shapes :)
2 | LOOK FOR ENRICHMENT SHAPES
Enrichment shapes are things like highlights, shadows and reflections. You have to start seeing everything as a shape, even shadows; this was a big one for me! I remember when I first started seeing shadows as shapes, I started seeing them everywhere! It was actually really fun being self aware of all these shadow shapes. I remember being at my old job, sat at my desk 'working', but noticing shadow shapes all over the desk. It became addictive finding them :)
3 | TIE SHAPES TOGETHER
This is a way of bringing all your individual shapes together, to create a cohesive whole. This is achieved by blending shapes together when adding tone.
4 | WHEN YOU SEE A TRAPPED SHAPE, DRAW IT
Trapped shapes, or negative spaces as a lot of people call them, are a big thing in this book. Chapter one starts off talking about them, but I remember they return multiple times throughout the book.
I always used to struggle to see trapped shapes.
The way I was able to finally see them, wasn't via this book, but with the help of
Betty Edwards
in her book,
Drawing on the Right Side of the Brain
. She explains a technique of focusing on the other side of the edge. It's hard to explain, but when you focus on the space on the other side of an objects edge, even though it is still the same edge, you somehow see the trapped shape instead of the objects shape. After doing this a few times, trapped shapes will suddenly just pop out at you, and just like shadow shapes, you'll start seeing them everywhere.
"THE ART OF DRAWING IS AN ACT OF UNCANNY COORDINATION BETWEEN THE HAND, THE EYE AND THE MIND. EACH OF THESE IS SUBJECT TO TRAINING AND HABIT."
– Bert Dodson
There are so many topics covered in chapters one and two, but I feel seeing shapes is by far and away the most important, it may even be the most important topic in the entire book. Other highlights include
drawing blind
, changing how you talk to yourself while drawing and trigger words.
Trigger words! Something that I still haven't managed to make a habit. Bert says, look at your subject, lets say a soft fluffy cat. Now, repeat the word 'fluffy' in your head, over and over again while drawing. It will make you draw the fluffiness, I tried to make this a habit many times, but it never seemed to stick and I had actually forgotten about them.
Rereading about trigger words this week gave me a mini epiphany.
For the past year or so I've kept thinking to myself, I want to be able to capture a feeling in my future paintings, but how do you capture a feeling? Trigger words! I knew about them all along I had just forgot. These may be the magic words that help take our art to the next level.
That was only chapter one, chapter two covers topics such as drawing freely versus controlled, the benefits of copying from the masters, using different mediums and the power of the eraser as a tool.
Bert
knows his stuff :) If you're struggling with, or have managed to find a way to overcome any of the topics discussed this week,
please let me know.
I can update this post, so hopefully we can improve together.
"THE ONE SIMPLE RULE TO FOLLOW IS: AT EACH POINT OF FRUSTRATION OR CONFUSION, ASK YOURSELF, "WHAT DO I SEE?"
– Bert Dodson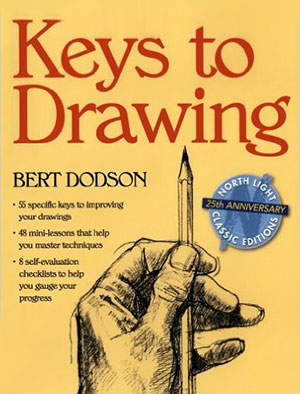 MORE FROM MY REREADING OF THIS BOOK
INTRODUCTION
In January 2016 I reread Keys to Drawing by Bert Dodson over a four week period. Each week I covered two chapters of the book: taking notes, completing the drawing exercises and writing about my experience.
You can find these detailed writings in this five part mini series, which starts with this introduction
WEEK ONE • Covering
chapter 1 (The Drawing Process)
chapter 2 (The Artist's Handwriting)
Including
Bert's four rules of shape:
1. Draw Large Shapes First
2. Look for Enrichment Shapes 
3. Tie Shapes Together
4. When you see a Trapped Shape, Draw it
WEEK TWO • Covering
chapter 3 (Proportions: Taking the Measure of Things)
chapter 4 (The Illusion of Light)
Including
Bert's discussion on three Sighting Strategies:
1. Finding the Midpoint
2. Using Plump and Level
3. Taking Comparative Measurements
WEEK THREE • Covering
chapter 5 (The Illusion of Depth)
chapter 6 (The Illusion of Texture)
Including
four depth principles:
1. Overlapping Shapes
2. Diminishing Sizes
3. Converging Parallel Lines
4. Softening Edges and Contrast
THE FINAL WEEK • Covering
chapter 7 (Pattern and Design)
chapter 8 (Drawing and Imagination)
Including
Bert's discussion on what makes a good Composition;
Balance and Paradoxes