ORIGINALLY POSTED • 28TH SEPTEMBER 2017
October the 1st, 2017, will see the start of something new and exciting, for both me, and the site; for 75 days, I'll be embarking on a journey I'm calling, The Digital Dream.
It was going to be a 90 consecutive day challenge, but nature is about balance, and I normally schedule GIC Visits, Laser Hair Removal and other things related to my TRANSITION on a Thursday, so instead of having stressful Thursdays, I allowed myself every Thursday off, as well as Christmas Eve, Christmas Day and Boxing day.
So it will last for 90 days, until the 29th of December, but only 75 of those days will be dedicated to Studying, Practicing and Documenting the process of Learning Digital Painting.
As I write this, three days before the challenge starts, I know nothing about working digitally. I have a bit of Photoshop experience from editing MY PHOTOS, but in terms of digital drawing – I know nothing.
I'd be lying if I said I wasn't feeling nervous; I've actually been scared of starting digital painting for years if I'm being totally honest.
FEARS
Three days before the start of The Digital Dream, I have a bunch of fears
Fear of not knowing if I'll be good enough
Fear of overwhelm; there seems like so much to do and learn
Fear I may not actually enjoy the process of learning and creating digital painting
Fear of my digital art sucking
Fear of disappointing people who only follow me for my realistic drawings
Fear of putting myself out there on YouTube
So many fears before I even plug my tablet in for the first time, but my desire to give it a go is finally greater than the fear.
EQUIPMENT
Helping me make sense of this overwhelm, will be my baby step mentality, where I'll break everything down into simple tasks.
Ill be using the following three websites from my Art Links & Resources page
I'll start with the beginner tutorial videos at CTRL+PAINT and the Foundation course from David and his team at the PAINTABLE.CC DIGITAL PAINTING ACADEMY. I'll also continue to do my daily Gesture Drawing practice via QUICKPOSES, but I'll be incorporating this into The Digital Dream by practicing them digitally for the first time :)
In terms of software and hardware, I'll be using PHOTOSHOP CC, maybe MANGA STUDIO 4, a WINDOWS 10 PC and a WACOM INTUOS SMALL TABLET, together with OBS STUDIO to record videos for YouTube.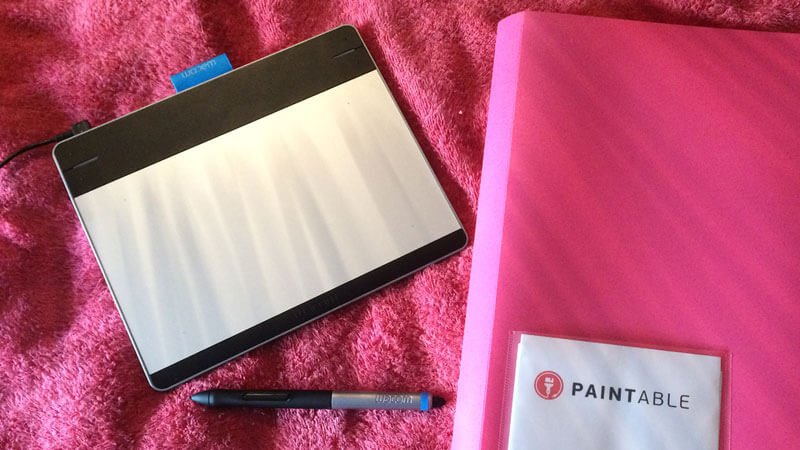 COMPLETE LIST OF EQUIPMENT
"MY MOTIVATION TO KEEP GOING, WILL BE MY DESIRE TO BRING lilSOPHiE TO LIFE."
WHY?
I've had in my head for years now, the desire to start both Digital Painting and Traditional Oil Painting, but fear has held me back.
Last month I sent out the Monthly Newsletter and introduced lilSOPHiE, who now runs it in her own unique way :)
lilSOPHiE has been in my head since 2014, and when I randomly popped her into the newsletter, it instantly felt right; She's a transgender chibi character whose always getting herself into socially awkward situations, I see her, together with sidekick KEVY THE CAT, having their own manga webcomic one day, but that one day will never come if I don't start learning how to do it
Just after posting that newsletter, an ad popped up on Facebook for a free webinar with Paintable.cc … long story short, I attended and was left inspired to start Digital Painting. I found a cheap £25 Wacom tablet on Gumtree, signed up to the Paintable.cc Academy and decided … now was the time to give digital painting a try :)
"ONE OF THE BIGGEST QUESTIONS I HOPE THIS 75 DAY ART CHALLENGE WILL ANSWER, IS DO I ENJOY THE PROCESS OF CREATING DIGITAL ART?"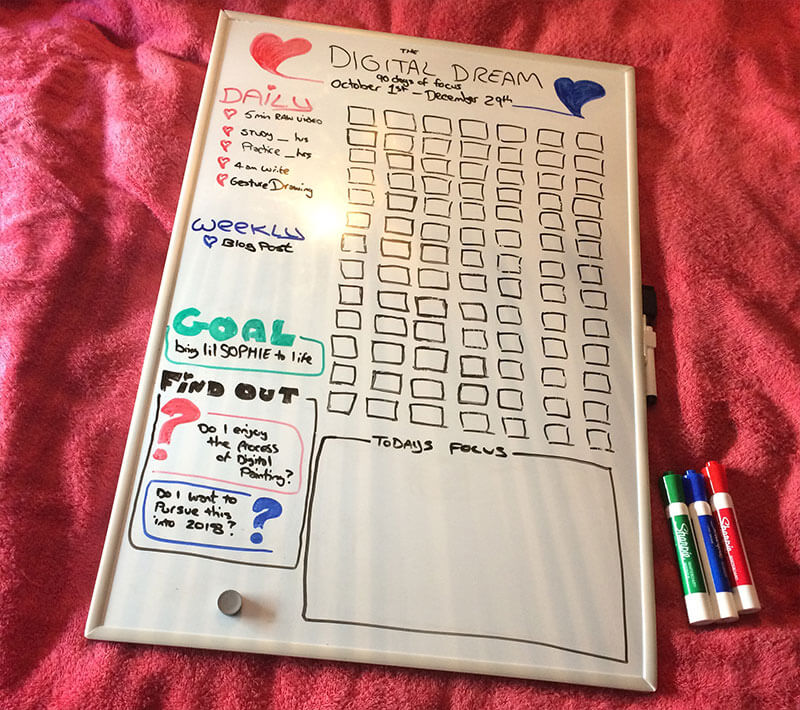 HOW?
From October the 1st, I'll show up and document the whole 75 day journey; this shouldn't be as time consuming as it sounds :) Notice the word shouldn't lol
Thanks to SeanWes, I already wake up at 4am each morning to write for 30 minutes, so I'll just use this time to write about the previous day, and my goals for the coming day. These little journals will not only form the narration for raw unedited daily YouTube videos, but also a weekly roundup blog post.
These videos and blog posts will capture TIPS, ADVICE, PROGRESS, AHA MOMENTS and the various STRUGGLES of starting out as a Digital Artist.
In terms of the videos, I am a bit nervous about being on camera due to my voice, but I thought sod it, if people want to be horrible, that's their problem, not mine :)
SCHEDULE
VIDEO • little raw unedited Daily YouTube Videos of Tips, Progress and the various Struggles of learning Digital Painting
WRITING • a Weekly Digital Painting Blog Post covering one topic from the week in a bit more detail
DRAWING • Daily Gesture Drawing, practice exercises and sketches for the Sketchbook Section
PRACTICE • when not studying, I'll mostly be trying to develop my character lilSOPHiE
"I'VE ALWAYS FOUND THE BEST WAY TO LEARN AND RETAIN KNOWLEDGE, IS TO WRITE ABOUT IT."
GOAL?
The main goal of this challenge, is to see if I enjoy and want to pursue Digital Painting.
At the moment, the thought of producing digital art is cool and exciting, but
Will I still be excited after days of staring at a computer screen?
Will I enjoy scribbling on something that isn't paper?
Will I enjoy losing hours of work because I forgot to hit Save? lol
The only way to find out is to try :)
My ultimate Digital Dream would be to reach the 29th of December in love with the process of Digitally Painting, having started to bring lilSOPHiE to life; not sure if this will be possible, but she's acting as my motivation.
The truth is, If I reach 29th December having shown up every single day I'll be so proud and happy, regardless of what my digital paintings look like.
In terms Digital Painting, my goals are
SHORT TERM • bring my character lilSOPHIE to life and start up her Manga webcomic
LONG TERM • create my own pinup female characters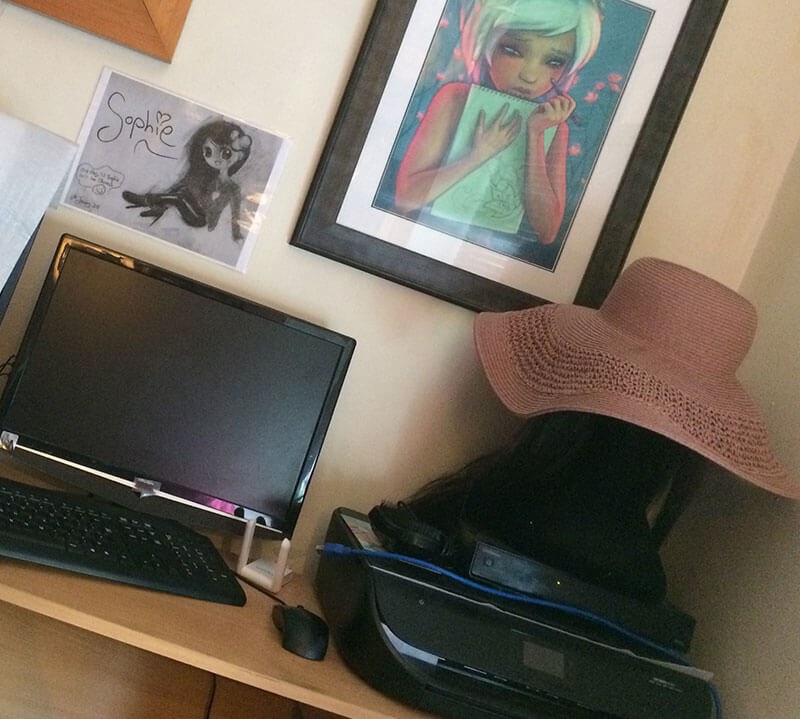 A PHASE OF EXPERIMENTING
I know it's going to be a challenge just to learn the tools and how to quickly move around Photoshop, let alone the act of actually drawing my own characters, but I go into this challenge with an open mind and the promise of giving it my best.
On December 29th, I'll take a week off for the New Year, and decide if I want to dedicate 2018 to digital painting, or return to traditional; maybe I'll try my hand at a 75 Day Oil Painting Challenge.
That's the beauty of this 75 day experiment; I have no idea what's going to happen :)