Recommended Drawing Exercises
SEGMENT DRAWING
WHAT IS IT?
Segment Drawing is a drawing exercise invented by Lee Hammond, which was introduced to me via her book, How to Drawing Lifelike Portraits from Photographs. It requires you isolate, and draw, only a small section of a much larger image. This is achieved by finding a photo, selecting a small section you find interesting, and covering up the rest of the image. This way, you're not overwhelmed by the whole image, and the section you are drawing is less recognisable, thus easier to draw. It's a genius way to learn; allowing for extreme experimentation, while drawing the things you personally want to draw.
HOW TO DO IT?
You need a viewfinder, which you can easily make out of a piece of cardboard. Simply cut out a square of about 2 inches, than throw the little square away keeping the rest so that you have a cardboard border, known as a viewfinder. Segment Drawings can be done using any medium, I've had fun producing both Coloured Pencil and Graphite Pencil Segment Drawings.
The image below shows some of the viewfinders I've created, in sizes 2.5, 1.5 and 2 inches. I find the 2 inch square one works best. You can create different sizes, and even different shapes, if you wanted you could have a round viewfinder, or even a heart shaped one :)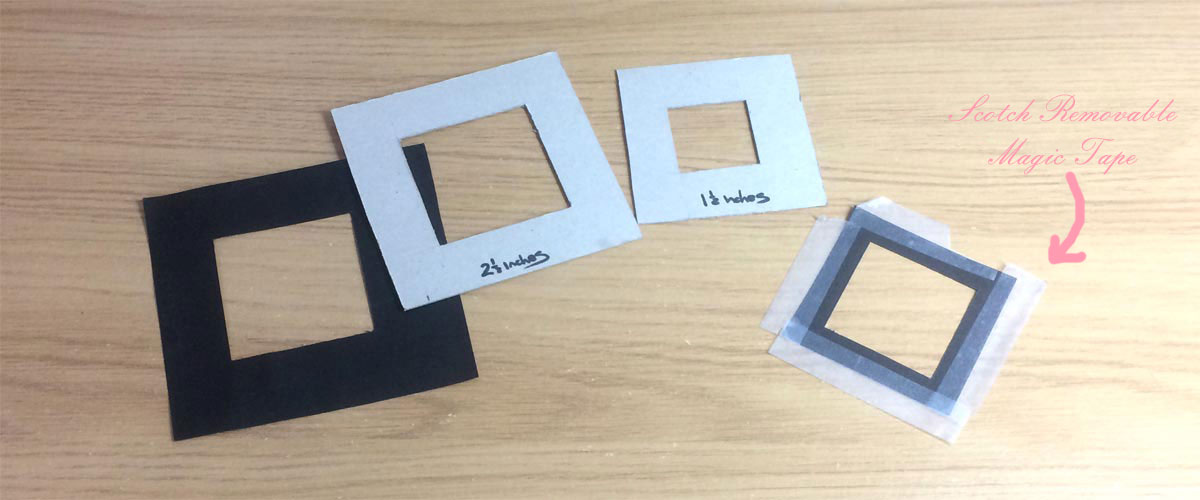 The image below breaks down how to do this drawing exercise once you have your viewfinder. I've listed 7 steps for doing coloured pencil segment drawings, however, if you're only using regular graphite pencils, step 4 would be your last, where you'd render the drawing to completion.
Find a reference image
Place the viewfinder onto your sketchbook and draw it's shape
Using tape, such as Scotch removable magic tape, stick the viewfinder to your reference image
Lightly sketch the contours with a regular pencil. (I normally do this step with the reference image upside down)
Start erasing the pencil as you begin to add your colour
Keep adding colour until you have a finished segment drawing
Extra step – I like to list all the colours I used below the drawing, so that I can see which colours work well together
WHY DO IT?
The are a number of reasons to practice this exercise. In short, it's a really fun, rewarding way to learn and take risks, without feeling like you're going to ruin a nice drawing you've spent hours on. Segment Drawings typically take between 30 minutes to an hour or two, as Lee Hammond puts it, "They are small exercises and don't take very long, but the experience you gain is huge!".
As you're only drawing sections of a much larger image, your brain is less likely to recognise what you're drawing; especially if you turn the reference image upside down while drawing, just remember to turn your sketchbook upside down too, else you'll have a sketchbook of upside down drawings :)
There is an additional benefit I've found from this drawing exercise that Lee Hammond never mentioned. I've noticed this exercise improves your compositional skills. As you're constantly moving the viewfinder around to try and isolate something interesting to draw, you are effectively building up your ability to 'feel' what looks right when composing a drawing.
EXAMPLES
Below are a few of my Segment Drawings using Graphite and Colour Pencils. You can find more in my Sketchbook Section.
IS IT FUN?
100% yes, so fun you'll want to do more and more :) This is the most fun drawing exercise I've found over the past few years. It's very telling that it's now 2017 and I still adore producing Segment Drawings as much as my first one in 2013. It's win win all round: you're having fun, learning and potentially having a cool little drawing to keep all at once.
CONCLUSION
Lee Hammond recommends keeping a daily segment drawing sketchbook. It's one of those exercises you can literally do whenever you want, all you need is an image … you're drawing things you love so you'll enjoy it and there is no pressure. If it goes horribly wrong, just turn the page and do another one, you haven't spent ages on it like you would a big drawing. The nice thing is, you do end up with a collection of cool mini drawings, and you learn so much, especially when using coloured pencils. How colours behave together, how they feel and just basically things that will stay in your brain for when you come to do proper drawings later on.
Segment drawings really allow you to experiment with things you maybe wouldn't risk in a proper drawing. They are so much fun, I hope you try them!
"I recommend you take your time when doing Segment Drawings. You will really see and feel the benefit later on when you produce a full drawing."
– Sophie's Top Tip
"The wisest mind has something yet to learn."
George Santayana