INTERVIEW
Hello
*waves*
lilSOPHiE here. I recently had the pleasure of sitting down with my creator big Sophie, the fat arsed one, who you probably know as SOPHiE LAWSON.
We got to talk about a lots of fun tings, such as: being Transgender, being an Artist, and being Spiritual.
Here's what she had to say …
AN INTERVIEW
WITH MY
CREATOR
by lilSOPHiE
lilSOPHiE: HELLO BIG SOPHiE, BET YOU WASN'T EXPECTING TO SEE ME TODAY?
SOPHiE LAWSON: You're not real …
lilSOPHiE: How dare you!
*pinches self*
Ouch! See, I am real :)
Speaking of seeing, are you ever going to draw me with eyes?
You started out with eyes, look at this first ever sketch I did of you.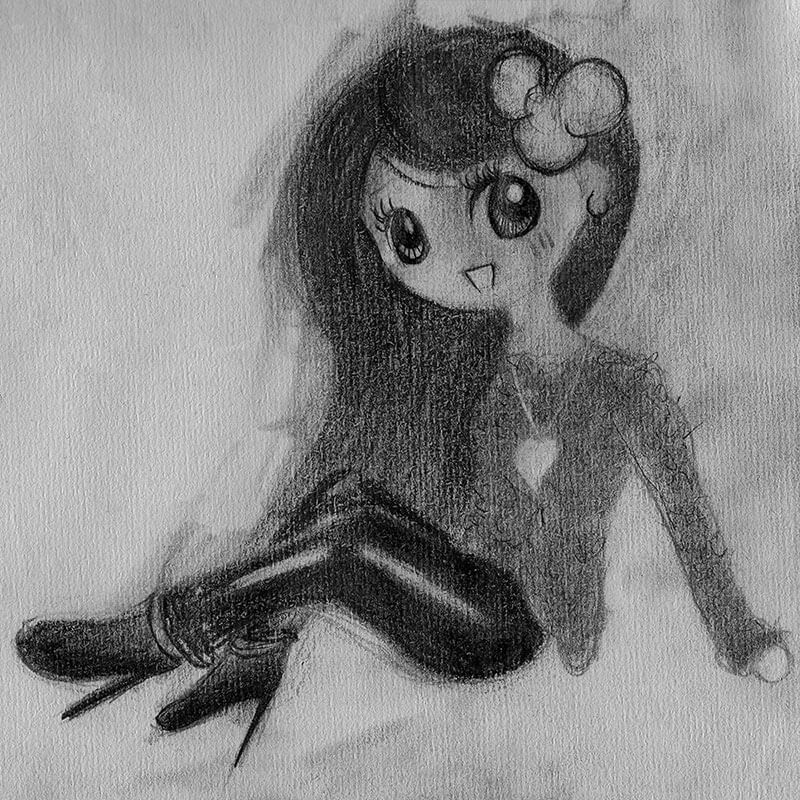 You're funny, I can't see can I?
Heehee. Sorry. Well, you started out with eyes, but I removed them because I find drawing eyes a struggle :( I promise to draw you with eyes soon, some nice big Brown ones :)
*flutters imaginary eye lashes*
WHOSE THIS lilDENNIS DUDE I KEEP HEARING ABOUT?
Someone sounds jealous?
Nope, just curious.
He's a puppet from the PODCAST, and VIDEOS. Like you, he's a lil character I bought to life from my imagination.
He's got eyes, why can't I have eyes?
Patience girl lol lilDENNiS has simple lil circles, you need to have sexier eyes. Promise you'll have eyes soon, and than you can play with lilDENNiS :)
*yay*
WHO ARE YOU?
I'm still trying to work that one out. I'm from ENGLAND, and was born male with the name Kevin Preston, but a few years ago I transitioned into SOPHiE LAWSON, the Artist and Transgender Model … I get embarrassed saying I'm a model.
Why's that?
I dunno. Scares me. Think if I say I'm a model, people will judge me, saying I'm not good enough. Ting is, I love posing for photos. I feel so content and at one with the Universe when I'm posing. Even more content than when I'm drawing. It's like time stops, and the only ting that exists is me.
Does that make me a model too? Because I'm always posing for your drawings :)
I guess so lol We're both lil models :)
WHERE DID YOU GET YOUR NAME FROM?
In 2004 I read somewhere, that your female name was the name of your first pet, combined with your Nans name. My first pet was a cat called Sophie, and my Nan was called Lawson, so I stuck em together and smiled; The name SOPHiE LAWSON felt so right :)
HOW OLD ARE YOU?
Should never ask a girl that.
But you're not a girl.
Fair enough, I'm 40 :)
HAVE YOU GOT A WILLY?
Should never ask a girl that either lol Yeah I do, but so have you.
*blushes*
So if I have a lil willy, does that mean you have a big willy? lol Are you gonna get rid of yours?
I still don't know. I'm on the waiting list for the operation, but it doesn't bother me anymore. You can buy theses special panties called Gaffs too, which flatten and hide the lil sausage, so maybe I'll just keep him, he seems pretty happy down there lol
I WAS READING YOUR MY STORY PAGE, AND YOU KEPT SAYING YOU WAS A lil SHIT AS A CHILD. WHY WAS THAT?
I honestly have no idea. I was so naughty though. This naughtiness still exists, so maybe I'll channel it though my art in the future.
I like being naughty. It's fun.
It is fun, as long as you get away with it :)
What was some of the naughty tings you did?
I remember running round the house chasing my Sister with the kitchen knifes. She ended up locking herself in the bathroom, but that didn't stop me. I started shoving the knifes under the door like something out of a horror film.
Bloody hell. You could have sliced her feet up?
I know. It's pretty bad really, wonder what my Sister was thinking. She must have been shitting herself.
Least she was in the toilet lol Did she ever do anything to you?
Well, this one time, at band camp … lol … no, this one time she and her friend had me strip down to my pants, than put me into a duvet cover, and tied me up to the lamppost outside. They ran inside and left me there!
Sounds Fun!
lol It's pretty funny looking back now. She never did anything as vicious as the tings I did though. I remember once she was climbing in the upstairs window from outside, having got locked out, and as she was half in I removed the ladder lol She was just hanging there. If she'd fallen, she would have really hurt herself.
She's gotta learn I guess.
I agree :) I was always setting fire to tings too. I mean anything I could get me hands on. I remember setting fire to this lil boys plastic go kart. I crept into his garden, stole it, set fire to it, than put it back in his garden. I watched it roll down the his garden path with flames coming out the back, before running off. I still imagine him waking up that day, going out his front door all excited to go for a lil ride on his go kart, only to find a pile of melted plastic.
That's crazy!
Do you still set fire to tings?
Only incense sticks these days lol
*heehee*
YOU ALSO TALK A LOT ABOUT YOUR STRUGGLES WITH SOCIAL ANXIETY. DO YOU HAVE ANY ADVICE?
Everyone's different, but for me meditating and writing helps a lot.
Does that help with your video game addiction too?
Definitely, but I think Art is helping the most with that. My desire to get better at drawing, is stronger than the desire to play video games.
Do you still play video games?
I play a bit of PlayStation Vita on a Saturday night, but for over 25 years I used to play like 12 hours a day, every day; Art really is helping me break free from the video game addiction.
TIME FOR A 'YOUR FAVOURITE TINGS' SECTION. READY?
What do I do?
I say something, and you tell me your favourite ting. Easy Peasy lol
Go on than.
Favourite Film?
Ooh. I got two. Mannequin and The Running Man … and the Matrix. Yeah, actually The Matrix Trilogy are my favourite films.
Favourite Video Game?
This is tough. Gran Turismo is my most played game of all time, but Persona 4 Golden changed my life. For pure fun though, it has to be Gran Turismo.
Favourite Anime?
Erased … or Madoka Magica … or Steins;Gate … or Paprika … or Paranoia Agent … or … or … lol, too many!
Favourite Character?
Chie from Persona 4, she's so cool!
What about me?
Aww, yeah you're cool too, but Chie's cooler, and would kick your ass.
Oi! Favourite TV Show?
LOST. That show took over my life for years. I fell in love with the characters, and the mystery of the island.
Favourite Spiritual Practice?
Another tough one, Meditation is the most important, but Lucid Dreaming is so powerful. When you first become Lucid in a dream, life is never the same again.
Favourite Quote?
" We must let go of the life we have planned, so as to accept the one that is waiting for us " – Joseph Campbell.
Favourite Mantra?
This Too Shell Pass.
Favourite Colour?
Blue or Pink. I think Blue actually, a nice baby blue :)
Favourite Sport?
Formula One … it's the only sport I watch.
*broom broom*

Favourite Person?
Famous person is Lewis Hamilton, but of all the people on Earth, it's my Gender Therapist.
Favourite Art Tool?
The Tombow Mono Eraser Pen … I got one of these in each of my pencil cases, it's a must have tool for every artist!
Favourite Art Book?
Ooh … if it's a book, the Sketching From the Imagination series, by 3dtotal Publishing, but if it includes magazines, than the Character Design Quarterly magazines, again by 3dtotal publishing, are my favourite; Those magazines are so inspiring and helpful.
Favourite Spiritual Book?
It would have to be Breaking The Habit of being yourself, by Dr Joe Dispenza. I didn't know it was a spiritual book at the time, but it introduced me to Meditation, and really changed my life.
Favourite Artist?
Ilya Kuvshinov … I hope I get to meet him before I die. Everything he does I love so much, Ilya is such an Inspiration.
Favourite Music?
Trance music. So uplifting … I blast it out whenever I'm drawing :) Above & Beyond have a weekly podcast called Group Therapy Radio, which has some of the best trance music you'll ever hear!
*bing bong*

That sound means it's the end of the Your Favourite Tings section. That was cool, lots of fun tings in there :)
YOU HAD YOUR ART IN A GALLERY. WHAT WAS THAT LIKE?
It was cool. I visualised getting my art into a gallery during a meditation in 2013. At the time, I had only been drawing a few months so it seemed impossible, but in 2015 the vision came true. My art was on the wall of a local art gallery. The funny thing is, my dream had been to get into a gallery, and when I got it, I thought naa, this isn't for me lol
WHY DON'T YOU DO MUCH REALISTIC DRAWING ANYMORE?
I want to focus on character design. I can't do everything, and drawing from the imagination is a totally different skill than drawing realistically, but the cool thing is, I've noticed a lot of the skills do carry on.
Did you fall out of love with Realistic Drawing?
I guess so. I still enjoy it a lot, but the thought of doing it all day every day. No thanks lol Drawing characters is so much more fun, it's just at the moment I suck at it, especially drawing eyes.
Don't eyes grow on trees?
lol I wish. Actually, an eye tree? That could be a good idea you know, I'll draw an eye tree, than you can pick out some eyes :)
*yay*
WHEN DID YOU START DRAWING?
2013 is when I first started drawing properly, but as a child I used to draw the Teenage Mutant Ninja Turtles, and in my teens I had a lil period of drawing Formula One cars. 2013 was different though. I remember doing the first drawing exercise from the Keys to Drawing by Bert Dodson art book, and smiling from ear to ear; It felt like the start of something special.
Why did you stop drawing in your teens?
Sadly my Dad thought Art was a waste of time, and in the end I think I believed him. I stuffed all my art stuff under the bed and didn't do another drawing for over 15 years.
Bloody hell! So glad Art found you again.
So am I! You wouldn't exist without it. Don't think I would either, I'd probably still be living as Kevin Preston.
*eww*
lol
DO YOU HAVE AN ART DREAM?
Yes. I will get one of my characters on the cover of an art magazine / book.
Ooh! Can it be me?
lol It's not up to me … the Universe will decide.
*crosses fingers*
We're getting near to the end now. Which means it's time for a …

CLICK FIRE ROUND
Ready?
*clicks fingers*
Biggest Fear?
People. Wish I didn't say that, but I'm still scared of people.
Best Habit?
I always do my best.
Worst Habit?
I still struggle to say no to people
Most memorable ting anyone ever said to you?
"Kev, Why Are You So Nice?" My mate Jon said that to me at Uni once. I simply said, "Why wouldn't you be?" lol
Do You Do Commissions?
*big sophie blows raspberry*
lol I get asked this all the time. I might do when I'm good at drawing characters, but doing a realistic drawing of something I'm not excited to draw is a no no. I always say, if you're not having fun, don't do it!
Do You Still Pose For Photos?
Yes, but I make funny squeaky noises these days. Think I need oiling lol
Proudest Moment So Far?
First thought that sprung to mind was getting the courage to start The So Free Art Podcast; It's given me so much confidence! I even put my face on YouTube videos now :) Telling my Mum and Sister I was transgender was a proud moment too, but over coming the fear of putting myself out there on the podcast, was the best ting I ever did.
Strangest Paranormal Experience?
I once saw a ball of light come out from under the bed. I still have no idea what it was, but I pulled back the covers to get under my bed, and a ball of light flew out. I can't explain it, but it was real.
WHAT'S THE MEANING OF LIFE?
To Be Nice, and Do Your Best.
... aww, think that's a nice place to end this interview.
Thank you Big SOPHiE :)
*waves*
GOT A QUESTION FOR SOPHiE?