ORIGINALLY POSTED 19th JUNE 2015
Bong *waves* future me here from the year 2020, just wanted to say how my Niece, Jasmine Taylor, is now a makeup artist and was interviewed on episode 122 of The So Free Art Podcast. We're both now living our dreams, as back in 2015, at the time of this diary entry, she was only dreaming about being a makeup artist, like I was dreaming about having a transgender makeover and transitioning into Sophie :)
*end of future me*
Today was a special day. My Niece, Jasmine Taylor, gave me a transgender makeover, transforming me from Kevin to Sophie, and becoming the first person to ever see me in my female form :)
This is like a dream, as I never thought I'd be able to be Sophie in front of someone. I'm fortunate enough to have a really nice supportive family, apart from my Dad, but hopefully one day he will accept me too. My Niece though has been so kind since finding out I'm transgender; I tried to tell her today how thankful I am for her, but was so nervous about being myself in front of her that I sort of fumbled about with my words, but least I tried :)
My Niece said last year that she'd give me a makeover, and while I was super excited inside at the prospect of this, I never thought I'd ever be able to actually accept her offer; It's always been a dream to have someone do my make-up for me.
Today she came round, and if I'm being honest, I kept thinking about backing out and saying I can't do it. I didn't, instead I went and had a shave, completely cutting up my face in the process lol Once that had stopped bleeding, I sat down and she started to apply my make-up, turns out I have all the wrong stuff. My foundation is too dark for my light skin, she said the stuff I have is nearly orange lol
She couldn't get my beard fully covered as my stubble is so strong. Hiding my facial hair has always been a nightmare, but she did better than I've ever managed, and she gave me a lil tip about how using orange lipstick is a good way of covering a 5 o'clock shadow, so I'm going to give that a try moving forward.
Once she'd finished my makeup, we put one of my wigs on, but I was still wearing my male clothes so off came the wig as I started to think about what to wear. My Niece went downstairs, wearing my wig lol while I put on a lil grey casual jumper dress. She came back up, still wearing my wig, before putting it on me and helping to style it.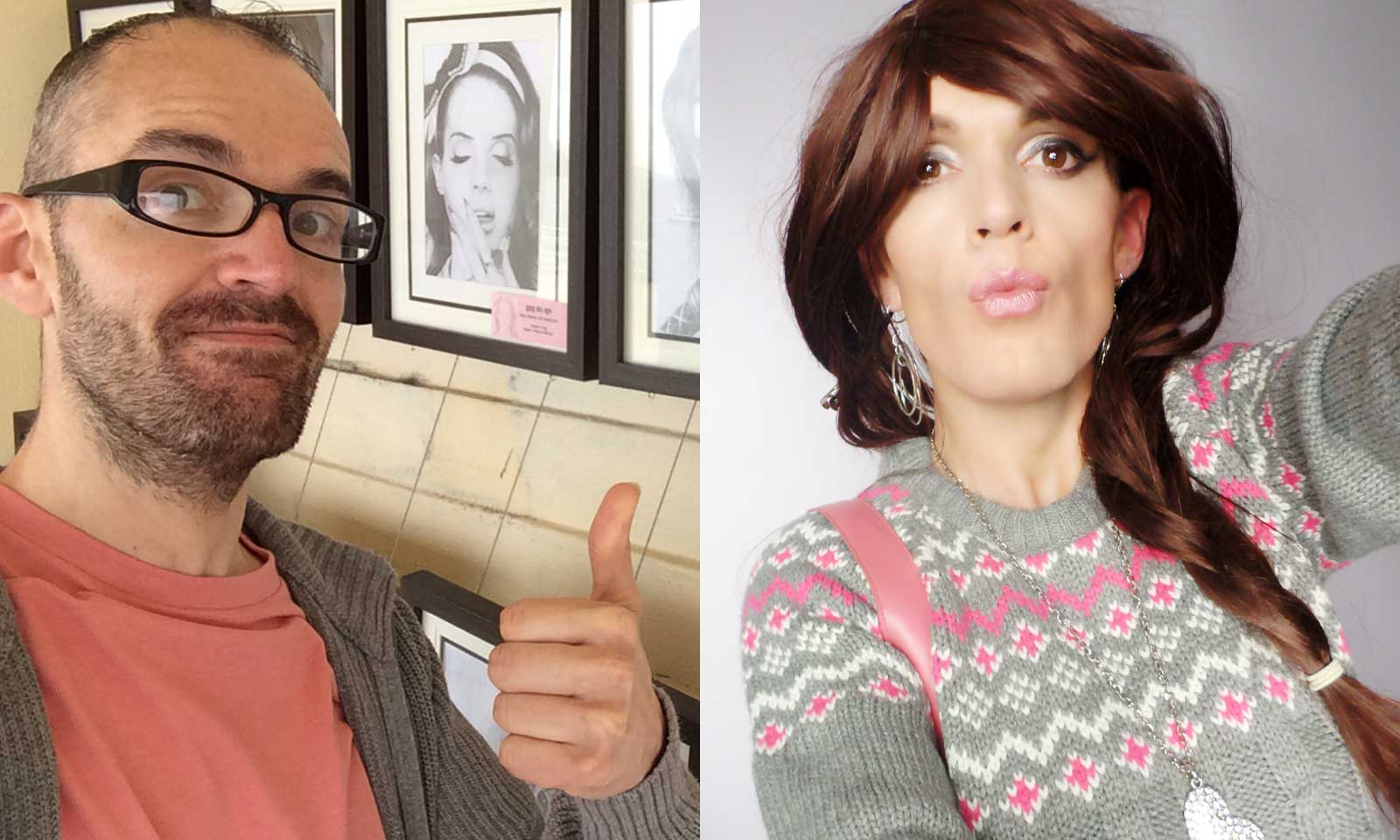 No one has ever physically seen me as Sophie before, so this was a big day for me, but the transgender makeover was now complete; Kevin was turned into Sophie :)
I especially love the way she did my eye liner, the way it curves and flicks up at the ends is super cool. We took more photos, I even have one of us together where she's eating my giant inflatable doughnut lol but I can't believe I have a photo of Sophie and my Niece together, it's most likely never getting uploaded anywhere, as it's a super personal special one just for me :)
Today almost doesn't feel real. My Niece made me feel so comfortable to be me, even with my super nervousness I still felt content and comfortable.
Thank you so much Jasmine :)