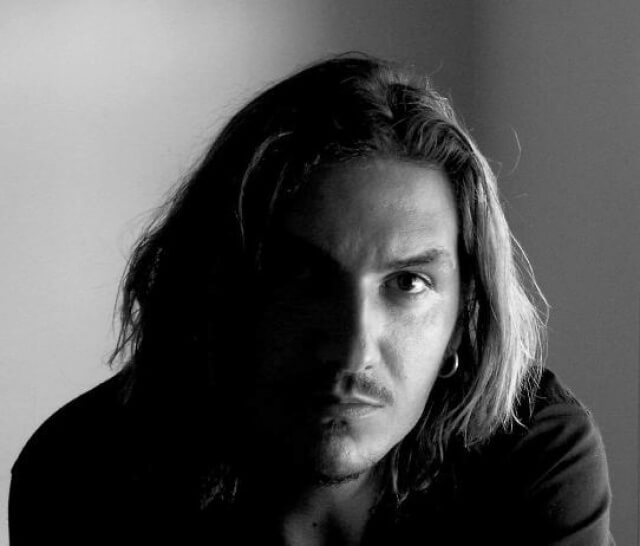 BIO
"As a boy Fabian developed an immense admiration and respect for the beautiful courtesans he observed at his father's three brothels. No doubt it was his extraordinarily painful childhood that resulted in Perez seeking solace in the romantic ideal of life which is the heart and soul of his art." – Bio quoted from SargentsFineArt.com/artist/perez.php
All photos on this page, of both FABIAN PEREZS and his artwork, are from his website FabianPerez.co.uk
HOW I FOUND HIM
It was actually the afternoon of the 6th November 2014; the date of my first visit to The Laurels Gender Identity Clinic. I was walking back to the train station, when I got lost and past a gallery … some Fabian Perez paintings were in the window. They stopped me in my tracks. His paintings are huge in real life making them even more impressive! I made a note of his name and researched him when I got home.
HOW HIS ART MAKES ME FEEL
Like is so often the case when studying my
Inspirational Artists
, I struggle to put into words my feels … but I find myself asking, are these girls thoughtful and reflective in a hopeful, or sad way? Sometimes I'll look at a painting and feel happy for them, sometimes I feel sorry for them … it's a very confusing feeling, but I always feel an overriding sense of power and control from the paintings, as if the girls can put you under their spell.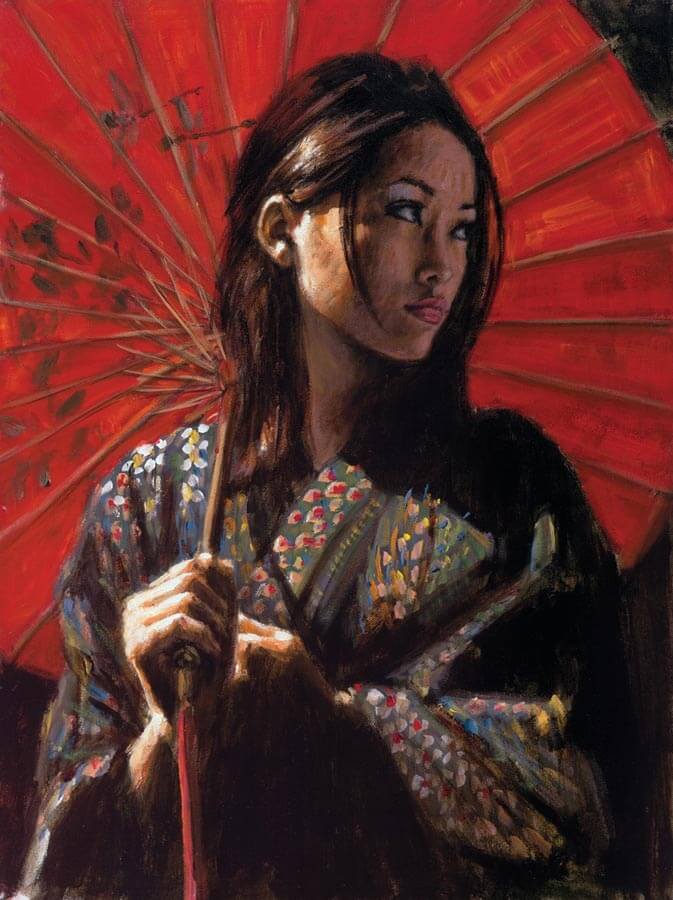 FAVOURITE ARTPIECE
My favourite Fabian Perez artwork is the one entitled "Michiko ii", which shows an oriental girl holding a red wooden umbrella, it's the image just above this text. I love the colours, the dark moody lighting and the look in the girls eyes. It's such a powerful painting to me.
WHAT I'VE LEARNT AFTER STUDYING HIS ARTWORK
 The main thing I've noticed after studying Fabian Perez's paintings, is that they are completely unlike the usual style of art I like. I normally adore soft, tasty, pastel colours like pinks and blues. Fabian uses mostly dark scenes, muted tones and extreme shadows, making for very intense moody scenes. This has made me realise I'm not limited to a certain style, it must be more about the subject, about the femininity and feelings I experience.
The first painting I ever saw of Fabians in the gallery window, was entitled "Balcony at Buenos Aires x", which shows a female figure on a balcony wearing a white silk nightdress. This is one of Fabians lighter paintings, but even so he still manages to include intense shadows in this relatively bright scene. I seem to be drawn to the shadows.
My main feeling with Fabian's work is that I'm often left confused, do I feel sorry for these females, or immensely in awe and inspired by them. They all, even the venerable ones, possess a quality of extreme power, as if they're in control. I believe this is why I love Fabian's work so much – it's all about the power of femininity.
These images and more can now be found on my
Inspirational Artists Pinterest Board
FABIAN PEREZ WAS ADDED TO MY INSPIRATIONAL ARTISTS ON 1st JUNE 2015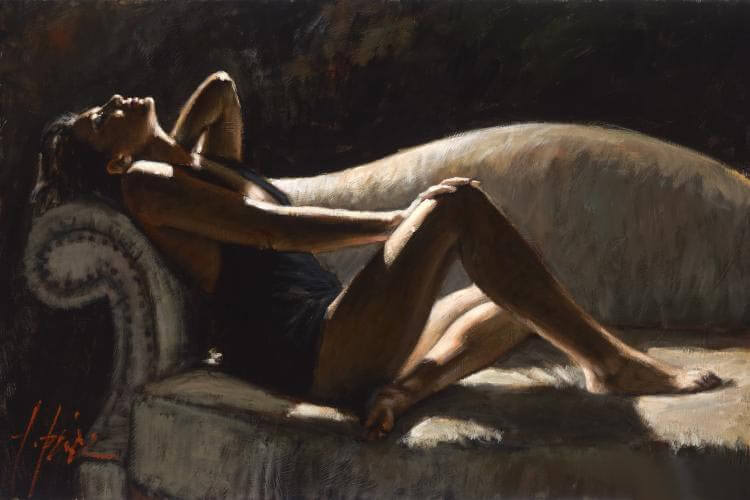 "Try to be inspired by something every day. Try to inspire at least one person every day."
Mihaly Csikszentmihalyi