ORIGINALLY POSTED 8th MAY 2015
Future me here *waves* I've noticed something this past few years which this diary entry reminds me of. I talk a lot about Trance Music in this diary entry, and something I've reslised over the past few years, is how spiritual Trance Music is. I've loved Trance since the early 90's when it was Rave music, but I never until a few years ago realised how spiritual it is. Trance music really is super uplifting, and when you get into it, it takes you on a journey to another realm. I half imagine Trance Music will be my soundtrack through the death phase, as I leave my body, Trance Music will be pulsating throughout the entire universe. One big dance party, with every single atom vibrating to the beat :)
*end of future me*
On the train to The Laurels Gender Identity Clinic, for the third visit with my gender therapist; it's been four months since My Last Visit! Some bloke is sat behind me on the train whistling really loudly. Very odd lol I'm going to put me headphones on and listen to some trance music. BALLS! I've not got any trance podcasts downloaded and can't download them on the train as no signal :( Someone just told the bloke to stop whistling lol
" Sorry, can I ask you to stop whistling, you've been whistling for about 20 minutes. "
Whistling bloke – "Sorry"
lol Madness, I think today's going to be a strange one! I can't wait to see my gender therapist, *DING DONG* Shannon is making her way down with hot drinks and cookies. Owwwww, cookies :)
I'm going to tell my gender therapist how I've reached a point I'm happy at. Wahooo, I managed to get an Above & Beyond Group Therapy Radio podcast to stream :) Looking out the window, there's one lil seagull bobbing up and down all on his own in the vast ocean lol The water looks really stormy, yet this lil seagull looks totally content! I love that :)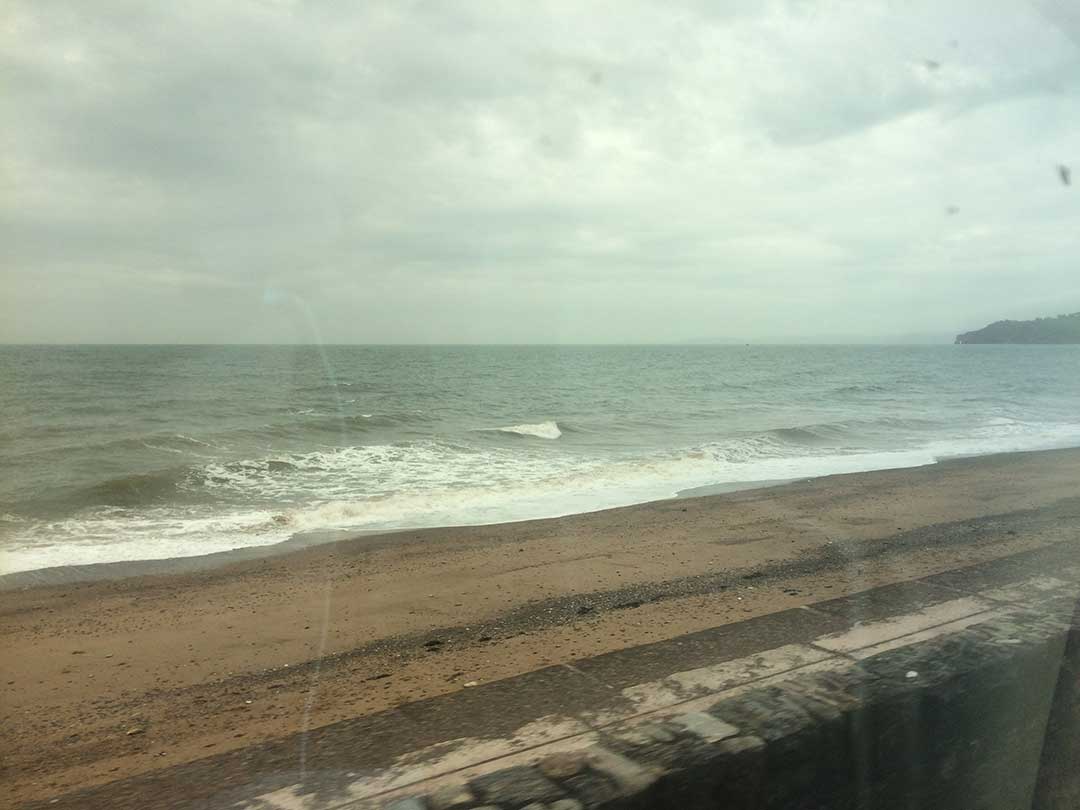 Back on the train now, that was a really nice session. We just talked about stuff lol Animals, she saw a squirrel out the window so we started talking about squirrels, I said My Last Drawing was a Squirrel :) We spoke about how Art helps me so much, and how I've found a way to channel my female energy that works for me. She spoke about how she used to be obsessed and get lost in taking black and white photos and developing them in a black room. I said she should start doing it again, because I could feel how passionate she was. She said she's too busy at the moment, but would do when she retires … than she puffed up her hair in a sexy way "Not quite there yet though." lol
She's so cool! I feel a connection with her, it's an odd sensation. She said about how she loves being on her own, but that she loves it so much she could quite happily become a hermit lol So she makes sure to be around people to get a nice balance.
I'm watching the waves outside, crashing away; there is something about the ocean. I realised today I'm at peace with who I am, it's now untangling all the knots that are left over from my previous 30 odd years, some of these knots are well hard to undo lol The trance tune that just came on is the perfect way to end this diary entry, I'll post the YouTube video below, listen to the lyrics, so amazing!
" WHEN YOU GET SO MANY TRIPS AROUND THE SUN, REMEMBER THAT YOU'RE CREATING EVERYONE "
– Vincenzo, Around the Sun lyrics
It's so true, we're all linked, and we only get so many trips around the sun before it's all over. It's important we never forget that! .
Visit four took place on 30th July 2015 and was the 'this is a strange one' visit